Unissu.com, the world's only PropTech marketplace, has raised US$800,000 of investment led by M7 Real Estate alongside a number of other high profile international experts in the field of digital transformation in real estate. These include Harry Hill, Founder of Rightmove, the Central Europe-based Property Forum, Asia PropTech and Robert Gilchrist, the former CEO of Rockspring. Richard Croft, Executive Chairman of M7, has also joined Unissu's board of directors.
In an increasingly crowded marketplace that can often be confusing for real estate companies seeking to improve customer experience or efficiency through the adoption of technology, Unissu provides an easily navigable and free of charge online platform that both allows them to fully understand the types of technologies they require and matches them with suitable and trusted vendors. This latest round of funds will be used to further scale the platform's global procurement tool.
In addition to the procurement feature, visitors to Unissu.com can utilise a range of tools to help embrace PropTech, including:
searchable classified PropTech directory of over 7,200 global companies
curated articles, podcasts and videos discussing digital transformation in real estate
data analytics to help research the PropTech market and generate market intelligence
the broadest and deepest dataset of PropTech funding events
a community forum for live discussions and debates on all things relating to digital transformation
a jobs board
directory of global digital transformation in real estate event
Founded by prominent global PropTech influencers James Dearsley and Eddie Holmes, Unissu has quickly become the essential destination for anyone interested in how technology is shaping the future of real estate.
"For many real estate companies who are seriously considering the adoption of technology to help them grow their businesses the key deterrents are often working out exactly what they need and subsequently finding a vendor that they can trust to meet those requirements. This is the primary reason that our procurement tool has quickly become firmly established as our key feature. In simple terms, at no cost to the user, it takes the pain out of this process and enables property firms to find the best technology solutions, wherever they may be in the world. From the other side of the equation, Unissu is also a valuable tool for opening new markets and finding new customers for new and established PropTech suppliers around the world. Our client list already includes innovative real estate firms like Keppel Land, Aviva and Generali and we've been able to introduce hundreds of PropTech companies to early adopters of technology such as these. This most recent round of investment gives us the firepower to further scale up this service, improve the accuracy and speed of our matching algorithm and continue to ensure that we connect the right buyers with the right sellers," Unissu CEO Eddie Holmes commented.
James Dearsley
Co-Founder
Unissu
James is recognised as one of the leading thought leaders on the future of the real estate market. His role as the Co-Founder of Unissu, the global leader of PropTech data, information and resources, means he has an unrivalled perspective on global PropTech trends. As a result, he is a much sought-after speaker on the future of the property industry both in terms of how people and companies in the sector should adapt to facilitate change.
More »
"One of the key factors in the success we have had in building M7's international investment management platform has been our adoption and development of technology. We are ardent believers in the potential that innovative solutions offer the real estate industry and Unissu's platform is no exception. They are at the very heart of a global network which helps property firms around the world engage with the most suitable and trusted PropTech suppliers around in a simple and user-friendly manner. Both I, and the impressive group of co-investors James and Eddie have brought together, believe that this tool will become an increasingly invaluable weapon in the armoury of any property company that wants to use technology to add value to its business," Richard Croft, Unissu Director and Executive Chairman of M7 highlighted.
"Property Forum is committed to bringing together innovation leaders and real estate professionals. Technology has been the key topic of our forums for years now and through our partnership with Unissu we'll be able to connect an ever wider range of PropTechs with our visitors and facilitate meaningful new connections between these two worlds that have been isolated from each other for too long. We've been working with James Dearsley for four years and we've been an investor of Unissu since its founding. This latest round of funding is further proof that Unissu will be a game-changer for the global PropTech community and for the rapidly emerging Central European PropTech scene," Csanád Csűrös, CEO & Founder of Property Forum added.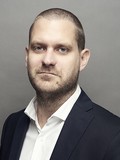 Csanád Csürös
CEO
Property Forum
Csanád is the CEO of Property Forum with more than 15 years' experience in the industry. Property Forum is a leading event hub of the CEE real estate industry with conferences, business breakfasts and workshops in London, Vienna, Warsaw, Bucharest, Budapest, Belgrade, Bratislava and Prague. Csanád strongly believes the principles that made his conferences successful: the format, the quality of content, the commitment to seek out the most interesting and most inspiring speakers in the industry and let them share their knowledge and passion. Csanád holds an economics Master's degree from Radboud University Nijmegen (the Netherlands) and undergraduate degrees from the Budapest Business School in Hungary and from Avans University (the Netherlands). Before joining Portfolio's team, he worked for Bank Austria-Creditanstalt in Vienna. Besides his native Hungarian he speaks German and English.
More »
Unissu was founded in mid-2018 by prominent PropTech influencers James Dearsley and Eddie Holmes, following a number of years advocating for, and advising on, the adoption of technology by the property industry to companies around the world. Holmes is the Founding Chairman of the UK PropTech Association and has advised a range of property and PropTech companies on growth and investment strategies. Dearsley is the world's leading keynote speaker on PropTech and sits on the British Property Federation technology strategy board. Unissu has a network of over 100 global partners which help distribute the platform's features to an international audience.