GTC has appointed Eszter Salamon to the position of Transactions Director. Her in-depth sector knowledge and experience in real estate and financial operations will boost GTC's optimization and expansion goals. As Transactions Director, Eszter Salamon will be responsible for real estate transactions across all GTC markets as the investor plans completion of large-scale transactions in various markets in the upcoming period.
Eszter Salamon is full-stack finance and transactions professional with over 20 years of experience gained in recognized multinational companies. Prior to joining GTC, she held the position of Real Estate Management Director at OTP Real Estate Fund Management Zrt., one of the top three real estate fund management companies in Hungary. Within her position, Eszter was responsible for the management of assets in the portfolio of the fund amounting to over €1000 million, as well as performing high-value transactions in the CEE region. As a committed team player, Eszter also led her department through COVID-19 crises, handling rental receivables and tenant requests to keep vacancy rates of OTP's portfolio at bay.
Before that, Eszter held various executive and project finance management positions in CIB and MKB banks in Hungary. Her duties ranged from financing A-class office buildings through supporting the large-scale multifunctional development in the region with external partners to sale transactions. Throughout her career, strong financial background and deep industry knowledge allowed Eszter to excel at negotiating with real estate development companies and close M&A transactions with major international companies worth €60-220 million.
"It's always a pleasure when such a well-rounded professional is willing to share her exclusive knowledge and experience for our mutual success. I am excited to welcome Eszter as she joins our team as the Transactions Director. With several large transactions awaiting us across different markets, I am confident Eszter's outstanding expertise in real estate markets coupled with excellence in financial operations will drive GTC's success beyond our expectations," commented Yovav Carmi, the President of the Management Board at GTC.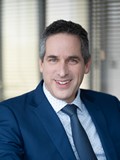 Yovav Carmi
President of the Management Board
GTC Group
President of the Management Board of Globe Trade Centre S.A.. Yovav Carmi started his professional career in 1994 as an auditor at Ernst & Young, where he worked until 1996. In 1997, he worked for the Israel Securities Authority as an investigator. Between 1998 and 2001 he was a financial controller at the Kardan Group. Yovav Carmi has been a chief financial officer and member of the management boards of many of the Company's foreign subsidiaries since 2001. Mr. Carmi was a member of the management board of the Company between 2011 and 2015. Starting 2015, he became Chief Operating Officer at GTC. Yovav Carmi graduated from Tel-Aviv University, where he obtained a B.A. degree in law and a B.A. degree in accounting. He also holds an MBA degree from Tel-Aviv University (1998). Moreover, Mr Carmi is a chartered public accountant in Israel.
More »
Eszter Salamon graduated from the faculty of Finance and Corporate Valuation with an MSc in Economics, at the Corvinus University of Budapest.
"Throughout my career, I have realized one thing – when it comes to real estate, nothing can beat professionalism and smooth cooperation within a team. Joining GTC, I would like my experience to contribute to an already impressive talent pool of development experts. I believe together we can propel the Group's development strategy towards a steady, long-term growth at the CEE markets," commented Eszter Salamon, Transactions Director at GTC.
Recently, GTC has completed several key transactions across CEE markets. The developer has boosted its Hungarian portfolio by investing €160 million in the acquisition of two office properties in Budapest: the Ericsson Headquarters and the Siemens Evosoft Headquarters. Prior to that, GTC acquired the brand-new Váci Greens D office building in Budapest. The transaction was partially financed from the green bonds issued in 2020, following the Group's strategy to invest in a sustainable portfolio of commercial buildings located in the CEE capitals.