GLP closed the acquisition of Goodman Group's CEE portfolio less than a year ago. With the integration complete, the company is developing a number of large-scale projects. Błażej Ciesielczak, the CEO of GLP Central and Eastern Europe talked to Property Forum about the growth of the logistics market and shared the company's expansion strategy for the region.
Many say that the logistics market has been the biggest winner of the pandemic, but some argue that the sector was already performing well, and COVID-19 has only accelerated its rapid development. What do you think?
The pandemic has obviously accelerated the growth of the logistics real estate market, mainly thanks to the e-commerce explosion, but it should be also remembered that for some businesses that use industrial facilities, especially spring 2020, was a period of uncertainty. Basically, today we believe that the market will continue to develop steadily. In addition to the expansion of online trade, we see other opportunities resulting from global trends, for example relocating some production activities from Asia to Europe. At the same time, we consider the potential limitations, on both international and local levels: the ups and downs of the global economy, limited availability of suitable investment plots or a slowdown in the development of transport infrastructure in some parts of the CEE region.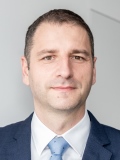 Błażej Ciesielczak
CEO
GLP Central and Eastern EuropeBłażej Ciesielczak is the CEO at GLP Central and Eastern Europe. Ciesielczak leads a team responsible for developing and managing projects totalling 2.4 million square metres in Poland, the Czech Republic, Hungary and Slovaki
Błażej Ciesielczak is the CEO at GLP Central and Eastern Europe. Ciesielczak leads a team responsible for developing and managing projects totalling 2.4 million square metres in Poland, the Czech Republic, Hungary and Slovakia. He has over 20 years of experience in real estate, construction and business development. Before joining GLP, he worked for Goodman for twelve years, where he successively served as Director, Board Member and CEO for Central and Eastern Europe. In 2003–2008, he worked at Segro Poland, his roles including Country Head. He graduated in Company Management from the Poznań University of Economics and Business.
More »
Which industries were the main drivers of demand across your portfolio in CEE?
It is an open secret that the market is largely driven by the demand from the e-commerce industry, as well as from logistics and transportation companies facing a growing number of orders. Due to the pandemic, even brands previously focused on traditional sales channels have expanded their online presence. Therefore, a logistics facility has become a critical competitive factor. About 40% of space in GLP buildings in Europe and Asia is now occupied by e-commerce customers, which means that this percentage has doubled over the last 5 years. But the food, FMCG or home & household appliances sectors are also very active.
Have you observed any changes in tenant requirements over the last 12 months? What's tenants' number one criterion besides location?
Indeed, the key selection criterion is the availability of real estate located close to the end customer, and, consequently, largest agglomerations. But a flexible and customer-oriented approach to the leasing process and property management is a must these days, too. We also see growing requirements for the quality of buildings and savings related to their operations. This encouraged us, for example, to introduce our ESG-focused specification to all our new logistics facilities in CEE. It promotes more efficient storage space, enhanced layouts to facilitate logistics operations, and substantial cost savings from lower utility consumption with a strong focus on sustainability, carbon reduction, wellbeing and biodiversity.
GLP closed the acquisition of Goodman Group's CEE portfolio less than a year ago. How has it been integrating the local assets?
The completion of that transaction was symbolic of GLP recent growth and ambitions for the upcoming future. The addition of a high-quality portfolio spread across Poland, the Czech Republic, Slovakia, and Hungary has expanded the firm's European presence to 11 countries placing it within a select number of logistics real estate investors with a truly pan-European platform. Today I can only express my satisfaction with how quickly and efficiently we have integrated our operations in Central and Eastern Europe, on the level of local assets and teams, with the rest of the GLP family.
How do you see the CEE logistics market's attractiveness in a European comparison?
We believe attractive macroeconomics, urbanization, e-commerce growth and proximity to major distribution hubs across Europe are helping to drive CEE's logistics property market. The demand for warehouse space remains high across the region, and developers, after a period of uncertainty, are building more, which may translate into slight increases in vacancy rates in key markets. However, in comparison to Western Europe, attractive rents and lower labours costs are a driving force for our clients.
Your portfolio in CEE is expanding rapidly. In which markets are you looking to increase your presence the most? Are there new markets that you're considering entering?
We focus on developments located within or in the immediate vicinity of large cities and major transport hubs, providing excellent support for businesses in e-commerce, 3PL, retail, the automotive industry and the light industry, including leading employers in the region. Now, we are about to start or already developing new parks in Warsaw, as well as new schemes in Budapest Sziget, Praha Chrášťany and Ostrava Hrušov. In terms of numbers, Poland remains our number one choice as we have also commenced the development of a 110,000 sqm logistics centre in Lędziny, Upper Silesia, and we are preparing for the expansion of the Pomeranian Logistics Center strategically located next to the Deepwater Container Port in Gdańsk, as well as for a new development near Wrocław (ultimately 230,000 sqm).
Is development your primary tool for portfolio expansion or are further acquisitions on the table as well?
We continue to monitor the opportunities closely. We have several new development projects across the region, but we are also open to the possibilities that arise from acquisitions. In both cases, we tend to be selective about locations as we want them to be future-proof and perfectly integrated with pan-European transportation systems.