Occupier and investment sentiment continues to be positive across Central and Eastern Europe according to the RICS Commercial Property Monitor for Q4 2016. Hungary and the Czech Republic remain the most upbeat markets, with Bulgaria and Croatia also gaining momentum. In Romania the pace of growth seems to be slowing down, although sentiment and projections continue to be broadly positive.
Occupier market
The RICS Occupier Sentiment Index (an overall measure of occupier market momentum) is still positive across all five countries and continues to signal an improvement in overall occupier market conditions in each market.
As it has been the case for several quarters now, indicators across Hungary are the most upbeat compared to all other areas (both CEE and global). Rental projections are again solid, albeit a little more modest in comparison to the previous quarter, mostly due to a recent uptick in availability. Prime retail and office space is expected to see the strongest rental growth, while secondary markets are projected to see only modest rental gains. Commercial construction activity continues to rise sharply (with office development starts increasing most significantly) which could curtail rental growth further down the line.
Occupier demand continued to increase across the board in the Czech Republic as well. Availability fell noticeably at the headline level, most notably in the office sector, prompting landlords to reduce the value of incentive packages. In spite of this, respondents expect only modest prime rental growth over the coming 12 months, while rental expectations for secondary real estate (especially retail) have turned slightly negative.
During the final quarter of the year, the occupier market in Bulgaria appeared to gain a significant degree of momentum as the OSI rose noticeably to post the highest reading since 2008. This was driven by continued strong growth in tenant demand. Rent expectations for the next 12 months across Bulgaria were revised sharply high in the prime office and industrial segments relative to Q3 2016. At the same time, projections are now flat across the secondary retail and industrial sectors.
Croatia also posted improved OSI readings in Q4 2016, with demand outstripping supply and supporting rental growth projections. Office demand rose most firmly on a sectoral comparison. That said, only rents across prime areas of the market are expected to see growth over the coming 12 months. The outlook is broadly flat across secondary locations.
By way of contrast, momentum in Romania moderated slightly, as the rise in demand was outstripped by that of availability (in net balance terms). Landlords continued to offer more incentives, particularly in the office segment, while incentives for the industrial segment remained flat. Over the next year respondents are forecasting modestly positive growth, though still project rents at secondary office and industrial locations to decline.
"After long silence it seems that Serbia is back on the developers´ map as well. There are several shopping centre developments in Belgrade on the way that will reshape the market for the next years. The municipality and the investors shall be very careful that they avoid cannibalization, but all in all there is still enough room for retail facilities in the town", added Éva Böhler MRICS.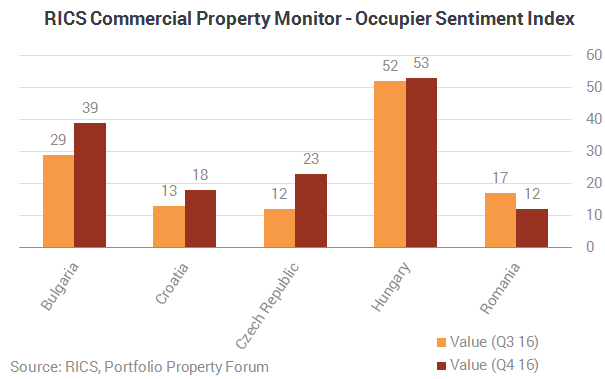 Investment Market
The Investment Sentiment Index (an overall measure of investment market momentum) also remains positive across each nation. In fact, investment sentiment improved across all countries but Romania.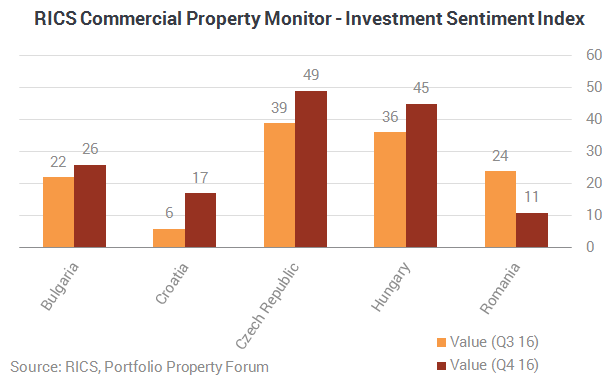 The Czech Republic continued to exhibit the firmest investment market momentum when compared with the rest of CEE. Demand from investors continues to rise while supply is in decline. Interestingly, however, respondents are increasingly of the view that conditions may be close to peaking in the current cycle. This is contributing to a somewhat subdued set of projections for capital values over the medium term. Respondents now anticipate either marginal growth or a flat trend across each category
The latest results signal acceleration in investment enquiries (both domestic and foreign) in Croatia which has created a more positive outlook for capital values over the next twelve months. Even so, capital value gains are likely to be concentrated in the prime office and industrials segments, while projections are broadly flat across most sub sectors and negative for secondary retail. The vast majority still views commercial real estate to be either at or below fair value, but the share of those who believe that it is overvalued has grown slightly.
"Boosted by the economic growth and yield pursuit, the Croatian real estate market recorded high investment volumes in 2016, continuing the upward trend which started in 2015. Investors were mostly focused on prime properties in the retail and hotel sectors which led to yield compression. Several major banks disposed of NPL portfolios mostly backed by secondary properties. We expect the resumption of high investment volumes in 2017, underpinned by the economy's renewed strength, yield opportunities and improved investor sentiment. The office, retail and HTL sectors are expected to see the most activity, both in terms of investment and development", commented Vedrana Likan MRICS, Managing Partner at Colliers International Croatia.
Conditions remain strong in Hungary with the ISI posting its strongest reading since the survey's inception in 2008. Investment enquiries are rising firmly (especially in the office segment) and capital values are expected to increase across the board over the next 12 months, even in secondary segments. The vast majority (90%) continues to view commercial real estate to be either at or below at fair value. However, 10% of respondents now feel the market may be close to the peak of the current cycle.
"We are expecting continued strong turnover in the Hungarian commercial property market in 2017 as well. The stable economic growth and increasing household consumption make the country attractive for investors, and moreover, all three credit rating agencies have now graded Hungary as "suitable for investment", thus more institutional investors may enter the market. The Hungarian market has shown the most robust growth in investment turnover for the last three years with the annual investment volume having quadrupled since 2013. Besides the usual Western European investors and the Hungarian and American institutional funds, new actors have also appeared on the market, e.g. investment companies from Greece and the Unites Arab Emirates as well as the German closed-ended funds' return, which all contributed to the turnover growth in 2016. With new equity and solid fundamentals we expect 2017 to be another record year for the Hungarian investment market", added Lóránt Kibédi-Varga MRICS, Managing Director of CBRE Hungary.
Investment sentiment remained firmly positive in Bulgaria with all sectors (especially the office segment) experiencing a solid increase in interest. Capital values in prime sectors are expected to post solid gains over the next 12 months, while a flat trend is expected for secondary segments. Unlike in the previous quarter, 25% of responders now believe that commercial property may be overvalued in Bulgaria
In Romania, the only CEE market to seemingly lose momentum on the investment side during Q4 2016, demand from buyers remains comfortably positive (especially from foreign purchasers) but has slowed relative to earlier in the year. Respondents trimmed capital value forecasts across all sectors, in particular for industrial locations. Projections are now pointing to marginal gains in prime office and prime retail capital values over the coming twelve months, while the outlook is flat across all other sub sectors. At the same time, a large share of respondents still senses that commercial property in Romania is undervalued.
Credit conditions improved further in Bulgaria, Croatia, Hungary and Romania, with the majority of contributors reporting some degree of improvement. In the Czech Republic, virtually no change was registered in credit conditions.