The first international industrial/logistics developer present on the Serbian market is expanding its portfolio rapidly. Vlatko Djuricek, Country Head of Serbia at CTP talked to Property Forum about the company's future plans.
Vlatko Djuricek will join a panel discussion on the logistics market at our upcoming Balkans Property Forum 2019.
CTP announced its first acquisition in Serbia less than 1.5 years ago. What are your current expansion plans?
CTP has been operational in Serbia for almost 2 years. We have a total of 150,000 square metres under development in different stages, in 7 buildings, 5 projects, 4 locations and 3 cities – Belgrade, Kragujevac and Novi Sad. We consider Serbia a strategic market and we are interested in covering the whole country with CTParks.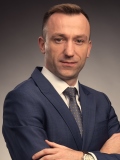 Vlatko Djuricek
Country Head of Serbia
CTP
Vlatko Djuricek has a Master degree in Civil Engineering in Construction Project Management from Belgrade University. In 2011, Djuricek started his professional carrier as a development and investment manager at Delta Agrar, part of Delta Holding, the biggest Serbian company. He has more than 8 years of experience in acquisition, investment and development working with leading international and biggest domestic real estate companies as Lidl at the position of Reginal Real Estate Manager and MPC Properties at the position of Head of Development and Acquisition. Vlatko Djuricek has been appointed as Country Head of CTP Invest Serbia at the end of 2017, ready to use his wide-ranged expertise in real estate. During this period, the Serbian portfolio is growing progressively and it is expecting to have its first 150.000 sqm in a short time. Vlatko Djuricek is also a member of the top 30 CTP management team.
More »
What are the main drivers of growth right now? From which sectors are your tenants coming from?
There is really strong interest from the automotive sector, we also hose a number of R&D facilities and we have several tenants from the logistic sector.
International developers are barely present on the Serbian industrial/logistics market. Do you expect this to change in the coming years?
We are pioneers on the market in many aspects but for sure we expect new entries.