Rüdiger Dany, CEO of NEPI Rockcastle, spoke with Property Forum about the strong recovery of retail markets in CEE after the pandemic, the development pipeline of retail and residential projects in Romania, and the group's investments in ESG that are already translating into lower carbon emissions.
This interview was first published in Property Forum's annual listing of "The 50 most influential people on Romania's real estate market".
What were some of the financial highlights of NEPI Rockcastle during 2022 and what are your objectives for this year?
NEPI Rockcastle's achieved record financial results in 2022, with net operating income up 16.7% over 2021 at €405 million. Robust tenant sales turnover and base rental growth have been underpinned by the resilience of CEE consumers and their post-pandemic willingness, on average, to spend more per visit to our shopping centres. Footfall was below pre-pandemic levels, but in 2022 spending per basket was up 27% and tenant sales turnover 11.7% as compared to 2019. The company's dividend payout at €52.15 per share was 51.5% higher than in 2021.
NEPI Rockcastle owns 55 retail properties across CEE markets with millions of daily visitors, and we are now the third largest listed company by market capitalization in the retail real estate sector in Europe after Unibail-Rodamco-Westfield and Klepierre. We remain strongly focused on investing in our shopping centres, new developments and acquisitions while maintaining a strong balance sheet, to drive our growth momentum. By supporting our retail and business partners through creative management and marketing initiatives on the ground, we also ensure our properties remain highly sought-after destinations and great places for people to meet, shop and be entertained.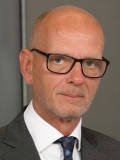 Rüdiger Dany
CEO
NEPI Rockcastle
Rüdiger Dany joined NEPI Rockcastle in 2021, becoming Chief Executive in February 2022. His 30-year international career has included working for retail real estate companies ECE, Atrium and Blackstone-backed shopping centre developer Multi Corporation. Rüdiger was a member of the Board and COO of Multi.
More »
How has the retail market in CEE recovered since the pandemic? Are there any particularities you have observed in Romania from this perspective?
Consumers across CEE have shown remarkable resilience during the turmoil of COVID, disruptions to global supply chains, the energy crisis and soaring inflation. Regional retail markets have staged a strong recovery since the pandemic, which has extended into this year.
CEE consumers, more used to extended past periods of economic adversity than their post-war West European counterparts, tend to be more sanguine about inflation, with the anticipated future depreciation of their purchasing power encouraging spending today. The recovery in Romania, NEPI Rockcastle's largest market, has been particularly pronounced, and a major contributor to our top-line results.
The OECD estimated the Romanian economy expanded by 6.5% in 2022, after growing 5.1% in 2021 following a 3.7% contraction in 2020. Unemployment is low and foreign investment substantial, supported by inflows of EU funding. The influx of refugees fleeing the war in neighbouring Ukraine has also bolstered Romania's retail market.
What are some of the megatrends shaping the retail market? How are you adapting your spaces and lease strategy to emerging demands in countries across CEE?
The CEE markets are increasingly attractive to international retailers drawn by the region's relatively stronger economic growth compared with Western Europe, and the higher margins achievable due to lower occupancy and labour costs.
We are seeing this internationalization trend across our assets. In 2022, half of our new leases were signed by existing and new international retailer tenants. For example, Primark opened a 5,800 sqm store in Bonarka, Poland and will open another in the Arena Mall in Hungary. The Lefties value brand of Inditex, the world's largest fashion multinational retail group, will be opening its first CEE outlet in our new retail development in Craiova, Romania. Strong demand from retailers means the average vacancy rate across our portfolio stands at just 2.7%.
Online retail sales surged in CEE during Covid but remain far below Western European levels, especially in the UK. E-commerce penetration of physical retail markets is also showing signs of reversing as customers return to brick-and-mortar stores.
What are your investment plans in Romania?
We continue to invest heavily in our development program. In February 2022, we started to work on the Promenada Craiova in southwestern Romania. We originally planned a 52,300 sqm shopping centre, but due to high retailer demand have added a retail park next door, bringing the scheme to 63,700 sqm in total. Leasing is progressing well, 94% of the centre is let or terms agreed and 75% of the retail park gross leasable area–well in advance of the scheme opening in Q4 this year.
We are also transforming the Promenada Mall in Bucharest, adding 58,400 sqm of gross leasable area. For the extension, which is due to be completed at the end of 2025, lease terms have already been agreed to for 46% of the additional GLA.
In addition, we are close to finishing construction of our first residential block in Bucharest, the Vulcan Residences, which will provide 254 apartments, sales of which are progressing well.
We are also investing to achieve the targets set in our sustainability strategy and are installing photovoltaic panels across 30 properties in Romania, ten of which are already completed, with the rest to be finalized by the end of 2023. We are spending €37 million to build a total installed capacity of 40 MW, representing some 30% of the energy needs of the assets.
Does Bucharest have the capacity to accommodate new large-scale shopping centres? Are regional cities fueling a new wave of growth in this segment?
Bucharest still has considerable potential. Some of the city's shopping centres are first-generation assets that can be improved through refurbishment and/or extensions. Our highly successful Promenada Mall expansion in Bucharest demonstrates the potential for new shopping centre developments in the city.
Attractive opportunities exist in Romania's regional cities too, with enhanced retail offerings emerging in a number of secondary and tertiary locations. Our shopping centre in Constanța is a prime example, with the Black Sea resort's flourishing tourist industry helping spur strong sales growth.
How are you tracking and implementing your ESG agenda across your property portfolio?
During 2022, NEPI Rockcastle reviewed its sustainability initiatives, business strategy and the financial investment needed to upgrade its operations and developments to the highest ESG standards. We implemented the BREEAM sustainability certification program for our properties and have achieved an impressive year-on-year increase in the use of energy from renewable sources, alongside initiatives to improve energy efficiency. As a result, the Group achieved a 13% reduction in its operational carbon footprint in 2022 compared to 2021, and significant further progress is being made in our efforts to reduce greenhouse gas emissions.
What is your outlook for prime rent prices in Romanian shopping centres? Are we going to see similar growth pressures to those in the office segment?
In Romania, shopping centre tenants pay a base rent, plus a turnover rent on top – once sales turnovers pass a set threshold. Thanks to the strong increase in sales last year, the turnover rent was therefore quite high. When a contract expires, the standard practice is to negotiate with tenants to translate a portion of the turnover rent into base rent, so ongoing turnover growth should drive a rise in base rents in coming years.