Construction works have started on the extension of the Colosseum commercial centre in the northwestern part of Bucharest. Colosseum Mall represents the most important retail development in Bucharest during the last three years, a period during which the purchasing power per capita at the city level increased by almost 20%.
The shopping centre will be extended with a new section with a total area of approximately 20,000 square meters, which will be primarily dedicated to fashion & beauty retailers (45%), leisure & entertainment (30%) and food & beverage (12% ), components that will strengthen Colosseum's position on the Bucharest retail market, in a period with a reduced supply of new retail spaces.
Because of the expansion, the Colosseum project will reach 54,500 sqm of retail space, becoming the second largest retail scheme in Sector 1 of Bucharest and the seventh largest at the city level, according to Cushman & Wakefield Echinox, the strategic consultant for renting the new spaces at Colosseum.
The project comes to serve a residential area of the city, close to the new office hub in the Casa Presei area, an area with a reduced offer of retail spaces, considering that there is no modern retail project within a six kilometres radius around the Colosseum. Moreover, the project will have the second multiplex cinema in Sector 1 and the tenth in Bucharest.
Bogdan Marcu, Partner, Retail Agency, Cushman & Wakefield Echinox: "The density of modern retail space in Bucharest is below the average of other cities in the country, while the purchasing power per capita is significantly higher as it continued its sustainable growth in recent years, amid the rise in wages. In this context, retailers are constantly looking for new opportunities, and the expansion of Colosseum in a developing area of Bucharest has come to meet this demand. Thus, about 10 months prior to its completion, agreements have been signed with all the tenants occupying large areas, and in the next period negotiations will be held regarding the few small units that are left to be leased."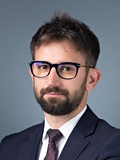 Bogdan Marcu
Partner, Retail Agency
Cushman & Wakefield Echinox
Bogdan Marcu is working as Partner of the Retail Agency at Cushman & Wakefield Echinox in Bucharest, Romania, having 10 years of retail background. He coordinates the retail leasing activity of the agency and is responsible with the portfolio consolidation by finding new tenants and landlords for new business opportunities. His substantial experience in the Romanian retail market, on both shopping center and retail park segments, is a great asset for the team and a strong success factor in numerous projects.
More »
New tenants, such as the Happy Cinema operator, the World Class fitness centre network, over 20 fashion and beauty stores, as well as 12 restaurants and cafes, will be added to an already solid mix that includes Carrefour, Leroy Merlin, Altex, JYSK, LC Waikiki, Sport Vision or Pepco, among the top performers and dynamic retailers in the local market.