With consumer habits changing rapidly and technology reshaping the entire real estate industry, the only way for shopping centres to stay in the race is to innovate. Ingo Nissen, Sonae Sierra's Managing Director for Romania talked about the future of retail and the Romanian retail market in particular.
The future of retail will be one of the key topics of Prague Property Forum 2018. This event, co-organised by Property Forum and RICS, will bring together over 200 industry experts from Central Europe.
In your opinion, what are the top three trends driving the European retail market in 2018?
2018 is expected to bring new opportunities due to the latest innovations in technology. The effect of technology, consumer's behaviour and lifestyle changes are already deeply affecting the retail approach. Overall, 2018 retail trends are directing into more shop conscious consumers and selling experience.
More than simple pick & pay locations, shops are already transforming their spaces into showrooms, where visitors can experience concept products, test a larger variety of products, customize them and ask for personalization in-shop for later production or customization. Shops are now a point of contact between brands and people; not just between products and consumers.
Health & lifestyle is the main trend that has been rising for recent 2 years and we believe it will continue its ascendant trend for the future. As retail markets become more conscious of the life quality and style needs and ambitions of consumers, shopping centre marketing and leasing become also more directed to this healthy trend as well as towards experiences. At Sonae Sierra, we have been focussing on health-related concepts and lifestyle for some years and we continue to develop more events, fairs, seasonal markets, food offer, new temporary products/shops, experimental brands and products, lounges, exhibitions- all related to this concept.
In addition, the food & beverage sector (F&B) is becoming increasingly healthy and homemade cuisine with more international choices of food and specialities are more and more appreciated by clients, as well as special natural or diet focussed F&B offer.
E-commerce is proving to present great synergies to leverage sales as it is increasingly more integrated with the shopping centres offer since stores and services can combine online, offering in-shop pick-ups, assistance, workshops, product experiments, launch events and so on. The main aspect is creating synergies and meeting points where consumers benefit from online information and life experience of products, services or events. In this sense, e-commerce is utmost helpful to boost a centre's operation.
With online shopping becoming more popular the way people shop is changing rapidly. How is Sonae Sierra reacting to new consumer habits?
For Sonae Sierra this issue is not a threat, as visits to our shopping centres are much more than simple acts of shopping: our centres are areas for daily-life activities, for socialization, where visitors can choose a variety of different experiences (shopping, leisure, restaurants, shows, sports, seasonal events, study, business meeting or other social encounters) that e-commerce cannot offer. We work to always offer something extra to our visitors, combining real shopping, services and leisure into one destination, and we see e-commerce and its different platforms as an opportunity to use new communication channels to contact our visitors and attract them to our shopping centres through information and specific campaigns.
Moving forward, we embraced technology by the use of digital media, such as PromoFans: a multi-channel promotions platform that combines our tenants and visitors offers and searches to provide the most recent promotions, products and services in a convenient way.
At Sonae Sierra, we are also actively investigating and responding to the retail, consumer and technological trends which will shape the next decade. We have social media presence with tools such as Facebook and Twitter, also a website with comprehensive information, personalized support through Whatsapp groups, information on events and promotions as well as mobile app solutions to support and serve its visitors, with a map, concierge services, fashion advisors or information on upcoming events and promotions.
Brick and mortar retail is far from dead, but retailers have to take risks and become adventurous to give consumers good reasons not to do all their shopping online.
More than ever, retailers look forward to educating customers to help them shop better, based on their choices and preferences, while they will opt for traditional and custom-made products. We believe that the next step is the service-driven and even service-only store. It is no longer a concept – it's a key way of connecting with the consumer beyond the digital space.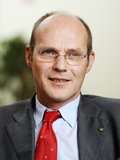 Ingo Nissen
Managing Director Romania
Sonae Sierra
Ingo Nissen joined Sonae Sierra in 2000, when the company began its operations in Germany. In 2007 he was appointed Director of Developments in Romania, with particular responsibilities for the shopping centre development activities in that country. Ingo has a degree in Civil Engineering from the Technical University in Braunschweig. He gained his PhD at the Technical University in Munich.
More »
How are tenants responding to the growing popularity of e-commerce?
Even if we live in a digital era, offline shopping shouldn't be threatened by online shopping and our tenants are aware of this. Actually, technology has to be seen as leverage because, for instance, we can concentrate more on the customers, engaging with them before and after the visit to our shopping centre. Also, some of our tenants are using technology to take the shopping experience to the next level through dedicated offers using geo-location technology or special smartphone applications.
The more futuristic and digitalized a shopping centre is, the cooler it is. Shops work as showrooms or testing facilities. You can shop online, but you cannot have the full senses experience over a product through a digital platform.
In conclusion, when we are talking about the future of the shopping centres is clear that this sector will come with a lot of innovations that provide more of an experience.
What kind of potential do you see in the Romanian retail market?
It is evident that the number of new retailers opening up new stores in core-SEE countries is on the rise. While some markets have a higher penetration of international retailers, with others catching up to the trend, overall the SEE region is an attractive region for a variety of retailers. The penetration of shopping centres in Romania is at approximately 125 sqm of GLA per 1000 inhabitants, which is still far from the European average of 260 Brick and mortar retail is far from dead. The index of this market showed us that there was still some opportunities for the development of a shopping and leisure concept of high quality in the city of Bucharest, like ParkLake, but now we have to look to secondary cities. We believe that Romania still offers development opportunities for new projects and we take special consideration for other major cities in Romania besides the capital.
As from an investment point of view, we do believe that the most active sectors will be in high fashion and accessible luxury brands together with home and deco sector.
The Romanian consumer is a fashion expert and likes to be trendy, cool and in line with the latest fashion.
Also, food chains represent a main growing category for the moment, where we can notice Asian & raw/vegan trends along with gourmet street food approach.
Sonae Sierra already has two existing shopping centres in Romania and is also working on a new project in Craiova. What are your future plans for the country?
As we said above, we believe in the potential of the Romanian market, but for the moment the focus is on ParkLake's consolidation as the preferred location in Bucharest. We have one project in the pipeline - Adora Mall (Craiova) and we are waiting for the right moment to move forward with the development according to the dynamics of the market. In the meantime, we analyse the feasibility of different locations in the country. If these studies are positive, we are able to start with new projects.