Andrzej Potyra, Head of Żabka Property Fund has talked to Property Forum about his investment strategies and recent developments, both retail and warehouse ones.
Żabka Polska is a Polish chain of convenience stores with more than 8,500 stores across Poland. Żabka's portfolio includes various store formats, including, among others, a vending machine in one of the private hospitals in Warsaw. The chain also operates seasonal stores, with 90 outlets in tourist destinations during vacations. Żabka`s offer is complemented by unmanned autonomous stores, with 50 Żabka Nano outlets in operation, making the retailer the largest autonomous store chain in Europe.
Żabka has been buying up property almost wholesale recently to make it available to its franchisees. Why this change?
We are developing opportunities to work with our company beyond leasing. We are open to the purchase of existing operating retail premises and those planned to be opened on the primary market. Building relationships with developers at the design stage of new developments is important for residents, who will have their Żabka store in the best possible location. From the developer's perspective, it is also an advantage to cooperate with a reliable, predictable, and efficient partner at a very preliminary stage of construction and to have the possibility of setting individual conditions of purchase. Direct cooperation is always more beneficial for both parties. For us as a chain, this also opens up new opportunities - even during the construction phase, we have the possibility of setting individual purchase conditions. The premises, in which we will eventually open a Żabka store, are best adapted to our needs and high standards, such as having a ramp for people with disabilities or being powered by green energy. However, our main model is still the lease of commercial premises and we are interested in this form of cooperation.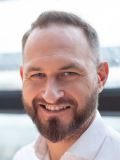 Andrzej Potyra
Head
Żabka Property Fund
Andrzej Potyra is the Head of Żabka Property Fund and also manages the real estate investments of the Żabka Group. Previously, he was an Executive Director at Bank Santander and managed the Structured Finance team in global investment banking. Andrzej has extensive experience in raising finance and managing real estate investment projects, leveraged buyouts, and project finance. During his career, he has advised business owners on M&A and ECM transactions. He started his career at E&Y and KPMG.
More »
You also buy undeveloped land. With this in mind, do you intend to carry out 'classic' development activities and develop retail space for your use?
We do not close ourselves off to any form of property use if we assess that it has a high sales potential. Any owner-developer or agent can use our website, where there is a very simple application form for premises or land. The application is registered in our system and is automatically assigned to one of over a dozen field experts. The locations of our stores are a very important element for us to build a competitive advantage, so each location is analyzed in terms of the number of potential customers and turnover. We have created a special team to work on building stores based on modular technology. Combined with our experience, it will standardize and simplify the entire investment process. We are prepared to work with general contractors who will build stores on plots secured by us, or with investors who will construct a store on a plot secured by them and then sell the whole site to us in shell and core built, according to our typical design. We are flexible and, to implement this project effectively, open to various forms of cooperation.
Quite recently you have made your debut as a developer of warehouse space - in cooperation with 7R you are building a huge logistics and distribution centre near Warsaw, with an area of almost 60 thousand square metres, which has already been purchased from you by Macquarie Asset Management. Do you intend to make such investments regularly or was this a one-off?
We have made our debut as a warehouse space investor who understands the dynamics of this market and, at the same time, is able to secure the interests of the tenants by knowing their needs. In this project, the development competence was provided by 7R, which has a great deal of experience in this aspect. In terms of future investments, there is the potential to apply a similar approach, which we do not rule out, although at the moment we are fully focused on completing and commissioning the aforementioned investment in Radzymin. At the same time, Żabka Polska runs its logistics business in 7 other logistics centres, which it leases from various partners and is bound to them by binding contracts.
Żabka Nano and unmanned stores - is this a marketing ornament, market probe, or actually the future of the Polish FMCG market?
Żabka is the European leader in creating modern convenience solutions that meet the needs of modern customers. Our focus is on providing a unique and highly personalised shopping experience, connecting the digital world with the surrounding environment. We are able to open more autonomous stores both in heavily trafficked locations, such as city centres or metro stations, as well as in big-box stores. We are also one of the first in the world to develop a concept that allows people to enter the store using a payment card. We see the huge potential of such solutions, hence the development of the concept and further expansion plans.
Rising double-digit inflation is a problem that cannot be escaped. Could falling consumer spending affect your investment plans in terms of further expansion of your network of outlets?
In our company, we take into account a variety of factors influencing our future growth, and we also have a dedicated team of people analysing business risks. However, we operate in an industry that - when faced with challenges such as the Covid-19 pandemic - has proven to be the most stable in the market. We are open to different scenarios, but let us remember that Żabka stores are located close to customers, within a few to a few hundred metres. Customers will take this into account when analyzing the cost of travelling to other stores.