Start-ups, venture capital investors, property developers and investors, asset managers, agents, advisors, valuers, tenants, property and facility managers from Hungary, CEE and beyond are coming together at Budapest PropTech Forum 2019 to share their vision for the future and to learn about the next phase of our profession.
The first international proptech conference in Hungary, co-organized by Property Forum (member of Hungary's Portfolio Group) and RICS, in a strategic partnership with global proptech data platform Unissu.com, is bringing together innovation leaders and traditional real estate players to create a common ground for true collaboration between proptech start-ups, property professionals and occupiers.
On 6 March 2019, nearly 200 guests will come together in the Hungarian capital to discuss the future of the real estate industry and to explore the latest innovations in the profession. The conference has already attracted renowned speakers from all over the continent and the list of speakers continues to grow. With three keynote speeches in the morning section, the conference intends to inspire visitors to start a conversation and share their own vision for the future.
Technological development, climate change and urbanisation will increasingly impact on cities and people's lives. To design, create and maintain spaces where people (want to) live, work and play require skilled professionals. Which skills will be needed in the future? And what will the role of professionals be in building that future? Sander Scheurwater, who leads the RICS team aiming to inspire trust and confidence in real estate and construction markets, will try to answer these questions in his opening speech.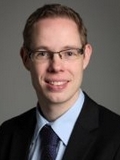 Sander Scheurwater
Director Corporate Affairs, Europe
RICS
Sander Scheurwater leads the Corporate Affairs for Europe team, which aims to inspire trust and confidence in real estate and construction markets, as well as provide expert advice to decision makers and markets, focusing on policy, brand development, thought leadership, media and communication and market adoption of our standards and our qualification. Sander is a Dutch national and studied economics at the Erasmus University of Rotterdam. He majored in sociological economics.
More »
"PropTech is one small part of the wider digital transformation of the property industry," says so James Dearsley, a prominent global PropTech influencer who will look beyond the buzzwords and show why embracing new technologies is extremely important. He founded Unissu, a global platform which lists over 6000 PropTech businesses from around the world, along with co-founder Eddie Holmes.
James Dearsley
Co-Founder
Unissu
James is recognised as one of the leading thought leaders on the future of the real estate market. His role as the Co-Founder of Unissu, the global leader of PropTech data, information and resources, means he has an unrivalled perspective on global PropTech trends. As a result, he is a much sought-after speaker on the future of the property industry both in terms of how people and companies in the sector should adapt to facilitate change.
More »
The third keynote of the morning will show what artificial intelligence means for commercial real estate. Antony Slumbers has been a software development and technology strategist in commercial real estate since 1995. Now he consults and works with real estate boards on transformation, technology and innovation. He is ranked high on the list of most influential online commercial real estate people and is coming to Budapest to talk about how AI is transforming our world and our business.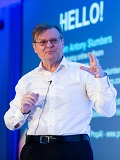 Antony Slumbers
Co-Founder
PropAI
Antony Slumbers has been a software development and technology strategist in commercial real estate since 1995. Now he consults and works with real estate boards on Transformation, Technology and Innovation. He is a regular international speaker on ''Space As a Service', AI and Innovation'. Antony ranked as No 7 in Duke Long's Top 10 Most Influential Online Commercial Real Estate People 2018 and No 3 in Lendinvest's PropTech Power List 2017. He is a member of the Leadership Board of CRETech, mentor at MetaProp RE200 and No 1 ranked non US commercial real estate blogger. Antony is a well known speaker in property and he is a globally recognised expert on PropTech, and #SpaceAsAService.
More »
Budapest PropTech Forum 2019 aims to prepare guests for future changes by analysing current trends during the panel discussions of the day and by gathering speakers to share their vision for the next phase of the profession. Individual discussions will be dedicated to all market segments, including office and retail. During the final section of the day, Hungary's best proptech start-ups and larger companies offering innovative solutions for the property industry will present themselves.
The following local companies will present at Budapest PropTech Forum 2019: Árminimum, BauApp, Beyond Visual, Helix Consulting, Invesol Hungary, Lockcheck, MOHAnet, OOTT Okos Otthon, OrthoGraph, RateMate, Rollet, SMARTme, vintoCON and the list is not complete yet…
The key topics to be discussed are:
IoT is transforming real estate – Top trends to watch out for
Artificial intelligence in the real estate sector
What can the property sector learn from the world of FinTech?
Holistic digitalization – Turning a building into a facility for social and business interaction
Are developers ready to build the digital workplace of the future?
Smart cities and smart solutions in the CEE region
Digitalisation in construction and building management
New ways to improve productivity throughout the property life cycle
Can apps replace real estate professionals?
Deal-making in an increasingly digitalized world
More information and the agenda is available by clicking
here
.