UBM Development Czechia has launched the construction and sale of Timber Prague apartments. The first wooden multi-storey apartment buildings in modern history are being built in Prague. Timber Praha is being developed within the Arcus City residential complex and offers 62 apartment units in modern multi-storey wooden buildings made of solid wood panels, UBM announced.
UBM Development Czechia is now launching the construction of wooden multi-storey apartment buildings in Prague, following the vision of its parent company UBM Development AG, which plans to become Europe's largest developer of eco-friendly buildings with wooden construction. UBM's design department designed the new Timber Prague residential project based on the original design by the Casua architectural studio, which was originally planned as a classic concrete building. The chamber-style apartment buildings contain 62 flats with layouts from 1 + kk to 4 + kk and sizes from 39 sqm to 110 sqm. Each flat will have its own cellar and parking space in underground garages. UBM implements its residential projects with BREEAM ecological certification confirming the standard of buildings in the field of sustainability and environmental friendliness. It also emphasises social and economic aspects. Timber Prague is built to BREEAM Excellent and with an energy certificate in the most economical category A. The developer plans to complete the Timber project in Q4 2024.
"We will become the first developer in Prague to build multi-storey apartment buildings made of wood. Only the lower structure, including the foundations and some staircase elements, will be made of concrete, otherwise, it will be a pure wood building," says Josef Wiedermann, managing director of UBM Development Czechia, adding: "The main advantage of buildings made of wood is their minimal carbon footprint and at the same time it is a renewable material. Wood will also become part of the interior of apartments and common areas of buildings as a design element. We are bringing good energy housing to the market because wood, as a natural material, has a positive effect on the human psyche. The houses will be equipped with energy-saving features, heat pumps, photovoltaic panels, geothermal boreholes, retention tanks to reuse rainwater and smart technologies."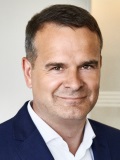 Josef Wiedermann
Managing Director
UBM Development Czechia
Josef Wiedermann is the Managing Director of UBM Development Czechia. After graduating from the University of Economics in Prague and studying at the Otto-Friedrich University in Bamberg, Germany, he worked for the German development company ECE based in Hamburg. For more than 15 years he worked in various management positions and was responsible for the company's expansion into the CEE region. In 2016 he founded his own real estate consultancy company JWC. Since 1 March 2020, he has been a member of the Board of Directors of UBM Development Czechia and the Executive Committee of UBM Development AG. His responsibilities include the acquisition, development, marketing and sales of UBM projects in the Czech Republic.
More »
"The height of the Timber Praha buildings is in accordance with the existing legislation in the Czech Republic, which allows the construction of structures using wood up to a maximum fire height of 12 metres," says Tomáš Krejčí, Director of the Design Department at UBM Development Czechia, and adds, "In Germany and Austria, technical and fire regulations have existed for many years allowing the construction of tall wooden and hybrid buildings. It is common to design residential and office buildings with six or more floors. Our company UBM has now built, for example, the nine-storey Timber Pioneer office building, the first timber-hybrid office building in the Europaviertel business, a financial and residential district in Frankfurt am Main, Germany. We are also preparing, for example, the 12-storey Timber Peak office building in the port of Mainz and other buildings in Austria and Germany with a total gross floor area of around 250,000 sqm."
UBM Development Czechia has chosen a proven supplier for its pilot timber building project in the Czech Republic. "The supplier of the wooden structures is the Austrian company ELK with many years of experience and many realizations of wooden buildings in Austria. For example, it built one of the houses in the residential complex Barany.7 in Vienna for the parent company UBM," says Josef Wiedermann.