Josef Wiedermann, Managing Director of UBM Development Czechia talked to Property Forum about recent changes, ESG strategies and provided insight into the company's ambitious plans for becoming the largest developer of timber buildings in Europe.
The Czech division of UBM recently announced changes in its leadership. What was the reason for this team expansion and what direction does UBM Development Czechia want to take now?
As of 1 October 2022, Vladimír Pašek and Roman Ehrentraut are the new Managing Directors of UBM Development Czechia. They replace the current managing directors Petr Mace and Helmut Berghöfer, who will leave their positions at the end of this year and will continue to work with UBM. The number of managing directors of UBM Development Czechia has not changed, there are still three on the company's board of directors. I am still in charge of acquisitions, sales and marketing, Vladimír Pašek is now the new CFO and Roman Ehrentraut is responsible for the project department and the technical implementation of buildings. Vladimír is a recognized financial expert who worked as CFO at Borgers CZ before joining UBM. Roman has been with UBM since 2011 and as a project manager has completed a number of projects for the company across Europe. Between 2018 and 2022, he managed one of our most prestigious renovations within UBM Development Czechia. Specifically, the renovation of the listed Cukrovarnický Palace in the centre of Prague into the luxury five-star Andaz Prague hotel. We are confident that Vladimír and Roman are great assets to UBM for the challenging period ahead. In the second half of this year alone, we launched a new residential project, Astrid Garden, in Prague 7 Holešovice and completed the acquisition of a brownfield site in Prague 5, where we plan to build over 150 apartments as part of a new residential project. At the same time, we are continuing the construction of our large new residential project Arcus City in Prague-Reporyje, which we are implementing in three phases. In the near future, we at UBM Development Czechia want to focus mainly on residential projects.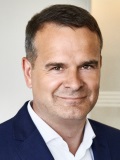 Josef Wiedermann
Managing Director
UBM Development Czechia
Josef Wiedermann is the Managing Director of UBM Development Czechia. After graduating from the University of Economics in Prague and studying at the Otto-Friedrich University in Bamberg, Germany, he worked for the German development company ECE based in Hamburg. For more than 15 years he worked in various management positions and was responsible for the company's expansion into the CEE region. In 2016 he founded his own real estate consultancy company JWC. Since 1 March 2020, he has been a member of the Board of Directors of UBM Development Czechia and the Executive Committee of UBM Development AG. His responsibilities include the acquisition, development, marketing and sales of UBM projects in the Czech Republic.
More »
How have the crises that have come in recent years (Covid, war, energy crisis) affected UBM's business?
The current geopolitical, economic and energy situation is undoubtedly unprecedented in the last decades and places huge demands not only on developers. At UBM, we benefit from being a large and respected player in the European real estate market for almost 150 years. In these challenging times, we have several important pillars to fall back on, including our long-standing international know-how and the sharing of experience with colleagues in the countries in which we operate. This makes things much easier for us.
This year, UBM has decided to strengthen its position in the sustainable building segment. Can you reveal what these decisions were and why you made them?
Becoming a pioneer of sustainable, energy-friendly solutions is our long-term corporate strategy. For example, we had our first internal vision for the construction of buildings with hybrid timber construction, which we also plan to focus on in the Czech Republic, back in 2019. According to our corporate strategy, at UBM we have set the motto "green. smart. and more". We are guided by the motto "green" and "smart" in the design phase, then in the construction phase and then in the operation and management of the buildings. We work with technologies and building elements that meet the sustainability trend and requirements. Whether it is eco-friendly construction, modern sensor technology, energy efficiency or a healthy indoor environment for the comfort and convenience of the occupants. We plan all UBM projects with sustainability in mind. Residential projects are BREEAM "green building certification" and office buildings are LEED certified. With the motto "more", we focus especially on details. For example, we focus on smart technologies that make life more pleasant indoors, eco-friendly mobility, etc.
How would you describe your overall ESG strategy?
ESG is now an integral part of our strategy, "green. smart. and more". Sustainability – "green", smart buildings – "smart" and added value – "more" were already important to us before Covid. However, the Covid pandemic has accelerated the pace of change, and today ESG is reflected throughout the UBM value chain. We analyse every other planned project to see if it can be built using eco-friendly hybrid timber construction, to reduce the carbon footprint of the building throughout its life cycle, etc. In its home country of Austria, UBM became one of the first companies listed on the Vienna Stock Exchange to establish an ESG committee at the level of its supervisory board. Our ESG rating has catapulted UBM to the top of the industry. In May 2022, the ISS ESG agency awarded UBM a "Prime Status" rating of B-, making our company the most sustainable company in the industry in Germany and Austria. In October 2022, we were awarded the highest-ever rating of "Platinum" in the EcoVadis sustainability rating, placing us in the top one percent of all 100,000 companies worldwide.
In addition, in March 2021, UBM joined the UN Global Compact, which includes the environment alongside human rights, working conditions and anti-corruption measures. Sustainable development has become part of UBM's corporate culture and is reflected in our daily business activities. UBM subscribes to the Sustainable Development Goals adopted by the United Nations in 2015 as part of the so-called 2030 Agenda. There are 17 goals in total and at UBM we have identified those that are specifically linked to ESG. They relate, for example, to sustainable cities, healthy living and improving the quality of life, clean energy and responsible production. Most of these goals are reflected in our corporate ambition to build buildings with hybrid timber construction.
In the past, UBM has stated its ambition to become the largest developer of timber buildings in Europe. How do you intend to achieve this goal? And what plans do you have to cope with the constant rise in the price of raw materials, including wood?
This ambition is very closely linked to the mentioned motto of UBM and the ESG strategy. We start with the fact that concrete and steel production accounts for about 6% of global CO2 emissions. If we replace at least part of these traditional building materials with wood, we will significantly reduce the carbon footprint of buildings. In the near future, we plan to implement wood construction in all the countries in which we operate, including the Czech Republic, on a total of more than 200,000 sqm in residential and office projects. And we are already well on our way to achieving this. Our pilot project, which is one of the buildings in the residential complex barany.7 in Vienna, and which has a near-zero carbon footprint, was completed in 2021. The first Timber Pioneer timber office building with 17,600 sqm of floor space in the Europaviertel business, financial and residential district in Frankfurt am Main is now under construction and will be completed next year. This will be followed, for example, by the multifunctional Timber Factory project in Munich with more than 50,000 sqm of space and the Leopold Quartier in Vienna. This is the first urban district built from timber and will include apartments, offices and shops on a total area of 76,000 sqm. We are also already preparing for the first timber project in the Czech Republic. We are planning to start construction of the third phase of our Arcus City residential complex in Prague-Reporyje with more than 60 apartments. The apartment buildings will be combined wooden buildings with main load-bearing elements made of solid wood panels.
As for the financial costs of construction, the prices of all building materials are rising. We plan to use wood from regional sources in all markets in which we operate, i.e. Austria, Germany, Poland and the Czech Republic. We will also save financial costs thanks to the attributes associated with wood as a building material. These include standardisation, modularisation and prefabrication, i.e. reducing the construction time of projects.
UBM Development Czechia in also active in the hotel industry and has recently opened the Andaz Prague hotel. What has been your experience since opening? What is the primary focus of your subsidiary UBM Hotels Management?
We are very satisfied with the Andaz Prague hotel in the centre of Prague on Senovážné náměstí, which we opened this spring after the renovation of the former Cukrovarnická Palace. It has managed to establish itself very quickly on the hotel market and has become a popular place not only for accommodation but also for gourmet experiences and prestigious events.
UBM Hotels Management was founded in 2016 with the aim of combining the UBM Group's know-how and hotel rental activities under one roof. The business model includes advising UBM Development AG on the acquisition, development, branding, management and sale of new hotels and hotel properties. UBM's hotel operating partners are often renowned multinational chains. In the case of the five-star Andaz Prague hotel, for example, this is the Hyatt chain. It chooses its locations carefully, and by spring this year it had four hotels across Europe in Vienna, Munich, London and Amsterdam, making Prague its fifth location.