How long will the cooling off in the investment market last? What are the main factors currently shaping demand? Which projects will banks lend money for today? In an interview with Property Forum, BNP Paribas Real Estate experts Małgorzata Fibakiewicz and Tomasz Arent summarised the current situation in the retail and warehouse sectors in Poland.
High inflation and interest rates in the eurozone have significantly cooled investors' appetites for Polish commercial real estate - in terms of investment volumes, it promises to be the weakest year in a long time. How long do you think this state of affairs will last?
Małgorzata Fibakiewicz: In the office real estate sector, we have been experiencing - colloquially speaking - a black swan rally for some time now. Firstly, the market is heavily influenced by inflation, high interest rates and financing costs. Secondly, rising energy costs and therefore running costs are a problem, and thirdly, there is still a high level of uncertainty about the forecast demand for office space. It is still not entirely clear which working model will ultimately be adopted as the standard. We are still testing a number of variants and it is virtually certain that some form of hybrid working will stay with us, despite the increasing conclusion that working from home is not efficient enough and that employees do not form strong bonds with each other. Demand discounting is a fact of life - companies are renting around 20 per cent less space today than they were before the pandemic. All of this therefore raises question marks among investors, who wonder whether offices are really the best class of property to invest in today.
It is difficult to say how long this state of affairs will last. Investors are primarily waiting for lower financing costs. As far as the actions of the European Central Bank are concerned, economists expect one more - but the last - rate hike, after which the ECB's policy is to loosen. Whether this will in fact be the case, we will find out next year.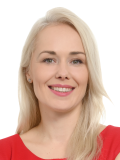 Małgorzata Fibakiewicz
Head of Office Department
BNP Paribas Real Estate Poland
Małgorzata has over 18 years of experience on the Polish real estate market. She currently heads the Office Space Department, providing tenant and landlord representation solutions, as well as key account management support services. Her previous experience includes managing the Business Intelligence Hub & Consultancy, a department related to research and business analytics. Małgorzata holds a Master's degree in Classical Philology (University of Lodz in 2002) and completed postgraduate studies at Solvay Brussels School of Economics & Management in Professional Real Estate Management (2013) and Banking at the Warsaw School of Economics (2006). He also holds the MRICS (Royal Institution of Chartered Surveyors) designation.
More »
Tomasz Arent: In my opinion, the market slowdown we are currently observing is something normal - you simply cannot be "on top" all the time and a cyclical economy has to cool down after a period of prosperity. I confirm that investment transactions in the warehouse market are significantly lower than in previous years. But I am absolutely convinced that this cooling will soon come to an end. Economists predict that the second half of next year will see a rebound in economic growth and lower inflation at both European and national levels. The market is already preparing for the return of investors today - we see developers positioning themselves for land deals or funds and looking at building acquisition opportunities. Work 'on the back end' is already underway and well advanced.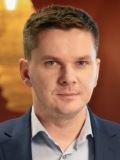 Tomasz Arent
Head of Industrial & Logistics Department
BNP Paribas Real Estate Poland
Over the last few years, in senior management positions, he was responsible for development and business projects in the logistics real estate market, first at Goodman Group and later at GLP Poland. Working on the investor, developer, asset manager and fund side, Tomasz has extensive and varied experience in projects conducted for clients who have used the entire spectrum of services and solutions available within the logistics real estate market. Tomasz has also worked within the real estate structures of the IKEA Group.
More »
The supply gap in the capital's market - how long can it last and why are office developers still delaying announcing new projects?
MF: The primary reason for the gap was, of course, the pandemic and the subsequent period of uncertainty, when it was not entirely clear whether offices would ever again be needed and, if so, how they would function. Developers then halted the launch of most planned projects and, looking at the number of zoning decisions issued by Warsaw's City Hall for such projects, there is no indication that this period of low supply is going to end any time soon. The biggest players are, of course, developing individual projects in the most attractive locations, but according to our estimates, there are currently only around 235,000 sqm of new offices under construction that are expected to be delivered over the next three years. This is not an impressive figure if one recalls that during the years of peak developer activity, 280,000 sqm was coming onto the market each year. Today, on top of the lower demand for office space than before the pandemic, there are also high development costs and debt. I think next year will be the key year - if developers do not start launching new projects in greater numbers in 2024, the supply gap in our office market may extend even until 2027.
How do you think the warehouse space market will develop over the coming year? On the one hand, we have continued high demand, generated by e-commerce and logistics, and on the other, the ever-smouldering conflict in Ukraine across the eastern border...
TA: The market has been an arena of major anomalies in recent years and only this year has finally recovered from the effects of the pandemic and the war economy. It is finally calmer and more predictable, and the confidence of investors, who have recently been decidedly more cautious in their decisions, is beginning to return. However, I would disagree with the statement that demand today is mainly generated by e-commerce. This sector has indeed grown very quickly, carried on the wings of the black swan of the pandemic. Today, however, people are returning to their old shopping habits and traditional retail. Of course, I still see great prospects for foreign players in this sector - Poland remains a huge market of nearly 40 million people, which can additionally be an excellent base for the neighbouring countries. The impact of the conflict in Ukraine on our market is also beginning to fade. While it may still be a problem for American or Asian capital, European funds understand the local dynamics, how NATO and the European Union work, and the great role of Poland in these structures. It is clear to them that the risk of Russian aggression against our country is negligible.
Greater demand will certainly be generated by logistics in the broadest sense. More and more foreign entities are choosing Poland as the location of their production facilities or European warehouses. These facilities are operated by our domestic logistics operators. I predict that the share of industrial production, especially related to the automotive sector, will also grow.
ESG is an acronym that has been used in industry discourses for some time now. In the warehouse sector, the emphasis on the letter 'E' is evident - energy efficiency is something that virtually every tenant cares about. Is it similar in the office property segment?
MF: There is a lot going on in the office sector, and a lot of it. Of course, at the very beginning, ESG was this big 'pink elephant' that everyone saw and everyone talked about, but no one knew how to approach it. It was said that it was a bit like 'CSR 2', that it would end up being a little cosmetic on buildings.
Today, we already know that ESG will not end with beehives on the roof and bike racks, because, thanks to regulations and legal requirements, everyone - developers and building owners alike - will have to deal with the subject in earnest. And quite soon, as mandatory ESG reporting comes into force from January next year. Secondly, we are living in the era of the unravelling climate crisis and minimising our carbon footprint is something that often completely determines our actions. The situation is similar in the office sector - developers try to implement as many green solutions as possible already at the construction stage of the building, as this is not only the most financially optimal but also allows efficient acquisition of tenants. Their environmental awareness is growing year on year and today there are companies that ask exactly where the energy used in the facility comes from, what the energy efficiency of the building is and even what kind of chemicals are used during cleaning. So I would say that we have moved from this 'pink elephant' to very concrete analyses and actions.
And what do the new conditions mean for existing buildings? Many facilities, especially older ones, will face the dilemma of a change of function or capital expenditure to bring them closer to the required minimum. The use of less costly 'half-measures' will result, in the best case scenario, in a downgrading of their class and thus their attractiveness to tenants and revenue.
What is the situation with warehouse properties? Is it not the case that, in the pursuit of cheaper energy, developers are somewhat neglecting the letters S and G?
TA: From my perspective, the ESG transformation is evolutionary rather than revolutionary. It is not a change that can happen in a month, a year or two years. It is a long-term process that involves both the users of warehouses, their owners and the funds that have invested in this real estate sector. Although politicians are trying hard to speed up this process, the world needs time to adapt to ESG thinking. As you rightly point out, it is easiest to think about ESG in environmental terms because they are relatively easy to quantify. Social and Governance change, on the other hand, is something that companies need to mature into. They require deep transformations in company cultures - these processes are already underway, but the scale is smaller than in the environmental part. However, this avalanche has already started - basically, every investment conversation in terms of real estate transactions brings up ESG and to what extent a building is 'ESG compliant'. We are also seeing a lot of movement on the platforms of existing buildings, whose owners are wondering what modifications need to be made so that their product remains attractive to investors all the time.
How do you assess the current willingness of banks to finance new office and warehouse investments in Poland?
MF: It is certainly not the case that the funding tap is turned off, but I would say that the availability of money today depends very much on the market position of the developer. Experienced developers, with an extensive track record, developing core projects will have no problems in obtaining financing. However, they have to reckon with the fact that banks will require them to have signed pre-let agreements for at least 50 per cent of the planned space.
On top of this, there is also the requirement for environmental certification. Some banks will not even finance the best-located office building if it does not meet the relevant environmental parameters. This is simply because the target customers for this product are investment funds, which more and more often have a similar requirement written into their strategies. And they simply will not buy such an office building.
TA: Due to high interest rates, a large proportion of warehouse investments today are financed from the property owner's equity. Not all developers today want to bank finance, as this could make their product more expensive for tenants later on. The opportunity to raise money for development projects still exists, whereas, banks are certainly more scrupulous in reviewing applications in terms of who the tenant of the building will be, their security of doing business and current financial performance. If developers want to use bank financing today, they have to present a lease of at least 30-50 per cent of the building area.