Roger Andersson, Managing Director of Vastint Poland talked to Property Forum about the accelerating residential property prices, faith in hotel investments in Poland, and constantly rising construction costs.
How is the development of your flagship investment – Stara Rzeźnia in Poznań - progressing?
We are currently agreeing on the final concept and the configuration of the whole project with city authorities. We are about to receive the zoning permit - the next step is to apply for a building permit. We haven`t actually communicated it to the market, but the design phase of this investment is fully completed. We just need the building permit to start the construction.
Retail and office properties have been severely affected by the Covid-19 pandemic restrictions. Aren`t you afraid that large, mixed-use investment will inherit the problems of its "relatives"?
Not really, I actually think the other way around. The major part of Stara Rzeźnia is residential, and – as we all know – the current demand for residential property is much higher than the supply. There is no specific retail in this project, it will contain mostly food & beverage spaces and social areas like theatres and so on.
Stara Rzeźnia will indeed include a lot of office spaces, but it has a fantastic location – a strict centre of Poznań. So I am not afraid about the future of that project – I actually believe that large mixed-use investments are the future and because of the mix of different functions they have an advantage over "regular", single-purpose properties.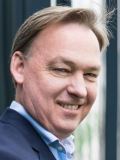 Roger Andersson
Managing Director
Vastint Poland
Roger has been at the helm of the organisation for almost 20 years, managing the operations and expansion of the Vastint portfolio in the Polish real estate market. A graduate of IHM Business School in Stockholm, Andersson has almost 40 years of experience in the industry and previously worked in senior positions at several construction and development companies in Sweden.
More »
Downsizing the office space because of the home office model or enlarging the offices to keep the safe distance between the employees? Which scenario will win?
Yeah, it`s a big discussion on this issue in the market nowadays… I think we will see a mixture of these two approaches - some companies will downsize and keep the part-time home working and others will reorganize the space - maybe will keep the same volume, but rearrange their offices in a different manner. In my opinion, the demand for office space will shrink in a short-time perspective, but this decrease will not be significant. In the coming years the companies, which are already operating in Poland will investigate the market and decide, which option will be the best for them. They may put their expansion plans on hold, but at the same time a lot of new companies are moving to Poland and leasing the office space, so I believe there will be a status quo in the Polish office sector.
Investors from Northern European countries are very active in the rapidly developing PRS market in Poland. Does Vastint plan to join them?
Yes, we have roughly 6000 apartments in our pipeline in Poland and part of this will be apartments for rent. So we will also enter this market but doing our own developments, not buying existing products from others. I believe we will also manage the rentals by ourselves – we don`t need any partnerships in this matter.
Which locations in Poland do you find the most attractive in as the location of new residential investments, except of Warsaw, of course?
In our opinion, Tri-City is a fantastic market, both Gdynia and Gdańsk. We see Poznań and Wrocław have good forecasts, as well as Katowice and of course Kraków. We are present in all these cities and so far residential markets in them are performing very good.
Speaking of Tri-City – do you confirm that a lot of apartments are being sold to customers from Scandinavian countries?
No, actually the feedback that we have from our sales offices in Tri-City says that we have very, very few customers from Scandinavia, the demand is almost completely local. I'm gonna say it's more people from other cities in Poland coming and buying properties in the Tri-City area, as a second home, for example.
Sky-high land prices or sluggishness of officials: what is the main problem of developers – aside from the rising construction costs - in Poland today?
Problem number one is obviously high prices of plots or rather lack of them – regardless if you are looking for land for residential development or any other development. It has a huge impact on the prices and competition conditions on the residential market in Poland. I also think that the planning departments in Polish cities lack, I would say, long-term perspective, what new areas in the cities should be developed. They seem to be driven by developers, who are just pushing them to complete master plans or local master plans.
The prices of apartments are rising continuously. Many of the customers are afraid that apartments soon will not be affordable for an average Polish buyer. What's your take on the prices of apartments: they will keep rising or the market is just going to overheat?
I think the prices will still continue to grow, but I indeed believe that there is a kind of a price roof, that the Polish buyers can accept. I believe the alternative is to look for new locations – not too close to the city centres, but a little bit more in the outskirts - where you can develop bigger, more cost-efficient projects, more affordable for average customers. But as I said before, it is already a huge challenge to find and buy a plot suitable for that kind of project. For now, the supply is shrinking, the demand is high, so the prices are constantly rising. It's not sustainable in the long run.
How are your hotel properties performing? Do you plan to return to this market in, let`s say, two or three years?
Yes, absolutely. We believe in the hotel market. Because of the Covid-19 pandemic some of the hotels are still struggling, especially those located in the city centres. We have two hotels in Tri-City by the seaside and they perform very well right now, so we have nothing to complain about. We have 3-4 hotels planned in our development pipeline and we will return to the projects in the nearest future.
Has COVID-19 and the changes brought on by it made you rethink your financing strategy in any way?
No - we are an equity player, sp we are not depending on bank financing. I don't think the financing is an issue for us – our biggest problems are where to locate our next developments and what to do with the accelerating construction costs. These are the major challenges for us, not the lack of financing.
Could you reveal some of your new investment plans for the incoming 24 months?
We have four or five potential residential developments, which we could start constructing in that time, for example, Portowo and Pastelowo projects in Poznań. There is a big chance that we will start the construction of both next year, the same situation goes for our hotel project in Katowice. But everything comes down to the construction costs and offers, which we will get from the general contractors. The major challenge is the construction price.