There is definitely a trend of less space requirement in the Polish market. Marta Zawadzka, Leasing Director at Yareal Polska talked to Property Forum about the incoming supply gap in the Polish office market and changing preferences of the tenants.
The first quarter of 2023 was the first in more than 15 years (since Q2 2005) in which developers failed to deliver any new office projects on the Warsaw market. What long-term effects will the supply gap have on the capital's office market?
For 2023, we have planned 75,000 sqm of office space, so it's not so bad. A few very interesting buildings are coming up in the following 3 years. I would say that one of them is LIXA D and E in 2024. Of course, due to the limited amount of land, we will be seeing more redevelopments of existing B-class office buildings in Warsaw than new deliveries. However, this goes in line with the smaller demand given by the hybrid mode. The supply gap provides strong competition between the projects, not only from the commercial perspective but as well design, certification, marketing and ESG. From my perspective in the next decade, the city will become younger. Old B-class office space in prime locations will be redeveloped into new office projects, and locations outside, especially Mokotów will be converted stronger into residential.
How long can this state of affairs last, given that only around 200,000 sqm remains under construction, almost four times less than in the record years 2017-2019?
For 2025, there is scheduled a larger amount of office space to be delivered. We have to remember as well that the growth of existing tenants has been limited due to the hybrid mode that is currently existing. I would not so much compare the supply to the previous record years as we are in a different type of economic cycle and office work style at the moment. Companies are considering the hybrid model which is downsizing and consolidating their locations. There is definitely a trend of less space requirement in the market.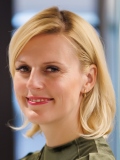 Marta Zawadzka
Leasing Director
Yareal Polska
Marta Zawadzka joined Yareal in February 2021. She has more than 17 years of real estate experience in the Polish and European markets. Marta is responsible for implementing the company's office project lease strategy. In particular, her focus will be on the developer's flagship office investment in Warsaw – the LIXA campus complex near Daszyński Roundabout. Marta Zawadzka is a graduate of several MA and postgraduate courses at the University of Warsaw, the Jagiellonian University, as well as the AGH University of Science and Technology in Krakow, the Warsaw School of Economics and the Harvard Business School. So far, her professional career involved coordinating office and retail space lease processes and cooperating with agents and tenants. She has gained experience working at, among others, Avestus Real Estate, NEINVER, Kulczyk Silverstein Properties, TriGranit and GTC, managing the leasing of office and retail space.
More »
What features do you think a modern office space anno domini 2023 must have? Without which amenities is it no longer possible to rent an office today?
Mixed-use is a new trend that has entered the market a few years ago. At LIXA we have developed LIXA City Gardens, over 4000 sqm of retail space, with the heart at the main passage. Restaurants with gardens, grocery, services, medical, and showrooms. It's all there and growing. After the pandemic people prefer to have everything on hand, this is why LIXA is more a work/life balance project with green patios, terraces and community areas. Apart from the mixed-use, definitely all bicycle amenities: parking and showers and lockers. Many times good to have kindergarten, gym and medical.
As the landlord market is fast approaching, perhaps tenants will lower their requirements.
I'm not so sure about that. It's good when the bar is up. It's maybe the change of approach. Clients are more aware that they need to be focused on securing the perfect location, as someone else might snatch it from them. It's just about keeping the momentum.
In the residential market, Yareal was one of the first developers to offer buyers properties realised according to ESG principles. Do you place a similar emphasis on the 'greenness' of your investments in the office sector?
Absolutely yes. At LIXA we have focused on low-emission concrete, recyclable aluminium for the facade or green energy from windfarm both for construction as well as future building operations. Apart from ESG all of our buildings are certified BREEAM Excellent. Further, WELL Health-Safety, confirms the highest procedure standards in case of the return of the pandemic.
Do you plan to launch any new office projects in the near future or, like the vast majority of developers, are you holding back?
We always plan. Not only new developments but as well refurbishments such as Wspólna 47/49 in Warsaw, which is in our pipeline. We are definitely staying active in the office sector for years to come.