Hannes Wimmer, Executive Director, Loan Syndication at Erste Group Bank AG talked to Property Forum about the segments driving the property investment market and the funding focus of banks on sustainable projects. He reveals that compared to Western Europe, the CEE region is lagging a bit when it comes to financing sustainable projects, but big changes can be expected during the next 6 to 12 months.
This interview was first published in Property Forum's first annual "The 50 most influential people on Romania's real estate market" publication.
Investors clearly prefer logistics over other asset classes as a result of the pandemic. Is the same true for banks?
Yes, basically today it is already common knowledge that logistics has emerged as a clear winner from the pandemic. Everybody's running after logistics. The developers are doing it, the banks are doing it. The hot topic today is logistics, across all markets and countries. A lot of banks are now quite reluctant towards other asset classes but are happily financing logistics projects, which also helps the logistics market. I would say that at least for the next 18 to 24 months, there will be a gold rush in logistics simply because there is not enough modern space on the market at the moment. Also, nearshoring in manufacturing is also likely to create further demand for modern logistics space in CEE.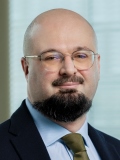 Hannes Wimmer
Executive Director, Loan Syndication
Erste Group Bank AG
Hannes Wimmer is responsible for Real Estate Loan Syndication at Erste Group Bank AG which is heading the Austrian savings bank sector. Based in Erste's Viennese headquarters he manages the syndication of real estate transactions in Austria and CEE. Hannes Wimmer has worked in various positions in the industry including origination as well as restructuring, accumulating 20 years' experience in the field. Erste Group Commercial Real Estate is the specialist of Erste Group for real estate financing, investment, asset management, real estate development and technical advisory in Central, Eastern and Southeastern Europe. In total across the region, Erste Group manages a commercial real estate portfolio of more than €13 billion with an annual deal flow of more than €2.5 billion.
More »
What about offices? The market has suffered some losses due to remote work and more cautious tenants.
Regarding new developments, there is some progress – the market has never stopped functioning. However, the developments, in general, have slowed down and we sense that there is a little bit of a wait-and-see situation going on in the market. Will there be any large-scale transactions this year or not? What's the appetite for office buildings or portfolios? The rental market has slowed down in general: there were a couple of cancellations and a couple of postponed signings for rental contracts. But now the region's countries have gotten their vaccination programs underway and the economy is picking up, which might increase the activity in the rental segment.
Some banks are clearly avoiding retail as well. Is there an opportunity here that some are missing?
If as an institution you are involved in financing retail, then I would say there are some good opportunities in the market now because a number of banks are stepping out of this segment. So, if you still feel comfortable and your risk management and your stakeholders are comfortable with retail assets, then yes, this is a good opportunity to get prime assets, even leading ones that are in a good shape with excellent management. The key distinguishing elements of such assets remain a well-established location, an attractive and resilient tenant mix and excellent centre management that is constantly evolving the brand and attractiveness of the scheme.
Most market observers believe that once shops reopen after the lockdown, the rebound for those established centres will be quite easy. For its part, Erste Group – as part of a syndicate – has just recently refinanced the debt of Aupark, a prime shopping mall in Bratislava.
The significance of ESG and sustainability, in general, seems to increase drastically in the real estate industry. What does that mean for banks?
ESG and sustainability are definitely becoming ever more important. The aspect of sustainability first appeared in the asset management sphere and it is now expanding to banks as well. As a financial institution, we at Erste Group must have an ESG-sustainability report and our regulators will look at our credit portfolio from this perspective as well.
Compared to Western Europe, the CEE region is lagging a bit in this respect, but I think that big changes can be expected during the next 6 to 12 months. Some people say that this is all just cosmetics. But the EU has a very clear agenda. It says that real estate accounts for 40% of overall energy consumption within the EU and 35-36% of carbon emissions. So this is not a hype that will go away, and the EU will put more and more pressure on all stakeholders: on investors to go into green investments and on banks to finance green projects. In the future, when financing new projects, banks will look more into details like smart meters, waste management, the usage of grey water, the installation of solar panels, etc. However, I am not worried about our clients, after all the industry is quite resilient and adaptable.