Tatra banka, a member of the Raiffeisen Bank International Group, has decided to reflect on the latest development in global workplace trends by changing its corporate real estate strategy which currently includes disposal of one of Tatra banka's office buildings on Černyševského street no. 48 in Bratislava.
The complex known as TatraCity consists of two stand-alone office buildings complemented by a residential apartment building. The office units jointly offer approximately 16,000 sqm of leasable area together with 200 parking places. Today, the smaller eight-storey office building is being introduced on the market bringing a total leasable space of 4,000 sqm, currently used by the Tatra banka's back-office teams alongside the bank´s data centre.
"TatraCity office space on Černyševského street is very popular among our employees for its quality working environment and for easy and convenient accessibility from the majority of Bratislava city districts. However, the banking business and its requirements in regard to the office space evolve naturally. At Tatra banka we closely monitor the latest workplace trends and the consequences of the COVID-19 pandemic only ensured us that changing our office space operational strategy is the right step forward. We will therefore be very glad if one of our office buildings finds a new owner," says Natália Major, Tatra banka Board Member.
The exclusive sale mandate was assigned to Capital Markets team at real estate consultancy firm JLL, which in the past was active in the office investment transactions of Quadro, Lakeside Park and Aupark Tower office buildings in Bratislava.
"One of the main advantages of Černyševského 48 is an efficient and simple floor plan with interesting options of flexible space division, which opens up several possibilities for the future owner. At the same time, it is an ideal investment opportunity for a wide range of potential bidders – from classic office landlords to end-occupiers, to IT companies benefiting from a unique location in relation to optical cables routing, to smaller or medium-sized developers, respectively construction companies focusing on the reconstruction and change of the current use of the building," explains Rudolf Nemec, Head of Capital Markets at JLL.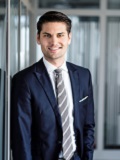 Rudolf Nemec
Head of Capital Markets Slovakia
JLL
Rudolf joined JLL in 2013. He has been providing a full range of buy-side and sell-side services, covering offices, retail, industrial and hotel sectors. Rudolf has had very intensive 6 years of professional experience and prior real estate educational background. During his time at JLL, he has worked on all major post-crisis real estate transactions in Slovakia. Rudolf graduated with MSc in Real Estate from Cass Business School, London, UK. He is a member of the Royal Institution of Chartered Surveyors & recipient of RICS' Chris H. Bennett Memorial Award.
More »