Dimitris Raptis, Globalworth Group CEO, spoke to Property Forum about the investments made to secure a smooth return of employees to the company's office buildings and the importance of sustainability and market-leading certifications in a hybrid work ecosystem.
This interview was first published in Property Forum's annual listing of "The 50 most influential people on Romania's real estate market".
Are more people resuming work in office buildings? How does Globalworth approach the topic of flexibility in the office sector?
After more than two years of people working from home, the desire of corporations and the workforce to return to the office is manifesting in a gradual increase in physical occupancy rates in the Globalworth buildings. Of course, the pandemic has been one of the biggest challenges to the real estate industry for a long time. Businesses of all shapes and sizes need to adjust their needs in choosing suitable workspaces with access to key locations. More companies are joining the Globalworth community, and they keep announcing their intention to physically return to the office. Their decision is supported by our common belief that a healthy and safe working office environment increases productivity, promotes creativity, innovation and consistency, and fosters relationships and corporate culture.
In this regard, we organised workshops with our tenants with the aim of finding out their needs to bring back their employees. After receiving their feedback, we set up various summer cinemas, concerts, picnics, green planting workshops and tours with city guides.
We are delighted that the Globalworth District community is returning to the office, evolving into a more hybrid ecosystem. We decided to support them by offering different incentives. Furthermore, we have created smaller office workspaces, some of them under 200 sqm, to accommodate various companies that need small or medium office spaces.
Another solution involves temporary spaces offered to our tenants while we have fit-out projects in progress.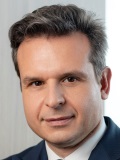 Dimitris Raptis
CEO
Globalworth Group
Dimitris Raptis is the CEO of Globalworth Group, the leading office investor in CEE. He has 25 years' worth of experience in the financial services and real estate industries. He was Globalworth's Co-CEO between March and December 2020. He joined the Group when it was founded in 2012 as Deputy CEO and Chief Investment Officer. In this role, he was involved in most of the company's activities, with primary responsibility for Globalworth's investment and capital raising initiatives, and since 2017, in Globalworth Poland, the Group's Polish business. Before joining Globalworth, Dimitris spent 16 years in Deutsche Bank, most of them as a senior member of the real estate investment management group of Deutsche Bank's Asset and Wealth Management division. Dimitris has a First Class (HONS) BSc in Banking and International Finance from Cass Business School, London.
More »
Will the pandemic have long-term effects on the design of future office buildings?
For sure. The new design for the office industry includes flexy desks, office areas extended into common areas, amphitheatres that bring people together again, coffee shops, lounge areas, PropTech solutions, relaxing & gaming areas.
The new workplace is connected, updated, modular and versatile. A space that allows us to carry out our workday through intuitive commands, a space where employees feel nurtured and have a sense of belonging. That is why we are increasingly seeing biophilic office design as an essential element in the post-COVID workplace. Being surrounded by biophilic elements has proven physiological and psychological advantages. And, besides improving indoor air quality, greenery can make the workplace soothing and welcoming. Being surrounded by biophilic elements can reduce stress, lower blood pressure and steady the heart rate. After two years, this might be just what people need as they transition back to the office.
Another important aspect when talking about the design of future office buildings is well-being and sustainability. The Covid-19 pandemic highlighted buildings' critical role in protecting people's health, safety, and wellbeing. In this regard, we are very proud to have earned the WELL Health-Safety Rating for the entire portfolio.
How important is the sustainability component of a building in the leasing process?
Sustainability became a key aspect of the leasing process. Creating an environment in which people enjoy working is one of our most important missions for Globalworth. And one of the best ways to achieve this is by building a "green" and environmentally friendly portfolio, meeting the highest standards of quality and energy efficiency, and enabling people to live healthier, happier, and more productive lives.
We have also completed Globalworth Square, the most sustainable and technologically advanced building in the Bucharest office market, which obtained BREEAM Outstanding accreditation with 99% scoring, placing the building in 3rd place worldwide. The building uses a geothermal system under the slab foundation, capable of considerably reducing the cooling and heating costs of the entire edifice. Since technology plays a central role in the office of the future, a trend accelerated by the pandemic, we are bringing the future closer with a series of unique innovations. It is one of the few manufacturing buildings in Romania where a significant part of the energy consumption is provided by a photovoltaic roof.
We have also succeeded in introducing only green, renewable energy for the entire Globalworth portfolio. Finally, we have an ongoing project involving introducing "green" and/or smart solutions such as photovoltaics rooftops, bike parking and chargers for electric cars.
What are your plans for the Romanian market in the office and industrial segments in the next years?
Market conditions remained challenging in 2021, as the uncertainty caused by the COVID-19 global pandemic outbreak in 2020 persisted in 2021 in both our home markets of operation, Poland, and Romania. We expect market conditions to remain uncertain in 2022, both due to the lasting effects of the pandemic and the recent outbreak of the war in Ukraine. Although uncertainties remain ahead in the near term, we continue to be optimistic about the medium- and long-term prospects of our home office markets in Poland and Romania.
In 2022, our primary focus will remain on the active management of our portfolio of high-quality properties, to continue to invest in our prime logistics developments, and to be ready to act quickly if new attractive opportunities become available.
Which industries will drive demand for office space in the short and medium term?
We expect that IT Services and BPO & SSC will continue to be the main source of demand.
How competitive is Romania in the office/industrial segments compared to other Central and Eastern Europe (CEE) markets?
In Poland and Romania, our countries of interest, the economy has responded strongly as domestic COVID-19 restrictions were relatively few and GDP was estimated to have grown by 5.7% and 6.3% respectively in 2021. However,
the pace of future growth, in our markets of interest and globally, remains uncertain due to the lasting impacts of the COVID-19 pandemic, as supply chains are disrupted, energy, commodity prices and transportation costs are increasing worldwide. Also, inflation has been increasing and the war between Ukraine and Russia continues.
If we compare Romania and Poland in terms of competitiveness, with close to a 40 million population, Poland is a much bigger economy and real estate market with a significant number of large investors/developers, hence competition is greater. However, the customer/tenant pool and demand are also more extensive.
Will the Ukraine crisis have an impact on investment sentiment in the CEE-based property industry?
What we have witnessed so far is reduced investment interest in the CEE region from overseas investors (the US and Asia), whereas Europe-based investors continue to be active, with some of them adopting a "wait and see" approach. Overall, a lot will depend on the trajectory of growth, inflation, interest rates, and construction costs, which affect global real estate markets.
In any event, the main fundamentals of the CEE market remain strong. We expect that any negative effects from the current global macroeconomic and political events would be short-lasting, and we believe that the medium to long-term prospects of the CEE real estate markets continues to be very positive.