Stannah Stairlifts Limited, which has been helping disabled people to remain independent for more than 150 years and is a world market leader in the supply of stair lifts, moved in March to larger production premises in CTPark Brno Líšeň, where it leases more than 6,000 sqm. This is not the end of the expansion, however, as the company plans to move all their European rail production to Brno in the coming year, in order to provide faster and more flexible deliveries to European customers.
Stannah came to the Czech Republic in 2007 and started producing rails for stair lifts in CTPark Brno in the Brno part of Černovické terasy. Since the middle of March this year, they have moved to a larger warehouse in CTPark Brno Líšeň, where they lease a modern production facility of over 6,000 sqm. With the increase in production, expansion to additional premises of almost 2,000 sqm in the same location is underway. "All this is the result of our plan to increase the production capacity in Brno so that all the production of European rails can be moved to the Moravian capital. The reason for this move is to ensure faster and more flexible deliveries to our European customers. Thanks to CTP, our plan to expand production in Brno was not a problem. We didn´t have to worry about a change of location, we knew that CTP would provide the same or better facilities for our operations," explained Jaroslav Lengál, Maintenance Team Manager, Stannah Stairlifts Limited.
"Is great that Stannah can continue to grow and gain the necessary facilities for this type of production thanks to our network of modern industrial CTParks. CTPark Brno Líšeň, the former brownfield site of the Zetor complex, is one of our newest parks, which we are successfully transforming into a modern urban industrial and business park. Already, it is home to big names from e-commerce, manufacturing, and other sectors, and I am delighted that Stannah has joined our client family," said Jakub Kodr, Head of Business Development, CTP Czech Republic. The majority of the former Zetor site has been returned to its original purpose and the developer CTP is planning further revitalisation and development of the area. The current phase of the redevelopment of the site will soon be completed and will offer up to 3,000 job positions.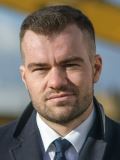 Jakub Kodr
Head of Business Development, Czech Republic
CTP
Jakub has 10 years of real estate experience, holds an MBA in Real Estate and is already qualified as a Chartered Member (MRICS). Head of Business Development for CTP Czech Republic, he is rarely to be seen without a phone to his ear. Jakub takes excellent care of clients while also being a skilled property-client matchmaker and scouting new opportunities
More »
Currently, 1,700 sqm remains available for possible lease. Stannah is a world leader in the supply of stair lifts. It is a family-run business from the UK that has been in operation for over 150 years, with the fifth generation of the founder´s descendants in the company's leadership. Lifting equipment such as wheelchair lifts, stair lifts, escalators and platforms for domestic use are the main products that the multinational company manufactures.
The company has offices in 12 countries and currently employs around 140 people in Brno. With the expansion of production capacity, the company is now looking for new people who will primarily work with metal. "We do not have strict requirements for candidates and their qualifications. All we require is an interest in the job, a willingness to learn and a certain level of skill. In return, we offer above-standard salary, 25 days of leave, a shorter weekly pool, and a wide range of benefits," adds Tereza Bartušková, HR Coordinator, Stannah Stairlifts Limited.