The volume of new real estate investments in Romania amounted to €98 million in the first quarter of 2021, driven by the office and industrial segments. The investments were down 19% compared to the same period of 2020, according to a report by CBRE.
In Q1 2021, nine real estate transactions were closed, with an average value of €11 million. The biggest deal was the acquisition of the Bucharest Financial Plaza office building, sold by BCR bank to the Austrian property group Immofinanz for approximately €36 million.
CBRE research shows that investors from Austria and Czech Republic generated around 60% of the deal volumes. Across Central and Eastern Europe, property investments stood at €1.95 billion, down 50% compared to Q1 2020.
"It is interesting to note the appetite of investors for industrial projects: €38 million of the total volume was generated by industrial spaces transactions, almost equaling the volume generated by office buildings, respectively €40 million. This evolution validates investors' interest towards industrial projects and the downward pressure on yields in this segment. An additional €20 million have been invested in hotels, a segment for which we also notice a high interest in recent months," says Mihai Pătrulescu, Head of Investment Properties, CBRE Romania.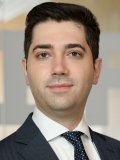 Mihai Patrulescu
Head of Investment Properties
CBRE Romania
Mihai Patrulescu leads the Investment Properties department at CBRE Romania. With a strong financial background, Mihai Patrulescu brings a different approach, having experience in complex projects, financial analysis and project management for large real estate portfolio deals. Before joining CBRE Romania, Mihai Patrulescu held key positions as Senior Investment Associate and Head of Strategic Analysis in another real estate company, being involved in complex portfolio deals.
More »
Prime yields were steady at 7% for offices, 7.75% for industrial spaces and 7% for retail projects.