Bogdan Doicescu, Development Director and Executive Board Member at Bog'Art, spoke with Property Forum about the company's construction pipeline and the outlook of the real estate market in Romania going into 2022.
How was Bog'Art's financial performance in 2021? Have you met your budget targets?
As far as Bog'Art is concerned at the group level, we are a group of companies that aggregate the results of the construction and real estate market. Our group of companies consists of Bog'Art, the construction company, which is the core business, accounting for about 70% of our revenues. Alusystem is a market leader in façade systems, Bog'Art Steel is the second-largest producer of steel re-bar, Bog'Art Building Management provides cleaning services and Property and Facility Management and Bog'Art Residential, which is our real estate investment company. At the group level, I could say that most companies have met or exceeded their targets for this year.
The impact on the construction business were favourable, as we managed to transfer or mitigate increases in raw material costs, combined with the momentum from a stable pipeline of contracted works, good availability of labour, as well as new investments from public authorities made 2021 a very fruitful year for construction activity in terms of productivity, pricing and a rewarding financial result.
I mention that this result has a lagging effect versus the macroeconomic evolution, as costs will catch up with pricing increases from suppliers adjusting for the impact of inflation and with major public investments labor availability may face bottlenecks in the coming year. But as far as 2021 goes, we are pleased with the results of the group level.
Another significant contribution came from the real estate division, as Bog'Art Residential investments have appreciated versus acquisition costs on the land bank available for development as a result of permitting, which is increasingly a challenge and hence significantly added value. Our residential project Art City has performed very well in 2021, with half of the 141 units already sold above target prices, indicating the project is very well received even prior to completion of construction works scheduled for next year.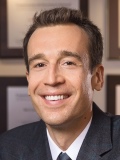 Bogdan Doicescu
Development Director and Executive Board Member
Bog'Art
Bogdan Doicescu is head of the real estate division of Bog'Art group and executive board member responsible for integrating the full spectrum Bog'Art building services in business lines such as reinforced steel production, general contracting, turnkey facade systems, building management, project management and real estate development. Bogdan holds a Bachelor's degree from Columbia University, a Master's degree in Real Estate Development from New York University and an RICS certification. Along with international perspective and accreditation, direct involvement in the family business has given Bogdan lifelong exposure to the construction and real estate sector in Romania, where his mission is to provide the next generation leadership of Bog'Art.
More »
Which are the main construction projects in which Bog'Art is involved at present? Are you planning new investments in 2022?
We are currently building a large-scale logistics center for a multinational retailer outside of Bucharest. Also, we are building our own aforementioned Art City residential project. We are continuing works on the second phase of the U-Center office project developed by Forte Partners. We are also continuing the renovation of the historic landmark Athenee Palace Hilton Hotel in central Bucharest.
Furthermore, we are also continuing works on Brașov International Airport, with the expansion of the logistics part of the airport that will become operational. Moreover, Bog'Art is finalizing works on a hospital in Sinaia, and taking part in construction of an infrastructure passage in Bucharest. The group is also planning to start new residential developments in 2022.
We aim to diversify our lines of business from the classic office buildings that we are known for. So, in this sense, we are looking at public projects, including military bases, operational headquarters of state-owned companies, sports stadiums and multipurpose halls, hospitals, other airports which have been announced in works and including even large infrastructure projects such as roads, express roads, and including potential passages bridges, waterworks, and canals.
How has the pandemic economy shaped the investment strategy of Bog'Art?
We have seen a lot of new investments announced from the funds allocated as part of PNRR, for resilience and reshaping of the economy which will open a large pipeline of eligible projects for public works that we are targeting. Our strategy to contract public works requires significant capital allocations for major equipment needs and also for cashflow buffers on large projects.
We are also expanding our real estate business in terms of new investments. The post-pandemic environment has been a lot of investments on hold, particularly retail and office buildings so we are predominantly looking in the residential sector, but would not exclude partnering on industrial or proximity warehousing.
With price adjustments and adjusted expectations from investors, those that have stayed consistent in their investment strategy may find it is a good time to start new projects once prices flatten out and there is hopefully more predictability in terms of permitting, mainly with the issues in Bucharest.
Numerous companies have been focusing on digitalization since the onset of the pandemic. What was your approach in this field?
I believe that the pandemic has proven that the construction industry can function very well in terms of the results obtained with remote work or a mixed hybrid schedule for those in the office. For the coordination of construction sites, we already had to be at all times connected to the hundreds of activities and processes going about all the time on every construction site. We use building information modeling (BIM) and various modules which allow members of a project team to access architectural, financial and process management data remotely in a centralized platform with realtime updates. As an example, this includes uploads of snag lists for remote monitoring of issues that appear in design works or execution on site. Also, we have implemented at the corporate governance level a centralized system of reporting that aggregates data from all projects.
In addition, we are always on the lookout for new construction methods that may include a digitalization or technology component to improve process management and increase working efficiency.
How did you manage the spike in construction costs, mainly for construction materials? Are you transferring these costs to your end users?
As a general contractor, we are an aggregator of costs and we will look for a viable business impact on companies that contract with us, aiming not just to transfer these costs directly. For instance, price spikes in energy, steel, labor have a direct impact as key inputs that we acquire directly. Aluminum, timber, plastics and other derivatives such as gypsum board have an indirect impact that might be handed over to direct suppliers of construction materials.
However, business plans must be readjusted although oftentimes the market cannot immediately transfer the new level to the end product. With higher inflation we expect consistently rising prices on apartments and compressing yields in office developments that will increase the sales price of these assets.
The fundamentals of the Romanian economy are such that that price increases can be absorbed because, we are still significantly under building costs relative to our Eastern European peers, even including Poland, Czech Republic, Hungary. With the companies in our group, Alusystem has direct access to producers of the aluminum facade systems, and Bog'Art Steel provides our own steel rebar production. With consistent advance payments and a strong cash position, we were able to mitigate risks by securing large quantities and benefitted from an aggressive acquisitions policy. Others in less advantageous positions may have felt their bottom line affected by having to take on the price increases from suppliers, at least for at least a temporary period until the market readjusted.
Is Bog'Art ready to build projects under the new Environment, Social, Governance (ESG) framework? Are you making additional investments in operations to meet the new demand?
On the environmental aspect, we are always environmentally conscious and emphasize choosing the right solutions for green building methods. As a standard for most of our projects, I am confident that in Romania we are one the most consistent builders of LEED and BREEAM certified buildings in the past 5-10 years. That is a significant contribution indirectly towards most of the companies that occupy these buildings, meeting part of their ESG needs.
Governance has the objective of future proofing all of our complex systems of management and reporting. We have implemented corporate governance at the group level, comprising oversight for all the policies and procedures to secure transparent operations and monitoring. On the social component, we strive to be the employer of choice in the construction industry and this shows by a low turnover rate and high longevity of over 10 years for Bog'Art employees, internally promoting career advancement opportunities from the university level.
In Romania, ESG is relatively new and we are taking more steps towards monitoring relevant ESG scoring, as this is becoming increasingly important. I would note that most ESG initiatives are found in our inherent way of doing business and we are a major contributor to the betterment of the environment in which we build.
In your opinion, what is needed to speed up the development of large infrastructure works in Romania?
First of all, more predictability. Most of these projects are ambitious and they have big budgets allocated, as never before. However, the contracting authorities are inexperienced in public investments of this scope and scale and rely on heavy and often untransparent procedures which delay decisions in contracting. It also makes it challenging from a cash flow perspective to sustain financing over the ongoing works as a result of lengthy and uncomprehensive work approval processes, oftentimes conducted by poorly prepared or understaffed public teams.
It is contrary to what would happen in other countries where long-term government contracts should in fact more predictable and more stable than private contracts. I think greater transparency, better understanding of contracting methods and needs, as well as peer-to-peer dialogue with more competent contracting authorities would be critical to get more projects done in a shorter and more predictable timespan.
At this point, it is a burden on the cost for tendering such projects, because they require bigger teams to look through the documentation, lengthy and complicated interactions with the authority. The operational methods are not very functional to allow ease of decision, and it is more challenging than it would be with a private investor. However, the budgets are big and we think that they have enormous potential to contribute to what the country the economy and the country really needs: better roads, transit hubs, more schools and hospitals to name some of the more critical.
Some public officials have mentioned the possibility of scrapping the fiscal facilities for employees in the construction field. How could this impact the whole industry?
This facility has been a recent feature, which has been awarded to companies and was supposed to span out for several years to support a significant pillar of the economy that was quite behind in salary levels. I do not see this as a very smart measure in terms of announcing a certain measure that takes time to kickstart the benefits created in the multiplier effect construction activity has on the economy as a whole. This gives little predictability for an entire sector with such a significant contribution to the economy.
If they are speculated to be taken away, it would be very imprudent as it be undoing something that has already been done just to find more money, which has a negative effect on what facilities we can offer employees.
The activity in the construction sector would be impeded significantly in terms of the labour force component and to employees. Not to mention the aspect of becoming again an issue of gray area payments towards smaller firms or companies that do have to sustain their employees that have adjusted to a new status and a new price level, which is still low compared to other industries and Europe as a whole.
What will be the main challenge for the construction sector going into 2022?
The biggest challenge in my opinion is the ability of the construction and the real estate market to adapt to a changing environment in the broad sense, and specifically to have cash flow available to weather changes and delays in new investments. This would help companies to secure enough contracts at a comfortable cost where future risks and pressures from an inflationary environment can be sustained. Predictability and being in a nimble position to be adaptable towards changing parameters is vital.