Maxim Shkolnick, General Partner at CEE-based retail investor Focus Estate Fund talked to Property Forum about recent acquisitions in Poland, the Covid-driven evolution of the retail market and the astonishing popularity of convenience centres among investment funds.
The main area of interest of Focus Estate Fund is non-prime retail properties in CEE countries. One could say that it is quite an unusual approach for an investment fund…
Focus Estate Fund is a value-added fund with a moderate appetite strategy for manageable operational risks in exchange for higher returns. Therefore, we are concentrated on the non-prime retail segment, convenience shopping centres and retail parks, mostly single-storeyed, with a location that is minimally dependent on tourist traffic and the entertainment segment, as well as assets that have certain liquidity and leasing risks. We are ready to work with high vacancy and low WAULT. By means of our expertise, we turn retail facilities into locations that are especially attractive for the buyers as well as the tenants which is in its turn celebrated by our limited partners through higher ROI. It is clear that we have our own "red flags" which mainly concern socio-demographic or some legal risks (judicial, institutional and land issues).
The recently acquired Turawa Park shopping centre in Opole is your fourth asset in Poland and you plan to further develop your Polish portfolio. Any particular properties that you are considering?
At the moment, there are about five assets under our consideration, but we are ready for a larger volume. We are interested in Poland, the Czech Republic and Slovakia. In particular, it seems that Slovakia performed surprisingly well during the Covid period.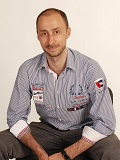 Maxim Shkolnick
General Partner, M&A and Asset Management
Focus Estate Fund
Maxim has more than 15 years of experience in real estate investments. In 2009 he co-founded a real estate brokerage firm, which generated €150+ million in sales. As a real estate investor, he participated in deals with a total exit value of €200+ million. He is the founder of Address.ua – a leading real estate portal in Ukraine. He is a former Managing Partner at venture capital firm Technobridge, SVP and GM of Viewdle (acquired by Google in 2012). He holds an ML in International Law.
More »
How – in your opinion – the retail market in Poland is coping with the effects of pandemic restrictions?
In my view, the retail industry in Poland has suffered quite a lot, but this did not lead to structural, irrevocable changes in the industry. Today, many have come to the conclusion that the initial reaction caused by Covid uncertainty was over the top. At the same time, the recovery curve is currently rising steadily. Turnover, footfall, OCR - most of these parameters are gradually returning to pre-Covid levels. As for convenience centres and retail parks, in 2021 the indicators in some of them even have surpassed the pre-Covid levels. Although, we see that the retail market in the Czech Republic coped better with this challenge.
Convenience stores proved to be a "pandemic-proof" format. How could you explain that phenomenon?
Convenience stores are the format that local residents use on a day-to-day basis to buy basic necessities and prime commodities. It can be described as "here, now and always." Revenues in these stores have little or no dependency on the tourist traffic, presence of food courts or entertainment zones, therefore these stores have suffered the least. Moreover, some of them have even strengthened their positions. In many ways, it also applies to retail parks, which have an independent front entrance to each unit that is not connected to common areas. Many of them have successfully organized click and collect services and deliveries.
Convenience stores, specializing in food, pet products, DYI, home and sports goods, have become the beneficiaries of the pandemic period. It concerns pet products especially. This category of goods turned out to be in such a high demand that became for us exactly the phenomenon that you are asking about. Although, to be frank enough, I should say that the sales of carpets did not lag behind, at least in our stores.
Do you agree that the retail market – as a whole – will have to redevelop itself and find a new identity in a "forced marriage" with e-commerce?
I think that this marriage is already firmly confirmed. It's not about one against the other, it's about omni-channel, about traditional retail plus e-commerce. At the same time, we are witnesses of the constant evolution of these formats. At the very time, we have this conversation, changes are taking place. Where are we headed? Retail is evolving towards experience and service. There will always be demands that are difficult to satisfy even with augmented reality and other tech. For example, people may be interested in tactile sensations or aromas, and, if we are talking about sports, then testing balance and coordination is crucial for making the right choice. In addition, often, customers want to get real emotions from the service and live contact in the store. The online domain, in turn, is evolving towards new technologies and user interfaces, as well as logistics, which will affect the speed of delivery of goods. So, figuratively speaking, thanks to the evolution and cooperation of retail and e-commerce, the customer with a minimum amount of time spent, at the best price and with the necessary recommendations, will be able to get the exact yoghurt he needs and feel contended.
Which CEE countries – except for Poland - do you find the most attractive when it comes to non-prime retail projects?
For us, the extremely important factors are liquidity, the number of transactions in the segment of our attention per year and the country's risk assessment. The criterion of a country's risk assessment is the presence of such a fundamental principle as the rule of law. That is when the law applies equally to everyone and the rules are positively conservative over time. According to these criteria, in the CEE region, we are mostly attracted by Poland, the Czech Republic and Slovakia.
Do you plan to return to the Czech market in a foreseeable future?
Without any doubt, the Czech Republic is a great location, with very low country risks, some of which are even lower than in Poland. At the same time, there is a clear lack of product. The free float product is disproportionally fewer compared to Poland. But we are already in negotiations regarding some properties and we will be glad to return to the Czech market.