Retail deliveries in Romania will return to a positive trend in the second half of 2018, when at least 90,000 square meters will be delivered in four cities, with no openings scheduled for Bucharest, according to Cushman & Wakefield Echinox.
In H1 2018, new spaces of 14,000 square meters in total were delivered via the openings of Bistrita Retail Park and Focsani Value Center, projects developed by Element Development and Prime Capital, respectively. It should also be taken into account that the total stock of commercial spaces decreased due to the closure of the Carrefour hypermarket and the commercial gallery within the Vitantis Shopping Center, earlier this year, a project which still has operational stores of 36,000 sqm, such as Praktiker, Diego and Casa Rusu.
Thus, the modern retail stock outside Bucharest reached 2.43 million square meters, while the total area of shopping malls, retail parks and commercial galleries in Bucharest is 1.19 million square meters. The density of retail spaces at the national level stands at 184 sqm / 1,000 inhabitants, while in Bucharest it reached 651 sqm / 1,000 inhabitants, 3.5 times higher than the national average.
New retail spaces will be delivered by NEPI Rockcastle and Prime Kapital in Satu Mare, Baia Mare, Roman and Slobozia, tertiary cities with a retail demand that are not covered by modern retail spaces. At the same time, NEPI Rockcastle plans to complete the expansion of Shopping City Sibiu, with a surface of almost 10,000 square meters by the end of the year.
In regards to Bucharest, the most notable retail event of the second half of the year is the opening of the second Ikea store in Romania and the largest in South East Europe with a total area of 37,000 square meters, on Theodor Pallady Boulevard. Next year, the retail area of Bucharest will expand north to Balotesti, where DN 1 Value Center is expected to be opened, while Colosseum Retail Park, Promenada Mall and AFI Palace Cotroceni will also enter the expansion process.
Bogdan Marcu, Partner, Retail Agency C&W Echinox: "In the last few years, Romania has become a stable market which brings major income for most retail players. We can now say that we have a market that has reached the first degree of maturity and predictability and that we are expecting further sustained demand for new retail spaces in main markets, as well as in secondary or tertiary ones, with the condition that the economic context remains positive. We believe that headline rents in shopping centres will increase in the near future due to low vacancies rates, revenue increases reported by key tenants of these shopping centres, and a small stock of new retail space. In addition, we register a constant influx of new retailers entering the Romanian market, which will only increase the demand for retail spaces in the dominant and established projects."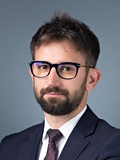 Bogdan Marcu
Partner, Retail Agency
Cushman & Wakefield Echinox
Bogdan Marcu is working as Partner of the Retail Agency at Cushman & Wakefield Echinox in Bucharest, Romania, having 10 years of retail background. He coordinates the retail leasing activity of the agency and is responsible with the portfolio consolidation by finding new tenants and landlords for new business opportunities. His substantial experience in the Romanian retail market, on both shopping center and retail park segments, is a great asset for the team and a strong success factor in numerous projects.
More »
Thus, the headline rent of a space of 100 square meters, located in a dominant commercial center in Bucharest, reaches the level of €70-80 / sqm / month, while similar projects in Timisoara, Iasi or Cluj are rented for €35-40 / sqm / month, with a level of €18-23 / sqm / month being reached for the same type of spaces in tertiary cities.