Maciej Madejak, Chief Development Officer and Founder of MDC2 talked to Property Forum about the rapid growth of the Polish warehouse market, implementing ESG principles in new projects and the possible scenarios for the prices of investment plots.
MDC2 is one of the youngest players in the Polish warehouse market, but also one of the fastest-growing entities. How would you summarise these first years of operations? Have you managed to realise all the plans you have outlined?
In terms of seniority, we are indeed a very young organisation, we have only been operating for 2.5 years. However, we have a great deal of experience in the warehousing market - our management team consists of people with more than 25 years of experience in the industry. We are currently developing three projects for which we have secured full financing and already signed leases. This amounts to around 170,000 sqm, of which more than 60% is already leased. Together with our investor Generali Real Estate, we are building 70,000 sqm in Kraków with the possibility of expanding by another 16.500 sqm. In Gliwice, we are developing a speculative project of around 60,000 metres together with our investor Invesco RE, which we plan to deliver as early as October this year. The latest project in our portfolio is a facility in Głuchów near Łódź, which is being developed together with the South African fund Fortress REIT Limited. This month, we started construction of a 50,000 sqm development at this location. We are delighted that such strong investors have put their trust in us, and not because of our track record, but because of the way we do business and the experience, we have as a management team and as employees.
In today's reality, it takes between 12 and 18 months to prepare a warehouse project. Three major investments in 2.5 years is, in my opinion, a very good result. In such a short time we have also been able to make a strong, recognisable name for ourselves in the market - people know what we do and the quality we are able to deliver. We want to be an important player in the industry, but we have our own philosophy. We are committed to being in full control of all processes. Even though we work for an investor, we treat the projects as if they were our own assets. We don't want to be the biggest, but we want to be the best and deliver a product that we will be proud of and that will serve users for decades.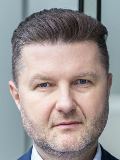 Maciej Madejak
Chief Development Officer & Founder
MDC2
Maciej has over 25 years of warehouse development experience in Poland and during this time he held management-level positions in the leading industrial development businesses, such as Prologis, Goodman – GLP and Panattoni. Together with his teams, he has built around 4 million sqm of modern warehouse space, which represents over 20% of the entire A-grade Polish stock and acquired over 950 ha of development sites. Before joining MDC², Maciej was a Managing Director for Panattoni Europe, responsible for development in Southern Poland, as well as city logistic across the country.
More »
The Polish warehouse market has probably already passed the magic mark of 30 million square metres of space - it has grown by as much as almost 20% in the last 12 months. In your opinion, is this truly sprightly pace of new supply likely to be maintained in the coming years?
Compared to the first quarter of 2022, supply has decreased by 50% and this is due to the financial situation in Europe and the caution of investors when it comes to starting new projects. Many have now gone into 'wait-and-see mode'; they are simply observing developments. And in Poland, demand, although slightly lower than in recent years, is still seen as strong. I expect it to strengthen further in the final months of this year so that developers will return to starting new projects. The structure of supply will perhaps change - there will be fewer speculative projects and more customer-specific, BTO or BTS developments. However, I think we will all be really busy next year. Financial markets will open up, which will support the trend that has already started of moving warehouses and especially production to Eastern Europe, mainly to Poland and - to a lesser extent - Romania. This process started a few years ago, just after the pandemic, and the increases in sea freight prices and the blockage of the Suez Canal have only reinforced it. We are already seeing that some of the businesses that were ultimately supposed to be established in the Far East will be realised in Poland. We are also aware of cases of Chinese companies that are thinking of transferring some of their existing production to us, simply because this is what their client requires of them. Moreover, the PRC is no longer as price-competitive as it was until recently. As a matter of interest, I will just say that an ordinary warehouse worker in China earns about 20 per cent more than his or her counterpart in Poland.
Coming back to your question - is an annual increase of 20% really a sprightly, too fast pace? In my opinion, it is a fairly healthy situation. It is worth pointing out that in recent decades our warehouse market has developed strongly as a result of a confluence of different developments. Covid-19 was undoubtedly a huge "accelerator" of its development, as was Poland's accession to the European Union in 2004 and the international financial crisis in 2009, on which our country, as a mythical "green island", won a great deal. We were in everyone's eyes and on everyone's lips - everyone wanted to know what to do to make it better and to make it cheaper. Many players decided to move to Poland as a country that can because it has a good workforce and infrastructure built for Euro 2012. Another factor that pushes our market forward is a skilled workforce. We have excellent, high-level universities, with a quarter of a million students in Warsaw alone. Generation Z already has a different approach to business; they really want to, if only the right conditions are created for them to work and develop. Our high work efficiency is well known - the recently announced Intel centre near Wrocław for nearly USD 5 billion is excellent proof of this.
And how would you assess the current demand conditions? Are persistently high inflation and the still smouldering Russia-Ukraine conflict across our eastern border still acting as a brake on making long-term commitments?
The outbreak of war came as a shock to everyone, understandably. For a few months, everyone looked at us as a country that could immediately be a frontline region, directly involved in the conflict. The following quarters, however, showed that we were not in danger and that we had formed an alliance with the NATO countries that Russia would not dare to attack. None of the investors nowadays explain the holding back of new projects by security reasons anymore. On the contrary, in the opinion of many, Poland will be the easternmost hub of the European Union for decades to come, which will be used to rebuild Ukraine.
Land prices for new warehouse projects - will their constant appreciation finally stop?
The cost of land is indeed rising all the time, while I believe the problem lies elsewhere - at one point this market was too rushed and overheated. Even plots of land with legal defects, whose only advantage was actually that they were available, were finding buyers. Today, every investor checks the object of purchase very carefully. I think this market will slowly slow down - landowners realise that the boom is over and buyers are much more selective. I expect that sellers will soon start to tone down their price expectations.
Warehouse real estate is the real estate sector where the implementation of ESG principles is easiest, especially when it comes to environmental solutions. Would you agree with this statement?
Virtually everyone focuses on the letter 'E' and ecology because it is very catchy and it just sells. For us, the other letters of the acronym are equally important. Of course, everyone wants warehouse parks to be built with low-emission materials, 'green concrete' or 'green steel', and of course, lower operating costs for warehouse space are also desirable. However, for us, it is also equally important to be transparent with investors and customers from day one. This approach is unfortunately still rare in our country. Similarly, when it comes to the "Social" part - we care about the people who work in or visit our buildings. By cooperating with the Truckers life foundation, drivers serving our projects can shower, change, eat a meal and rest in areas specially prepared for them. This type of solution is a 'must-have' in our projects. In addition, a very important element of this part of ESG is proper planning of the project, which involves good cooperation with the neighbours of the property in question, i.e. eliminating as much as possible noise or excessive lighting of the area of our property. Of course, these are selected elements of ESG, and we have many other elements in our proposal that positively influence the surroundings of projects.
What is currently the biggest challenge when it comes to the realisation of warehouse facilities in Poland?
I don't think there is a single thing that is any real impediment. Land prices, changes in spatial plans, the reconciliation of administrative procedures - we are coping with all of this. What we need now is only for external investors to have more faith in our market and to convince them that the increased rental rate in Poland can last longer.
Which warehouse locations - apart from Warsaw, Wrocław and the Upper Silesian conglomeration, of course - do you consider to be the most promising when it comes to Poland?
In my opinion, Gdańsk and Kraków are such rising stars. I think these will be the most desirable warehouse locations in the coming years. Unfortunately, these are also the most difficult regions in terms of the availability of suitable plots of land due to terrain, dispersed ownership or land conditions.