As summer has come to an end, employers across the world have to decide where they want their employees to work from going forward. The keyword for the future will be flexibility as large employers around the globe are embracing not only working from home but also multi-location workplace strategies.
A few weeks ago, US governmental agency GSA, which is responsible for providing workplaces to government employees by leasing and managing commercial real estate, has signed contracts with five flexible workspace operators to provide co-working services to government employees. The GSA has a 65 million sqm office portfolio that serves over two million employees across the U.S. Much of these two million people will now have the chance to choose which office they want to work from on a given workday.
This not only increases personal freedom and helps create a better work-life balance, but it also has a positive impact on the environment as the need to commute is reduced when employees don't have to travel far to find a suitable workstation. Furthermore, different locations for work also mean interaction with different co-workers which is proven to increase productivity and creativity.
"The fact that one of the world's largest employers is embracing the flexible workplace model is a strong signal for companies across the globe. We can expect employers to follow suit in Europe and in Hungary as well," says Hubert Abt, CEO and Founder of flex office space operator New Work.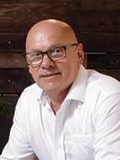 Hubert Abt
CEO
New Work & workcloud24
Hubert Abt has been working in the real estate industry for over 30 years. He worked as a developer and later in the land banking sector and provided equity and Mezzanine capital for various real estate projects. In 2013 he founded NEW WORK Offices in Budapest, which provides various flexible office solutions. Since then he developed the business model further and grew the company to today 16 locations in 3 countries with approx. 43.000 sqm which brings NEW WORK Offices in the top 3 list in CEE. Hubert now leads the company as CEO while focusing on investor relations and developing new products like NEW WORK´s Franchise Package or The Digital Office Pass of workcloud24 where he acts as Founder and CEO as well.
More »
Flexible workplace strategies have been gaining popularity long before the COVID-19 pandemic started but the experiences of the lockdowns have definitely intensified this structural change.
An increasing number of companies in Hungary already allow their employees to work remotely and many have signed contracts with flex space operators to provide employees with more options besides their own homes. In light of this, it's not surprising that the global flex office space market is expected to grow from $7.97 billion in 2020 to $13.03 billion by 2025.
New Work has also registered a strong increase in demand for flex workplaces domestically. In response to this, the company has launched a franchise concept to provide its partners not only with know-how, technical support and access to its multi-location platform but also with additional digital solutions.
New Work, founded in 2012 in Budapest, operates 16 offices in 6 cities in 3 countries (Poland, Hungary and the Czech Republic). With an average annual growth rate of 90% over nine years, the company offers innovative, technology-driven office and meeting space rental on flexible terms to small and medium-sized businesses across the region. Through franchising, available to franchise partners across Europe, New Work offers services, technology and network solutions of the highest quality.
The franchise package not only includes access to a multi-location marketing and sales platform with CRM and KPI measurement systems, but also a toolkit that allows New Work partners to transform their existing office space to adapt to flexible office layouts. In addition, the franchise concept includes access to Workcloud24's digital Office Pass, used by many large companies for workforce management and the New Work app for membership and location management.
"We are building the future of offices, ahead of our users' needs. Franchising is the next step to give the market what they are looking for," concludes Hubert Abt.