IT company ITIXO has signed a lease agreement for office space in the IQ Ostrava building. It has thus become the first new tenant of one of the most modern office buildings in the Czech Republic, belonging to the developer CTP. CTP is also the originator of the popular Clubco coworking centre concept, which will be available in IQ Ostrava this autumn.
In March 2023, IT company ITIXO signed a lease agreement for office space in the IQ Ostrava building. The upcoming opening of the Clubco coworking centre in the building was a contributing factor for their choice of the offices of the developer CTP, which focuses on building and managing sustainable industrial parks. "Our goal was to find the most modern facilities in Ostrava, and CTP offices meet our technological requirements and in addition to the office facilities we will also have green terraces," commented Lukáš Adamec, Project Manager, ITIXO.
ITIXO's facilities will offer a modern environment for work, as well as green terraces and new smart technologies in the offices. ITIXO will be located on two floors of the building, into which the company will move in two phases. The first phase will include a lease of 541 sqm of office space, along with 269 sqm of outdoor terraces, while the second phase will include an additional 854 sqm of office space. Up to 80 people will gradually start working in the offices. The official handover of the first premises is planned for February 2024. The IQ Ostrava building will also be expanded by the Clubco coworking centre, which will offer 1,512 sqm of flexible offices and 625 sqm of terraces. There will be 124 workstations, 26 offices and event spaces for up to 70 people. This is the third Clubco coworking space by the developer CTP and will bring new business opportunities to the region and allow people to work in an inspiring environment, with high-tech equipment and the possibility to use the space according to their own needs.
Clubco Ostrava is currently under construction and will open its doors this November. The first Clubco was opened by CTP in the spring of 2021 in Brno, and it was expanded by two more floors in 2022. A second Clubco coworking space has been added to the network in Nupaky near Prague, and the Ostrava location will join the network in autumn 2023.
"Ostrava is becoming an important centre of innovative companies, which we see in both the industrial and office sectors. It is an excellent location that offers a rich industrial history, human resources, and education, i.e., great conditions for the growth of local and start-up companies as well as the arrival and development of international companies. Our aim is to support the growth of these companies, as well as the prosperity of the whole region with our high-quality and flexible facilities. IQ Ostrava stands as a great example and I am very pleased that our offices have met the demanding criteria of the software company ITIXO," said Jakub Kodr, Head of Business Development, CTP Czech Republic.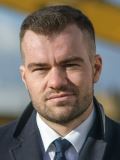 Jakub Kodr
Head of Business Development, Czech Republic
CTP
Jakub has 10 years of real estate experience, holds an MBA in Real Estate and is already qualified as a Chartered Member (MRICS). Head of Business Development for CTP Czech Republic, he is rarely to be seen without a phone to his ear. Jakub takes excellent care of clients while also being a skilled property-client matchmaker and scouting new opportunities
More »
"Clubco brings a modern approach to working in offices, where people or companies choose when and how they use the office space. Flexible offices allow us to shape the space to the current needs of our clients, plus the modern club environment is a nice bonus to work in. We are thus expanding our offer of local office space with a specific type of shared offices, which can also be found in Brno or, more recently, in Nupaky near Prague. I believe that Clubco Ostrava will bring the necessary flexibility and community element to the regional business environment, which will contribute to the sharing and development of experience and ideas," commented Kateřina Camerino, Clubco Ostrava Manager, CTP Czech Republic.