Radosław T. Krochta, CEO & President of the Management Board of Polish industrial/logistics developer MLP Group S.A., is answering questions about the group's expansion on the German market, changing requirements of warehouse space tenants and the long-term impact of the pandemic on the sector.
In 2020, MLP Group continued investing in Germany and Romania. You have also recently announced entry into the Austrian market. Is the Polish market already too small for you?
No, it isn't, but we aim to have in our portfolio a balanced with projects located in Poland and in Germany, which – being Europe's largest market for warehouse space – we perceive as both mature and safe. This is why we are placing an increasingly strong focus on expanding our foothold in DACH countries (editor's note: Germany, Austria and Switzerland). The objective is for the value of our assets in Poland and those in Germany to be broadly similar by the end of 2023. In 2022 we are planning to enter the Benelux market – that shall contribute to our growth strategy as well in coming years.
You see Germany as the priority market for your foreign expansion. What are your growth plans for this year and beyond?
We are in the process of executing a purchase agreement for a plot of land in Gelsenkirchen, and we plan to purchase, still this year, additional plots in Berlin, Leipzig and Stuttgart. Our plans also include buying another plot of land in Vienna, but this project may be rescheduled for the next year. As you can see, our pipeline is quite strong – we are well advanced in building our land bank, and the same holds true for the work on our running projects. We are almost through with stage one of a warehouse park project in Berlin and are getting started with stage two. The project in Unna is underway, and we are also about to launch a project in Niederrhein. New lease contracts are also being signed – work on all fronts is progressing at full speed.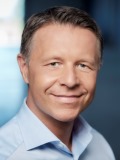 Radosław T. Krochta
President of the Management Board and CEO
MLP Group
Radosław T. Krochta joined MLP Group S.A in 2010. He has got many years of experience in work for the financial sector in Poland, Eastern Europe, and the US. Between 2001-2004, he held the position of CFO at Dresdner Bank Polska S.A. He was also Director of the Department of Strategic Consulting at Deloitte Advisory, and prior to that, he worked as a manager at PWC in Warsaw and in the United States. He graduated (in Finance) from Management and Banking College in Poznań. In 2003, he completed postgraduate studies in Management at Nottingham University and an MBA postgraduate program.
More »
Are you not intimidated by fierce competition on such a large market as Germany?
No, not in the least. In fact, it seems to me that competition is stronger in Poland than in Germany. As a seasoned player on the domestic market, we are less afraid of penetrating markets west of Poland. The German market is more stable and predictable, and we perceive it as much less aggressive in terms of competition. Finding and buying the right plot of land in Germany is more than half a battle. Poland's warehouse space market is highly consolidated – the shots are called by five, six major players – including us, controlling most of the market. As a matter of fact, the Polish and German warehouse space markets resemble their respective beer markets. In Poland, there are three main beer producers: Carlsberg, Heineken, and Kompania Piwowarska, which leave the competition far behind, the other beer makers accounting for barely 10% or so of total output. In every German city, on the other hand, there is a large brewery that is the leader locally, but not on a nationwide scale. The same holds true for warehouse space: there are many developers enjoying a strong position in a particular state or region, for example, Cologne, Frankfurt or Dusseldorf. However, there are no supra-regional leaders that could be said to have a dominant position in the entire German market. We are probably among very few developers whose operations span the whole of Germany.
The German market's potential is immense: it has 100 million square metres of warehouse space, growing by about 8–9 million almost every year. And we are talking about real growth here, without cooking the statistics, which is sometimes done in Poland, where refurbishments, expansions or moving to new premises within the same warehouse park are often classified as new contracts. In my opinion, the real annual growth in Poland is closer to 1.5 million square metres, rather than the 2–3 million square metres sometimes reported by the media.
Has MLP secured the funding necessary for such fast-paced growth? What are your key sources of funding?
Funding is very important. In recent years, we have regularly issued new shares, and last year we also placed on the market €50 million worth of bonds. Towards the end of this year, we are planning to launch another issue of bonds, worth €150 million, and we are not ruling out further share offerings. I am only talking about the equity component, although all our projects are also financed with debt.
Last-mile urban warehouses, speculative big-boxes or BTS projects: which of them will enjoy the greatest demand over the next year?
MLP Group is strongly focused on urban logistics. Our target is for such projects to represent some 30%–40% of our portfolio in several years' time. We give it a very high priority since we observe the massive growth of the digital economy. I believe that the big-box market is already heavily saturated and so intensely competitive that it no longer generates sufficient rates of return. Unfortunately, today the whole industry is shifting towards speculative projects, so – whether we like it or not – we have no choice but to move in the same direction. BTS warehouses are losing their appeal as customers, aware of the fast pace of changes in the world lately, expect to be able to make decisions overnight. Speculative construction is thus inevitable.
The warehouse property sector is one of the few "winners" of the pandemic-induced economic turmoil. But isn't that the case that once the pandemic is contained, the market will cool down and its participants will become less active?
I couldn't agree with you more. I'm not overly optimistic and I don't support the view that e-commerce will continue to grow at a double-digit rate, driving the warehouse industry. I am rather inclined to think that customers will return to offline shopping once the pandemic is over because shopping is not merely about buying – it's a part of our lifestyle. It's like going to a restaurant. For me personally, having lunch or dinner at a restaurant with my family or friends is a part of social life that I miss. If I wanted to simply satisfy my hunger, I might just as well stay at home. For many people, shopping is a social event, too. This is why I believe that, once the pandemic is gone, the entire e-commerce market will cool down and continue to grow at a single-digit rate at best. People want to do shopping in brick-and-mortar stores and enjoy spending time in shopping centres, and this will definitely have an impact on the warehouse market. At MLP Group, we expect that e-commerce will grow by some 5%–7% per year in the countries where we operate. In my opinion, the forecasts predicting a growth rate of more than 10% are too far-fetched.
In your announcements, you stress MLP Group's intention to BREEAM-certify all of its facilities, regardless of their location, with as many credits as possible. Why is this so important to you?
It's a difficult question. The main reason is that we try to follow the market expectations. Naturally, we strive to act green: we source energy from photovoltaic panels that are installed on our warehouses as a standard, our facilities have improved thermal insulation properties, so we use less gas to heat them. At our facilities, we use dedicated state-of-the-art solutions introduced together with Sygnyfi (previously Philips Lighting), which help us cut down on electricity consumption. I believe, though, that certification is simply a marketing trend. These days, it is what the financial markets, and perhaps some of the tenants, expect, but in my opinion, it does not deliver any major, more tangible benefits.
Nearshoring to Poland – has this trend already started, or is it still a long way off?
It's quite a new trend. Decisions to relocate production from China or the Far East generally take some time and are not made overnight. What is already happening is the relocation of light industrial manufacturing from the UK, especially to Poland, where the costs of running a business are still lower than in Germany. This should be a source of many new tenants. Besides, we are flooded with inquiries from our existing customers asking about the possibility of expanding the leased space by some 20%–30% so as to increase their stock levels, ensure the continuity of production or as safeguard against the consequences of another disruption in supply chains from Asia. This has become a burning issue also recently, during the Suez Canal blockage. We know full well that such situations may and will continue to happen.
Warehouse space has now become the 'hottest' commodity on the investment market. Are you receiving a lot of offers to buy your warehouse projects?
Unlike our competitors, we do not sell our warehouse projects – we build them to derive long-term benefits rather than sell them straight away to investment funds. We politely but firmly decline such offers, although it is true that we have received plenty of them in recent months. When we were selling our warehouse project in 2015, a thing we have done only once since MLP Group's inception, foreign investment funds would allocate no more than 10% of their portfolio assets to logistic properties, with 30%–40% being allocated to office and retail properties; even hotels had a higher priority. Today, the allocation to warehouse assets is close to 50% – it's sheer madness.