Dr. Erwin Hanslik MRICS, Taylor Wessing's CEE Head of Real Estate & Construction and head of the firm's Prague and Brno offices, talked to Property Forum about the legal challenges real estate investors and developers in the Czech Republic have to face.
How has the client portfolio of Taylor Wessing's real estate practice evolved over the last two years and what are your objectives for 2022? 
The disruptions that the market has been facing in recent years also create opportunities. We embrace the challenges that many real estate investors, developers and others are facing, and are adjusting our services to meet clients' needs. Thanks to this flexible approach, we have managed to retain existing clients while generating strong, new client relations. In addition to our non-transactional real estate business, we are assisting our clients with several transactions, including one aspiring to become the deal of the year in 2022. Our goal is to grow and further stabilise our real estate team while expanding our offerings in areas currently in high demand. A good example of this is ESG. Despite negative developments in the real estate market, we have retained most of our clients and their business is going very well. This has allowed us to enter areas such as the construction of manufacturing and logistics facilities, office spaces and more. We also regained our former real estate client, Redevco.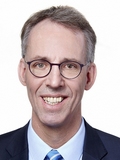 Erwin Hanslik
Partner and CEE Head of Real Estate
Taylor Wessing
Erwin is the CEE Head of Real Estate & Construction and the head of our Prague and Brno offices. He also heads up another four of our legal service and sector groups in the region. Erwin also works for national and international clients on the full range of corporate matters. He has a focus on M&A transactions, particularly in the consumer & retail and healthcare industries. Erwin focuses on international real estate transactions but also has in-depth knowledge of development agreements, in particular, those based on FIDIC rules. He is a member of a number of legal and industry groups in the Czech Republic, including the renowned Royal Institute of Chartered Surveyors (RICS). Erwin is Vice-President of the Real Estate Commission at the Union Internationale des Advocats (UIA) and often speaks at various real estate conferences. He heads four of our legal service or sector groups in the region: Real estate & infrastructure; Environment, planning & regulatory; Energy; and Hotels & leisure. Clients benefit from his rare depth of experience across these major legal and industry areas.
More »
Just as the pandemic situation had improved, corporations have had to face new challenges with the war, skyrocketing inflation and energy prices. What sorts of advice and services are your real estate clients looking for these days?
We are tailoring all services to our clients' needs. We are advising corporate occupiers on renegotiating their lease terms, e.g. in relation to indexation or force majeure clauses. Industrial clients have been seeking our advice regarding energy price stabilization and protection against supply disruptions. We are helping developers in the initial phases of their projects by stabilizing construction prices. At the same time, we are assisting some clients with the expansion of their businesses and takeovers or revitalization of projects which have failed due to the current market challenges. A hot topic across the market is a consultation on ESG issues.
What are the main legal challenges real estate investors and developers in the Czech Republic have to face right now?
The greatest challenges for investors and developers are clearly high inflation, rising energy prices, construction supply instabilities, adverse changes in mortgage lending affecting the residential market, legal framework instability due to the building code, unfinished zoning in Prague and, of course, geopolitical challenges. For all these reasons our clients are seeking advice on how to deal with these risks in their already existing and future contractual relationships. 
What will change in Prague for developers after the approval of the zoning plan (metropolitní plán)? 
Prague's zoning plan will open up several dozen brownfield sites including some very large ones for residential development. Developers will have the opportunity to participate in the creation of new residential areas comprising housing and public facilities forming brand new city hubs. As the new zoning plan will be up-to-date, hopefully, individual proceedings on changes to the zoning plan will not be needed anymore. Currently, there are many such proceedings as regards areas that are no longer used for their original purposes like brownfield sites that have remained unresolved for many years. And so, the new zoning plan may provide for a new era of quality residential projects.