Office space will continue to shape the company culture and will have a great impact on the collaboration process and the dynamic of decision-making, says Tanya Kosseva-Boshova MRICS, Managing Partner of Park Lane Developments who talked to Property Forum about the company's development plans and shared her expectations about the future of offices.
The construction of Park Lane Office Center in Sofia will soon be completed. Has the pandemic impacted the development process in any way?
Park Lane Office Center will be completed soon – in June 2021. Yes, the construction process was impacted by the pandemic, but in a positive way. Our construction team started working on two shifts to avoid the spreading of COVID-19, which gave us the opportunity to complete the rough construction earlier than our initial plan.
Park Lane Office Center is one of the first office buildings in Bulgaria designed for post-COVID times. The project will have a UV disinfection system that eliminates more than 97% of viruses and bacteria in the air and 99% of them on surfaces.
Other features that ensure a healthy and safe environment in the common areas of the building include touchless access (touchless elevators with destination control, automated car barriers with vehicle license plate recognition system and touchless tabs and soap dispensers in the sanitary rooms) and spacious areas (such as a large reception area with many access points, 7 high-speed Schindler elevators with capacity for 21 people per lift, spacious open-air green areas and a 4,000 sqm park with trees and benches).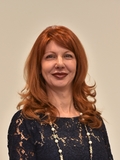 Tanya Kosseva-Boshova
Managing Partner
Park Lane Developments
She has nearly 20 years of experience on the Bulgarian commercial property market. She acted as partner and managing director of the largest property companies in the country – Colliers International, Landmark Property Bulgaria, European Trade Center – and led the development, leasing and management of significant commercial projects like European Trade Center, Burgas Plaza Mall, Retail Park Plovdiv, etc. In 2007, she successfully initiated and accomplished an amendment in the Bulgarian legislation, abolishing restriction on the term of leases in Bulgaria. She is currently Chair Person and Member of the Board of Directors at the Association of Commercial Building Owners in Bulgaria and at the Ladies Forum. She is a graduate of the American University in Bulgaria.
More »
Last year, Allianz Holding secured a 6,000 sqm lease in the building. How has it been negotiating with them and other tenants? Have you noticed any significant changes in tenant requirements compared to the pre-pandemic period?
For us an emblematic tenant such as Allianz is a further acknowledgement for the quality of the office building that we develop. We are happy that this is the largest deal in the sector of office space in Bulgaria in 2020, and in fact, with a term of ten years. The offices of Allianz Bulgaria will occupy an area of 6,000 sqm and three floors at Park Lane Office Center.
The negotiations process with Allianz was intense due to the short deadlines. Allianz did not change drastically their requirements during the pandemic. Their desire was to consolidate their business in the country from their several locations around the town.
Last year many of our potential tenants were in a "wait and see mode" due to the pandemic. Many of them resumed the negotiations with us and we are happy to share that this month we closed two new office pre-leases.
I believe that the gap between Class A and Class B office buildings is becoming wider. Many companies nowadays realise that they can benefit from a superior Class A office experience. They want their employees back in the office and realize that there should be no compromise with the quality of the building they choose. It is not a new trend, but now more and more tenants require office design with a home-like feeling and a layout with more collaboration areas such as meeting rooms, relax zones, bigger kitchenettes, lounge and entertainment areas, sport rooms, etc.
What are your predictions concerning office space in the post-pandemic world? Will companies require less space? Will employers be able to get people to come back to the office? Do they even want to?
Office space will continue to shape the company culture and will have a great impact on the collaboration process and the dynamic of decision-making. The modern office will not disappear and will continue to be the predominant asset class for investors.
Some companies will continue their work in a hybrid model, but the truth is that most of our potential tenants choose to provide desks for 100% of their office employees despite the hybrid models of work organization. In the past, many of our tenants, especially the IT companies, used to lease larger areas than what they require in order to provide for their rapid growth. Nowadays, they lease space for the current headcount and plan the future growth taking into account the work-from-home alternative.
Commute time is quite shorter in our region compared to the more mature markets in the USA and the global metropolitan cities, hence employees are less willing to stay at home as they miss the office vibes. Unfortunately, the decisions are taken in the head offices of the global companies which would urge for the decrease of office areas in order to save costs, despite the desire and needs of the local offices.
I believe most of the employees would prefer to continue coming to the office rather than stay at home forever. Many researchers say that young people will suffer the most from the home office trend. Working from home limits the access to mentors and more experienced colleagues, hence the opportunities for career growth are limited.
According to recent research, working mothers are also suffering seriously due to the pandemic - a quarter of them are forced to downshift their careers or even leave the workforce. This would deepen the gender imbalance – a trend that modern companies do not want.
It is also important to mention the alarming increase of burn-out cases worldwide. Many employees spend more hours in front of their monitors which negatively affects their productivity in the long term.
There is no one-size-fits-all solution but in most cases, I believe that working from the office at least 3 days per week will be a good scenario both for the employees and their managers.
Do you expect the uncertainty surrounding the future of offices to impact financing conditions? Has banks' attitude towards office projects changed in any way?
The previous financial crisis taught the professional developers on the market on how to plan their investments, so we are prepared this time. During the last years, the banks have been very selective and they choose to work with developers with experience and a proven track record. Currently, in Sofia, none of the office developers has stopped the construction of their buildings due to issues with their financing bank.
Banks will continue to finance good projects but will demand stronger pre-leasing covenants. In reality, there are no new office buildings in the pipeline and hence this is still not tested on the market.
What are your expectations in terms of vacancy rates and rents on the Sofia office market in 2021?
There is a slowdown on the office market, but meanwhile, there is no new construction activity in Sofia since March last year. I do not expect to see the start of any office building construction this year. Vacancy increased to 12-13% during the pandemic, but my expectation is that the market in Sofia will be balanced by the end of 2022 and vacancy shall go back to its pre-pandemic levels of 9-10%.
This year will not be an easy one, but there will always be demand for buildings with high quality and appropriate location. Demand in our region comes from IT and financial services companies – these industries are not affected negatively by the pandemic. At the same time, Class B and C office buildings will suffer the most in terms of vacancy rates and loss of tenants.
Due to the limited number of transactions, the rental levels are still stable at levels of €12-14 per sqm per month. Today, landlords are ready to provide more incentives and agree to more discounts in the advanced stage of negotiations.
Do you already have plans for new ventures once Park Lane Office Center is completed?
Yes, we do have plans for new ventures. We are in process of acquiring land in Bucharest for the development of a new office project – we started that process one year ago before the first lock-down. We are also actively working on several opportunities for new developments in Sofia.