Panellists of the CEE investment roundtable of Prague Property Forum 2019, led by Mike Atwell, Head of Capital Markets Czech Republic and Lead Director CEE at JLL discussed the key trends shaping the regional investment market. They agreed that the low interest rate environment is probably here to say but it's very difficult to say for how long.
Tomas Picha, Senior Director of Transactions in CEE at Invesco finds that most CEE investors have never purchased at lower yields before throughout their careers. These days, CEE investors are completely fine with 4-5 percent yields and sometimes they are even willing to go below 4 percent. He doesn't see any major signs that would suggest that the market is about to hit a wall and thinks that the current trend will probably continue for two more years. The flow of money is still here and there is a lack of product which sets the stage for possible further yield compression.
Talking about the emergence of local capital in CEE, Tomáš Jandík CFA, MRICS, Chief Investment Officer, Member of the Board of Directors at REICO explained that when it comes to domestic investors, we need to differentiate between private equity and fund businesses because of their different investment strategies. There is a high number of new funds showing significant growth in the Czech Republic but they will need to start looking abroad to deliver the higher returns that they offer, he added.
Andy Thompson, Head of Investment Czech Republic & Slovakia at Colliers International touched upon the growing presence of Asian investors in CEE. He believes that they are likely here to stay and this is partly due to the fact that investment managers are getting better at selling European property to them. Korean investors, who have been at the centre of interest recently, have a currency play to buy into Europe. They are competitive and outbidding some core investors but at the same time, they are looking for scale which can pose a challenge in the region, Thompson concluded.
Diving into what investors are looking for, Gijs Klomp MRICS, Investment Director at NEPI Rockcastle said that not specialised capital is getting uncomfortable with the retail sector which provides a good opportunity for specialised retail investors as the retail market is healthy in CEE. Location, of course, is still important. Secondary city retail has become an illiquid market as a result of a shortage of demand and the strong supply of last few years.
According to Erwin Hanslik MRICS, Partner and CEE Head of Real Estate at Taylor Wessing, the biggest issue market players are facing, from a legal perspective, is that the process to obtain a building permit is still too long. Depending on the size of the project, a developer may need 60 different permits for one development, so it's no wonder that the Czech Republic still ranks poorly in a global comparison when it comes to permitting. There is a strong need for major institutional changes to speed up the permitting process but it's not expected to happen before 2022, Hanslik added.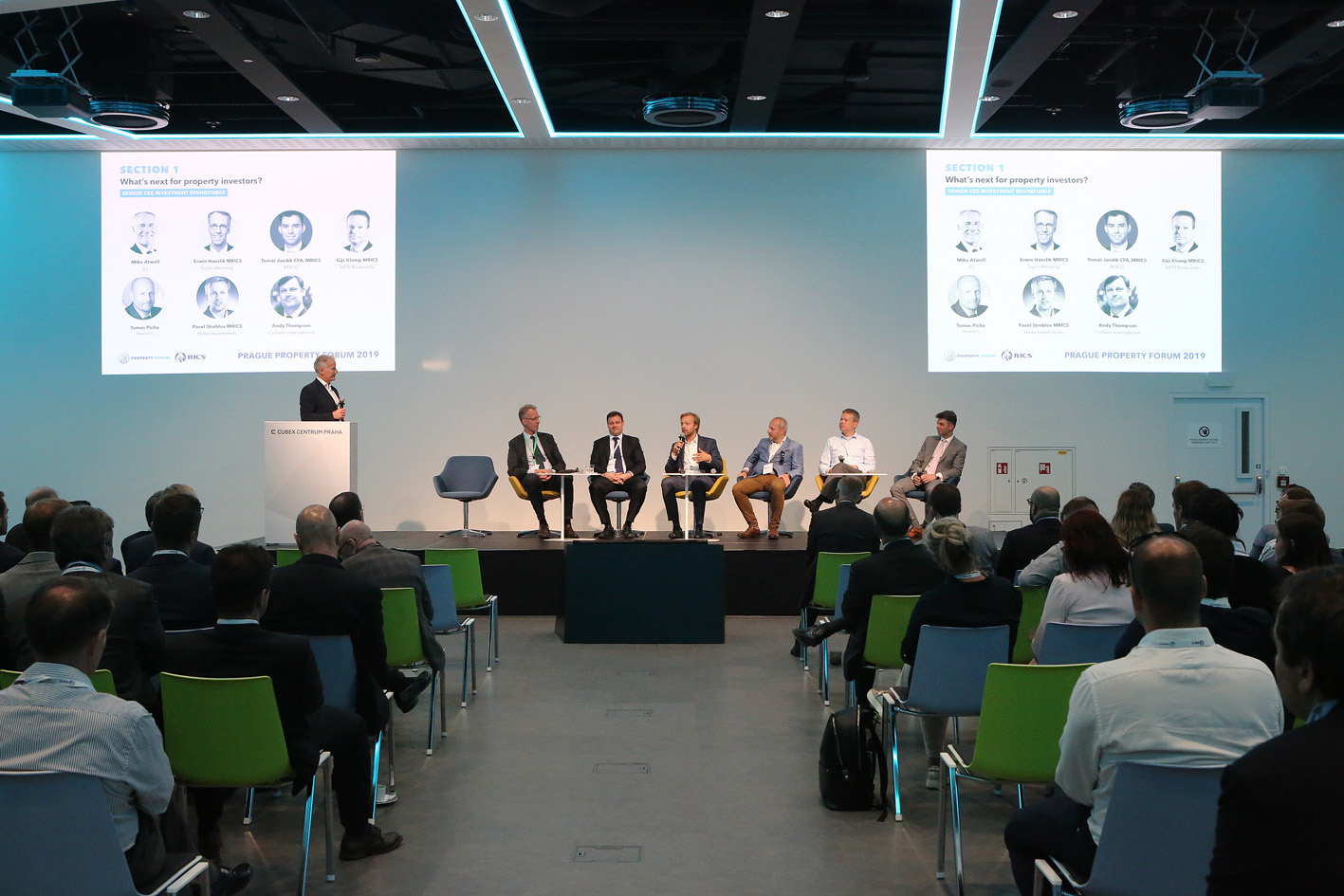 Prague is a conservative market in terms of development which is good for investors because for them it means that supply is stable and plannable, Pavel Streblov MRICS, Business Director CRE at Penta Investments said. From a developer's perspective, however, it is very difficult to build in the city centre as the planning and permitting process is lengthy and tiring. It is highly challenging to finalise all the plans within a 5-year political cycle and if there is a change in government, one has to start again. Due to these issues, neither the public nor the private can invest as much as they want to in the Czech Republic, Streblov concluded.
67% of the last RICS survey's contributors view commercial property in the Czech Republic as expensive but the investors gathered at Prague Property Forum didn't seem to think so. The panellists concluded that Prague has become a global city which is considered a safe haven by investors and since a lot of investors are thinking that the cycle is coming to an end, they are willing to accept lower yields in exchange for safety. Although it's not overpriced, the Czech Republic is in fact too expansive too expensive for some investors and they invest in cheaper countries such as Hungary instead.