As governments across Europe are ending Covid-related restrictions, business must also redefine their workplace strategies. Forcing people to return to the office full-time after long months of lockdowns might not be the most effective strategy and the idea of a full-time WFH also only works in very specific cases, says flex office provider New Work in its latest analysis.
Flexibility above all
According to a report by a leading regional HR portal, only 26% of employees say that they would like to go back to the office full-time and less than 15% of professionally active people prefer to work remotely all the time. The largest share of responders, almost 60%, prefers a hybrid option.
Flexible or hybrid workplace strategies have been gaining popularity long before the COVID-19 pandemic started but the experiences of the lockdowns have definitely intensified this structural change. Now, more and more corporations of different sizes are providing their office-based workforce with the opportunity to choose where they want to work from on a given workday, be that their own home, the company's HQ, a satellite office, workplace leased from a flex office operator or any other location.
One of the main advantages of working in an office is the opportunity to be around colleagues. Social interaction in the workplace is known to boost creativity and productivity which is why companies are focusing on providing employees with more space for socialisation and teamwork. As post-Covid working habits are still rapidly changing and the reorganisation of corporate headquarters takes time and money, flex office providers are ready to offer teams dedicated meeting rooms or offices for different projects.
Location is more important than ever
According to flex office provider New Work's recent LinkedIn poll, location remains the most important factor in choosing an office but not in the way one might think. Surprisingly, for almost half of respondents (47%) access to good public transportation is the deciding factor. The office being close to home is important for 32% of respondents and only 16% wants their workplace to be located in the city centre above all.
Office buildings that are well connected by public transport have long enjoyed increased interest from tenants and if their location was coupled with high sustainability and well-being standards, they could also achieve a rent premium in many cases. The above-mentioned changing preferences of employees might encourage companies whose HQ is not located in such an office building to relocate or to consider leasing additional space in flex office with excellent transport connections.
The problem with a hybrid strategy
Unfortunately, there's a huge issue that companies that allow employees to come to the office only a few days a week must face. Much of the time, the premises they lease will sit only half-full or almost empty. This not only results in unnecessary costs (rent paid for unused space) but unnecessary carbon emissions (energy needed to operate unused space). With a more challenging macroeconomic environment ahead and ESG getting high on the top of the agenda of all companies, there's double pressure on tenants to use their existing office space in a more efficient way. Some even go for decreasing the size of their leased space altogether but that's rarely a viable solution in the long-term, especially if it's not coupled with an option to expand the lease again if necessary.
Having realised that this is an issue that many employers face, New Work has introduced a "Space in the Cloud" service across its portfolio which allows tenants to reduce their core space commitment down to 50% and cover the peak loading factor with cloud services. Employees using this service have access to all New Work locations via a mobile app so they can choose where they want to work on a given day – or for just a few hours – depending on where they are and where they need to go.
"This service has already proven to be highly popular among tenants that not only appreciate the fact that they can save money and decrease their carbon footprint but that they can offer greater flexibility for existing and potential employees in today's competitive job market", explains Hubert Abt, CEO and Founder of New Work and workcloud24.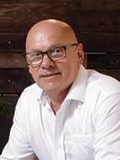 Hubert Abt
CEO
New Work & workcloud24
Hubert Abt has been working in the real estate industry for over 30 years. He worked as a developer and later in the land banking sector and provided equity and Mezzanine capital for various real estate projects. In 2012, he founded New Work Offices in Budapest, which provides various flexible office solutions. Since then he developed the business model further and grew the company to today 16 locations in 4 countries with approx. 46,000 sqm which brings New Work Offices in the top 3 list in CEE. Hubert now leads the company as CEO while focusing on investor relations and developing new products like New Work´s Franchise Package or The Digital Office Pass of workcloud24 where he acts as Founder and CEO as well.
More »