New research from JLL challenges traditional approaches to evaluating city competitiveness by encouraging the global real estate market to rethink city performance metrics. In World Cities: Mapping the Pathways to Success, published in conjunction with The Business of Cities, JLL delves into global cities' performance to evaluate their strengths and opportunities for real estate investors, developers and corporate occupiers.
JLL's analysis looks beyond the standard metrics of city performance to recognise similarities among the world's cities. The new classification of 10 global city groups, each with their own common paths, challenges and imperatives, draws on a wide range of indicators to develop a focused global map of city dynamics.
Central and Eastern European capitals such as Budapest, Bucharest, Prague and Warsaw are classified as hybrid cities by JLL. They have made good progress improving real estate transparency and have seen a transformation in the quality of their commercial real estate
Among the new city types, Innovators with world-class capabilities in science and technology have seen investment volumes grow by 50% since 2006. In particular, Berlin emerged as a hotspot for cross-border investment, ranking as one of the top global destinations for cross-border capital. Meanwhile, Lifestyle cities like Vancouver, which saw investment volumes rise by 168% in 2017, will continue to attract global investment capital.
Jeremy Kelly, Director in Global Research at JLL said: "Increasingly, groups of cities share characteristics, aspirations and priorities in terms of the specialisms that they nurture, the talent and businesses that they attract, and the style and quantity of real estate required. With this in mind, it makes sense to assess a city's real estate market dynamics through the lens of these city groups, to complement more traditional approaches to evaluating the impact of city competitiveness on real estate."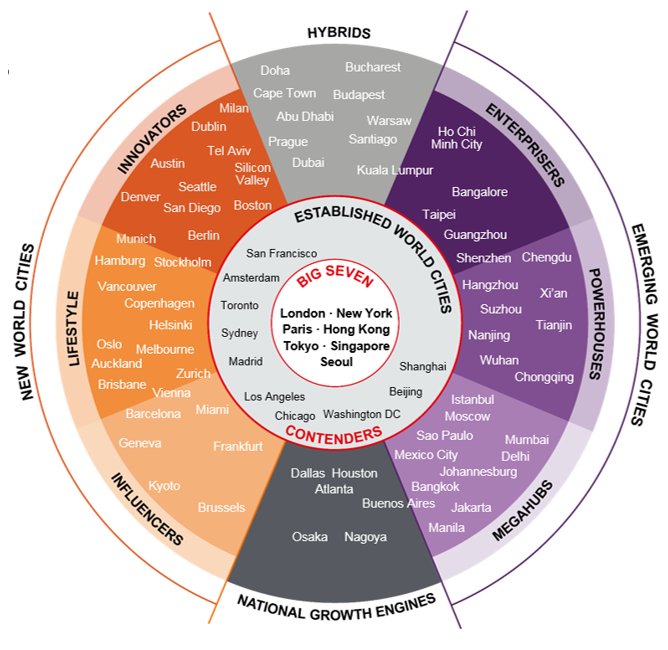 The Big Seven and the Contenders
The Big Seven are the elite set of cities that account for around a quarter of all capital invested in commercial real estate globally, and have the unique power to be default locations for cross-border investors and corporates.
Contenders have seen the fastest growth in real estate investment in the past decade and among the strongest office rental growth since 2000.
Innovators, Lifestyle and Influencers
Underpinned by a strong entrepreneurial spirit and research capabilities, Innovators such as Berlin, Boston and Seattle are important cities in high-value economies. They attract among the greatest volume of real estate investment relative to their size.
Lifestyle cities characterized by high quality of life and public services have seen among the most robust growth in office rental values since 2000.
Influencers typically have some of the most stable real estate markets because they are strategically located for trans-national decision-making, cultural functions or trade.
Megahubs, Enterprisers and Powerhouses
Large cities in emerging economies, Megahubs, are junctions for internationalisation of national economies and capable centres of business and retail but fail to punch above their weight as investment destinations.
Enterprisers are home to some of the world's most dynamic real estate markets. These emerging economies possess rapidly evolving innovation systems and increasingly are home to their own successful, home-grown multi-national corporates.
Powerhouses are transitioning from low-value industrial economies to a higher position in the value chain. Benefiting from strong national government support, they are shifting towards more advanced industries.
Hybrids and National Growth Engines
Hybrids are typically mid-sized cities competing in specialised markets (e.g. commodities, business process outsourcing). They have made good progress improving real estate transparency and have seen a transformation in the quality of their commercial real estate.
National Growth Engines can be found in stable, developed national economies. They benefit from access to large domestic markets. Durable over the medium term, they are among top real estate investment destinations.
Dr. Tim Moonen, Director of Intelligence at The Business of Cities added: "All global cities are on a journey within or between different types – their paths are guided by new infrastructure, changing sector mix, new national policies and even by the way they are governed and led. The shifting competitive horizons of different types of cities bring new opportunities and fresh challenges for the real estate industry. This typology represents a snapshot in time and as cities adjust and evolve we can anticipate the dynamics of the global urban system to change with them."