According to a study by JLL called Destination Europe 2015, Prague has been ranked as the 14th most attractive market in EMEA for the expansion of international and luxury retailers. This reflects the strong purchasing power of the Prague and Czech citizens, as well as its massive volume of tourists. According to TripAdvisor's Top 10 Global City Destinations 2016, the City of Prague ranks in 4th position in the Europe. Prague's flourishing retail market has been on property investors´ radar over the past few years and the purchase of Palladium, a prime shopping centre in the very heart of Prague, was one of the largest transactions closed on the Czech real estate market last year.
Prague's modern retail market is formed predominantly by shopping centres and by stand-alone shops, out of which the majority of flagship stores can be found on the high streets such as Na Příkopě, Wenceslas Square and Pařížská. "The situation in the segment of shopping centres has been constant for several years now. Thanks to the tremenduous interest of retailers, the owners of prime shopping centres have a very strong position when leasing their premises. In case any unit becomes vacant, there is a queue of potential tenants waiting to take it over and practically overnight. Rents for the best retail space in prime shopping centres is around 110 EUR per sqm," comments Tomáš Soukup, Head of Retail Agency at JLL Czech Republic.
The flagship stores of mass market retail brands profit from the interest of visitors to lower part of Wenceslas Square and Na Příkopě, which ends in the Republic Square in front of Palladium shopping centre. "From time to time, there are vacant retail units in this lower part of Wenceslas Square and in Na Příkopě, and its new tenants usually makes the retail offer in Prague more colourful. In 2015, two brands – Marc O´Polo and Tiger – opened their shops there. This year Hamleys, a giant toy shop, should open in the newly refurbished building Na Příkopě 14," adds Tomáš Soukup from JLL.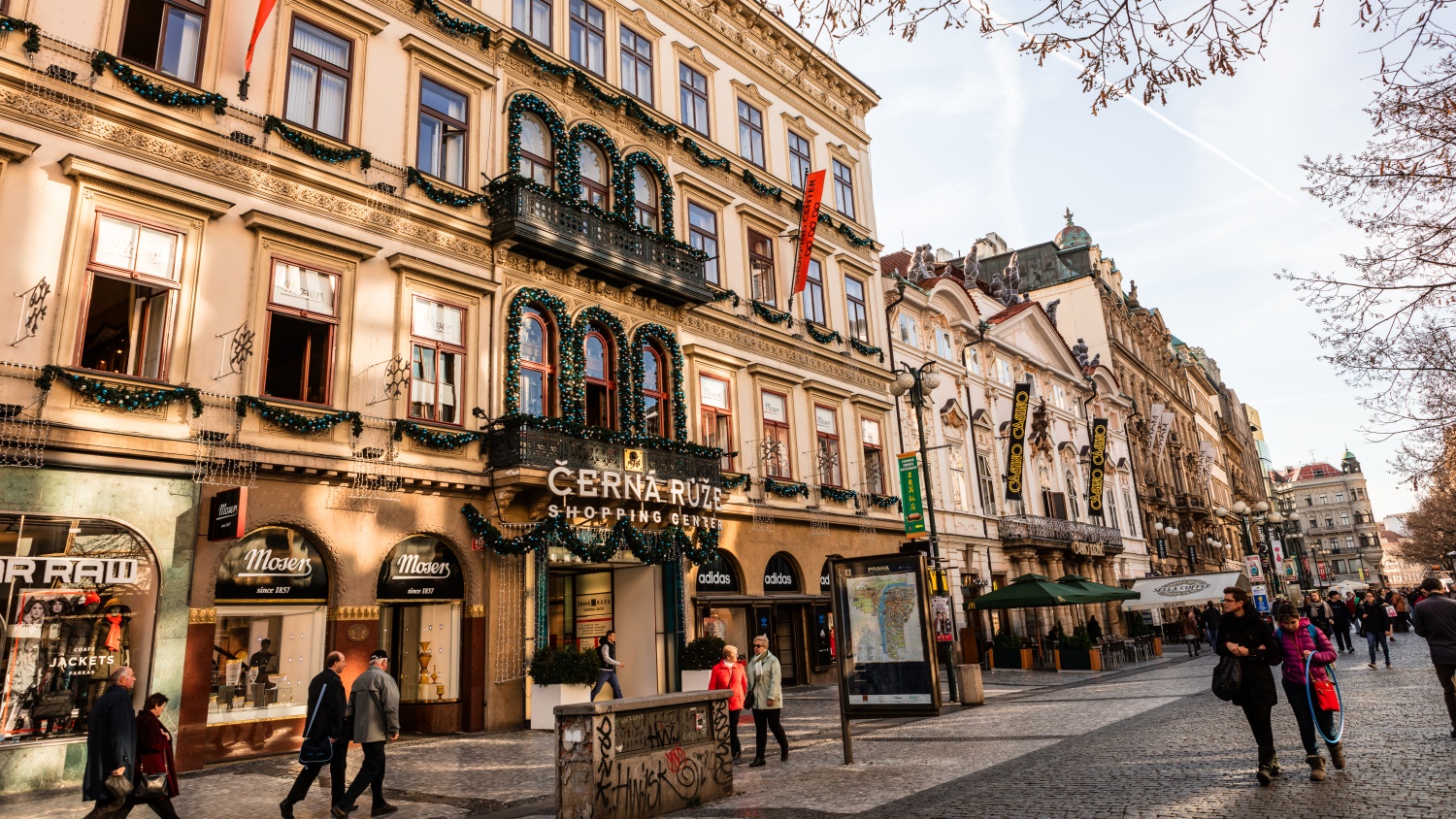 Pařížská, which links the Old Town Square and the Vltava river banks, is established as the home of luxury brands. Currently, there are more than 40 luxury shops, out of which 15 are direct (i.e. without having local company representing them). One of the most significant developments on Pařížská took place in 2014 when the fully redeveloped Pařížská 3 turned into a new 3-storey flagship store of Louis Vuitton. The enormous interest in this prestigious address, which Pařížská is unable to satisfy due to physical limits, spills over to adjacent streets such as Široká, Kostečná and partly to the Old Town Square. The prime unit shop rent on Prague's high street reaches 185 EUR per sqm. This rent relates to a notional retail unit of 100 sqm in the afore-mentioned locations.
"Pařížská has witnessed several changes in terms of its visitors over the last 25 years. Shortly after the Velvet revolution, it was mainly expats and foreign tourists visiting Prague who shopped there. The Czechs were a minority, but their proportion gradually rose and became more significant after the year 2000. What also changed is the groups of tourists shopping in Pařížská. Besides Russians, you can also see more and more Chinese and South Koreans. According to the Czech Statistical Office, Prague was visited by 292,000 Russians, 197,000 Chinese and 180,000 South Korean tourists last year," says Blanka Vačková, Head of Research at JLL and continues: "according to Global Blue, a tax-refund service often used by non-EU visitors, for the first time in the history of tourism in the Czech Republic, in 2015 Chinese tourists became the biggest spenders from all non-EU visitors, in terms of total volume. Their share of the total of non-EU member states spending rose to 25 % from 14 % in 2014. Russian visitors who used to lead the statistics accounted for 24 %, down from 44 % in 2014. With new direct routes to Beijing introduced in September 2015 and another to Shanghai from April 2016, the already growing number of airport passengers from Asia will continue to increase."
The flourishing retail market in Prague and in the Czech Republic is carefully monitored by property investors. Retail was the leading asset class over 2015 in the Czech Republic; it accounted for ca. EUR 1.12 billion or 42 % of total transaction volumes. The largest individual transaction was the sale of Palladium, Prague's prime shopping centre, acquired by Union Investment for EUR 570 million.
"The encouraging economic growth, high-quality modern stock, low levels of personal debt and growing per capita retail spend all combine to make the Czech retail sector highly attractive to domestic and international investors alike. Throughout 2015 and Q1 2016, a depth of interest was demonstrated for a variety of assets including Prague shopping centres, regional schemes, outlet centres and last but not least, high-street assets. This looks set to continue in to 2016 with a sizeable pipeline and wealth of demand already taking shape as investors continue to acknowledge sector value," concludes Stuart Jordan, Head of Investment for the Czech Republic and CEE at JLL.