James Fife, CEO of LCP Properties Poland has talked to Property Forum about the company`s investment plans, the impact of the high interest rates and the entrance into the warehouse market.
While most investors are freezing their investments in Poland indefinitely, LCP Group is buying more retail parks. The problem of high interest rates does not concern you?
LCP, part of M Core has achieved remarkable success, with significant acquisitions across Poland. This expansion is set to continue alongside the current acquisition drive by M Core, underpinned by a £1 billion investment target throughout Europe in 2023. The commercial real estate sector is facing significant challenges due to high interest rates. This, in turn, has a direct impact on investment strategies, at LCP, this means as investors we adopt more robust approaches that emphasise intensive asset management to realise value and achieve returns.
As part of this goal, the team are working hard to identify assets that meet the portfolio requirements and ambitions and asses where further opportunities are available for maximising value.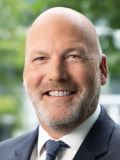 James Fife
Chief Executive Officer
LCP Properties Poland
James Fife is a seasoned professional in the real estate industry with a career spanning over three decades. James has made significant contributions to LCP Properties, Poland, and has played a pivotal role in the company's exponential growth and success. James embarked on his journey with LCP back in 1994 in the London office responsible for asset management and acquisitions, his dedication and expertise soon led him to be appointed as director in 2004 and co-managed the London office through to 2007. In 2005, LCP took a significant stride by expanding its operations into Poland with its first territory acquisition. In 2007 James was appointed CEO of LCP Properties Poland, tasked with expansion of the team and the portfolio.
More »
In addition to further acquisitions, you are also regularly active as a developer, building your own facilities. Does this mean that the market lacks a product that interests you?
We take a considered approach to asset management, where acquisition opportunities are assessed against a range of specifications and demographic criteria required for the local area. When an asset falls under the criteria requirements, we will look to invest and develop opportunities to create an offering that our clients and the market are calling out for.
As part of this approach, we are also looking to create opportunities for our tenants. For example, the Multiparks within our portfolio offer flexibility in various locations and unit sizes, which enables businesses to take advantage of opportunities to scale and grow within our portfolio.
LCP Group focuses mostly on locations in smaller Polish cities. Could you please explain that strategy?
At LCP, we recognise that significant focus is given to capitals and larger cities, which often benefit from being the first areas to experience modern adaptations to commercial environments. However, as part of our commitment to creating a better experience for local shoppers, businesses, and communities we want all neighbourhoods to benefit from forward-thinking space planning, diversity of assets and first-class facilities.
Large, traditional shopping malls are feeling the inflationary decline in the purchasing capacity of Poles quite strongly. What does this look like in your facilities?
Throughout all our developments, such as our EMKA and M Parks, asset managers aim to secure an electric mix of retailers. By working closely with a range of large national occupiers as well as independent tenants, our destinations offer a variety of food and beverage, leisure, retail, fashion and service let tenants, serving the needs of a varied audience.
You have also recently been offering small storage units (SBUs) under the Multiparks brand. Are you trying to take advantage of a good time for warehouse investment?
In line with the trend throughout Europe, LCP has seen a rise in the occupation of industrial and business units, predominantly following the Covid-19 pandemic where last-mile logistics increased throughout the industry. As a company, we are focused on creating thoughtful, long-term relationships, and stability, for the businesses we work with. Therefore, we aim to offer the right opportunities for tenants to incubate and grow within our Multiparks.
For the end, a little bit of fortune-telling: what will your Polish portfolio look like after the next 24 months?
We have ambitious growth plans within Poland and are excited to see investment opportunities arise within the market. As we grow our portfolio, we are looking to develop our assets and building specifications to continually meet the needs of our occupiers and their communities, progress electric vehicle charging and add additional value for our tenants and customers.