Indotek Group has announced the strategic acquisition of Galleria Porta Siena on LinkedIn. Galleria Porta Siena, a prime commercial property located in the heart of Siena, joins the group's growing portfolio of Italian retail assets.
This acquisition underlines Indotek's strategic vision to invest in well-positioned secondary shopping centres in Italy's smaller, high-traffic cities. Galleria Porta Siena is a vibrant retail hub with a unique positioning near key landmarks and infrastructure, indicating strong potential for consistent customer footfall.

Indotek's Country Head for Italy, Eleonora Galloni, shares insights into this key move: "Siena is one of Italy's prominent cities with a high influx of tourists, a strong local base, and a significant university presence. The Galleria's position, located in a multipurpose complex and nestled between the train station and Siena's historic centre, ensures consistent footfall. It also embodies our vision of investing in secondary shopping centres in prime locations of smaller yet well-frequented cities."

Krisztian Hornok, Managing Director of International Transactions & Asset Management at Indotek Group, underscores the strategic significance of the Italian market: "Our interest in the Italian market has been growing steadily. We're currently assessing multiple properties that have good fundamentals and are in need of turnaround and/or active asset management."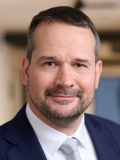 Krisztián Hornok
Managing Director, International Transactions and Asset Management
Indotek Group
Krisztián Hornok has been the Transaction Director of Indotek Group since 2014, before that he held senior positions at various service companies. He was the Managing Director of real estate consulting company DTZ in Hungary for four years and a Member of the Board of RICS Hungary for seven years. In his current position, he is primarily responsible for Indotek's acquisition activities, he executes high-value real transactions both at home and abroad on behalf of one of the most active investment companies in the country.
More »
With over 350 properties across Europe, Indotek Group is steadfast in its commitment to enhancing the retail experience and actively managing assets to revitalize shopping environments for communities. Its planned investments into Galleria Porta Siena aim to elevate the centre's offerings and contribute to the prosperity of the region.

BancoBPM provided financing for this venture.