While net industrial take-up is down compared to 12-18 months ago, we are seeing a large uptick in enquiries across CEE for strategic production spaces across the automotive, pharmaceuticals, and electric vehicle battery production sectors. James Fitzgerald, Director, Head of Industrial Agency at iO Partners Czechia talked to Property Forum about the main drivers of the CEE industrial market.
James Fitzgerald is a speaker at this week's CEE Property Forum 2023 in Vienna where he's joining a panel discussion on industrial & logistics market trends.
What are some of the trends we are seeing across Europe in terms of production facilities and new investments?
We are witnessing and experiencing the convergence of several major changes simultaneously in our industry that are creating both major changes and opportunities for the industrial real estate industry – these include digitisation (of everything!), decarbonization (of everything!), increased use of advanced manufacturing technologies, and general changes in culture and societal expectations.
While net take-up is down compared to 12-18 months ago, we are seeing a large uptick in enquiries across CEE for strategic production spaces across the automotive, pharmaceuticals, and electric vehicle battery production sectors, especially from local European occupiers as well as American and Asian clients. While it is true that deals are taking longer to close, we are confident that these requirements will convert into lease deals across the entire CEE region in the coming 6-12 months as interest rates and construction prices become more stable and predictable.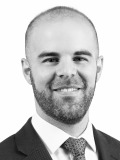 James Fitzgerald
Director, Head of Industrial Agency
iO Partners Czechia
James has over 12 years of experience in impact investment, property development, fund management and major infrastructure design as a civil engineer. During his time in Australia and Asia for almost a decade, he led the transformation of large brownfield industrial sites into thriving mixed-use precincts. He has a passion for sustainability and responsible investment. He currently is a Director at iO Partners Czechia and Head of the Industrial Agency.
More »
What are the benefits of industrial investments in CEE countries and what is the approach of companies in this area?
The benefits of industrial investments in CEE countries are significant, however, the differences of each country in the region vary considerably compared to other more established markets such as Western Europe or the USA. Despite Russia's invasion of Ukraine, CEE is still an attractive investment destination due to its strategic location, skilled workforce, improving infrastructure, and favourable business environments. We have seen some isolated examples of companies avoiding the area due to perceived threats from Russia's aggression, however, it is not common.
Typically, occupiers are approaching the region for its strategic location (for supply chain purposes), improving cost efficiency and skilled workforce, favourable government incentives, state aid and support, and interestingly much better cultural proximity to Western Europe and the USA compared to other parts of the world.
What will fuel new demand for industrial projects in CEE going into 2024?
Economic growth, supply chain diversity and resilience, infrastructure investments (roads, rail, planning schemes), and energy development will fuel new demand for projects in the CEE in the coming years.
With the rising cost of energy, financial capital and general cost of living, governments in CEE have the unique opportunity to attract industrial occupiers to the region so they can take advantage of both skilled and cheaper labour costs, and reliable and cheaper energy. Overall, the perceived ease of doing business in CEE is improving quickly and is being noted across the industrial occupier sector.
Which are the industries that have the capacity to develop gigafactories in CEE? Is there growing demand for this type of project?
We may look back at this period and agree that it was the beginning of a golden age for the investment and development of gigafactories in CEE, especially in the areas of electric vehicles and battery production, renewable energy, semiconductor manufacturing, pharmaceuticals and biotechnology, and aerospace and defence industries.
There is certainly a huge demand for these types of assets and both Poland and Hungary have demonstrated it is possible to attract these investors, especially in the area of semiconductor manufacturing and electric vehicle production. However, improvements in the way that governments and the private sector respond and cooperate to these opportunities will be the key to unlocking more investments in the coming years across all CEE countries.
For example, the Czech Republic has a few sites that are well positioned to attract this investment and this has only been made possible by the government sector working to improve masterplanning and permitting, and the private sector working closely with the government to advise them on these opportunities.
Sub-leasing has become an important trend across different sectors in recent years. What are the emerging sub-leasing markets for industrial space in the CEE area?
Most of the leasing activity during the COVID pandemic was driven by logistics and e-commerce uses. And rightly so, as our societies and way of life turned to online activities at a rapid pace. However, as consumer demand eases across Europe, we are witnessing an emergence of sub-leasing of space by e-commerce users. Generally, these spaces are only smaller portions of larger contract logistics operations and they are providing some interesting solutions for new customers.
The benefits of these smaller sub-leasing options are that the terms are usually shorter than lease deals done directly with landlords. We do not perceive this to be a significant threat to industrial developers as the spaces are generally not well-suited to medium and larger industrial occupiers requiring specific fit-outs and space.