Katarzyna Zawodna-Bijoch, President and CEO of Skanska's commercial development business unit in CEE has talked to Property Forum about the changing role of offices, skyrocketing energy prices and the incoming supply gap in the Polish office market.
In the report 'Design the Office of the Future', which was developed jointly by you and Colliers, we can read that "... an employee is more likely to come to the office if there is a private space for him or her". Does this mean that the pandemic has finally 'cured' the office market of the so-called hotdesking?
Changes in businesses in response to the pandemic shock create a unique opportunity to rethink the way in which the modern work environment is organized. The office is gaining a new role in building community and engagement, acting as a physical manifestation of the company's values and culture. It's no longer only a place where we come to work. It's where we come to do our jobs but also to reconnect with colleagues, to be part of innovation and creative processes, to learn and develop, to build our personal brands – and last but not least – to socialize and rest. The design of the office should support these functions.
As proven by the research we conducted with Colliers, an office of the future should also support the variety of needs office users may have. So, they should be able to easily find a space that would be suitable for the task they were currently working on, be it collaborative or focused work. The office spaces should also support them in working in line with their preferences – some employees may prefer to work in an open space, surrounded by colleagues, some others like to sit in a different place every day (and here's the link to the hotdesking you asked about), some other need silence and no people around to deliver their tasks.
Apart from creating conditions allowing work aligned with needs and preferences, we shouldn't forget about caring for office users' health and well-being by ensuring high-quality air, optimal lighting and temperature, controlled levels of noise, ergonomic furniture, etc.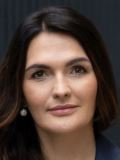 Katarzyna Zawodna-Bijoch
President and CEO
Skanska's commercial development business unit in CEE
Since 2016, Katarzyna Zawodna-Bijoch is CEO at Skanska's commercial development business unit in Central and Eastern Europe. Starting from February 2020, she has been leading the newly appointed centralized senior leadership team overseeing its commercial development operations in four countries in the CEE region. She is responsible for the company's strategy and operations in the area of sustainable and innovative office investments in ten city markets in Central and Eastern Europe: Warsaw, Prague, Budapest, Bucharest, Wrocław, Poznań, Łódź, Katowice, Gdańsk and Kraków.
More »
In your opinion, will employees ever again return to offices for five days a week or will the formula of WFH for 1-2 days stay with us forever?
When you ask people about the future of work, the first thing which comes to their mind is hybrid. The hybrid working model, which combines office-based and remote working, has reached a stage of let's call it early maturity. It has become part of everyday life and is no longer treated as something temporary, which will go away. But the topic is broader and deeper—and includes leadership, culture, customers, talent, learning, reskilling, and more. So many companies still try to define their best model of hybrid working by piloting, testing or rolling out new work models.
The particular model a company applies should be developed based on its specific needs determined by the industry it operates in, the nature of tasks delivered by employees, and the employees' needs and preferences – there is no 'one suits all' model.
In our survey, the respondents specified how often they currently work from their office, as well as what they consider is the optimal time for them to spend working from the office. For most of the respondents, the current time spent working from the office (between 2 and 3 days a week) coincided with their preferred choice. Employers would like to see that proportion rather than going to the office 3-4 days a week.
And how would you design the "office of the future"?
Based on insights collected by Skanska and Colliers from over 400 office users based in Poland's biggest cities, the "office of the future" is in a location that can be easily and conveniently reached by their preferred means of transport and that gives access to essential amenities. It's a space that enables effective work by offering various workplaces, suitable for currently delivered tasks and needs. And based on our discussions with tenants and investors it's definitely also an office developer in line with ESG principles: environmentally friendly in the way it's built and operated, supporting the health and safety of users, benefitting the local community, with good corporate governance rules applied.
A major challenge for the office market this year will be skyrocketing energy prices and the associated increases in building operating costs. Can your tenants expect rent increases?
In a double-digit inflation reality, with building materials prices growing in some cases even by 60-70% and increasing labour costs, paired with the growing cost of funding linked to interest rates hikes, it would be unreasonable to expect that rents will remain stable. They will be higher as a consequence of the macroeconomic conditions we operate in but also due to sole indexation.
Another factor that pushes the rents up is the fact that since the beginning of the pandemic only a few new office projects have been started, so the stock of available spaces, especially high-quality and sustainable ones, is limited. At the same time, faced with skyrocketing energy costs, tenants are looking for more energy-efficient buildings to help them lower their energy consumption. They are also looking for office spaces that are more aligned with their and their employees' post-pandemic workplace-related needs. New buildings offer both. A prime example here is Warsaw-based Generation Park Y, an office building developed by Skanska, fully rented to PZU, one of the leading financial institutions of Central & Eastern Europe. According to LEED calculations, thanks to the energy-saving solutions we implemented in this project, we were able to cut energy consumption by at least 25%.
If the demand is there but the supply is limited, it's natural that prices go up market-wide. Having said that, I would like to encourage tenants to look not only at the level of rent but at the total cost, including service charges, energy bills, etc. Even if the rent is higher, if the building was developed in line with the latest energy efficiency standards, and offers a diverse office space, supporting both focused and collaborative work as well as spaces to socialise and rest, it helps the tenants save other costs. An office like that is also more likely to help employers attract employees to work at the office as opposed to relying on the home office or 'work from anywhere' model, which we all know doesn't support employee engagement, strengthening company culture or developing new ideas.
What impact will the supply gap in 2024-25 have on the Polish office market?
The supply gap means that there will be a smaller number of modern, sustainable, high-quality buildings available on the market which – given the continued demand for such offices – will translate into higher rents. From investors' perspective, it means a smaller stock to choose from, especially since the pressure on ESG-linked investments is rising dramatically. Investors need to understand what would be the final cost of funding as interest rates have been on the move recently. We have seen fewer transactions but the money is there, in investors' pockets, and I believe that even with a smaller supply and a slightly weaker appetite for investing in CEE, the market will find its equilibrium. I do not expect the difference in yields to be significant.
Is it easier to obtain financing for new office projects in the face of continued, surprisingly high demand for offices?
Getting external funding has become challenging as well as putting together a profitable business case for a new project. At the Skanska office unit in CEE, projects are self-funded and we have the capital for starting new projects, having a very strong balance sheet.