At the end of May, the Chamber of Deputies, the lower house of the Parliament of the Czech Republic, has approved an amendment to the building law that aims to accelerate approvals on large construction projects. If approved by the Senate and signed by the President, it should come into force on July 1, 2023. Property Forum asked two renowned market experts for their comments on the possible changes.
Currently, it takes an average of five years for large construction projects to get all the necessary permits and approvals. The government says the aim is to shorten the process by at least a year
"Frequent changes of the legislature or partial amendments of laws always bring uncertainty into the market. If the current change of the construction law is passed with the vision that it is just another partial change that will need further revisions in the future then it will rather bring more uncertainty than clarity. I believe that this newly passed construction law could result in the improvement of the permitting process in Czechia only if it is connected with the pressure to standardize procedures, with the emphasis on quality training for the authorities, with the improvement of their financial evaluation, and with the active support of the digitization of the whole permitting process. The problem is not in the law, it is in the heads of those involved in permitting," says Jaroslav Kaizr, Expert Director of the MBARE programme at VŠE (Prague University of Economics and Business).
Jaroslav Kaizr
Expert Director
MBARE programme, VŠE
More »
"We see the new building law as an opportunity to accelerate the infamously slow permitting process of any new construction in the Czech Republic. The original ambition of the new law was somewhat higher than the final legislation, however, even the approved watered-down version is a big shift towards increased efficiency in the process. Simplification, digitalization and centralization together with more independence from local political influence are certainly steps in the right direction. As always, it remains to be seen how the implementation of the law will look in reality with some disciplining aspects such as strict deadlines missing in the final version," comments Pavel Streblov, Business Director at Penta Real Estate.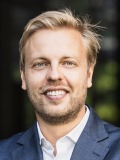 Pavel Streblov
Business Director CRE
Penta Real Estate
Pavel is responsible for all office building projects by Penta Real Estate in the Czech Republic, including the revitalization of the Masaryk Station (Masarykovo nádraží). He joined Penta as an experienced real estate manager in 2012. In the past, he was a partner in the 3C real estate private equity fund and an advisor of financial institutions and the Ministry of Finance and he also worked for the bond division of JP Morgan in London.
More »