The effects of higher interest rates have yet to cause too much distress within the likes of the Prague market, says Richard Britten-Long, Chairman of the Supervisory Board at Českomoravská Nemovitostní, in an interview for Property Forum. He also talked about key market drivers, including ESG.
You've been active in the European property industry for more than 40 years in a number of senior roles in the UK. What was the most memorable transaction you were involved in?
The most memorable transaction for me was founding WICHFORD Plc society twenty years ago, in 2003, and taking it to a £1 billion property company within five years.
How do the ongoing changes and challenges in real estate (evolving role of offices, rising importance of ESG compliance, energy crisis, etc.) compare to other major future-shaping trends you have witnessed during your career?
I think that the emergence of ESG came up as a pre-requisite of the development of new buildings compared to the sensitivities that emerged in the late 90s with the consequences of builders using high alluvial cement and asbestos, both unsavoury inclusions during the 70's and '80s constructions.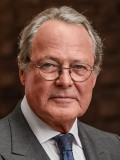 Richard Britten-Long
Chairman of the Supervisory Board
Českomoravská Nemovitostní
Richard has spent most of his 50-year career in investment banking, specialising in real estate finance and fund management. He was the founder and Managing Director of Wichford Property Management, a joint venture between his company Laird Finance Group and J O Hambro Capital Management with a portfolio of over £1 billion worth of commercial property leased exclusively to government institutions in the UK and continental Europe. As of October 2021, Richard Britten-Long is the Chairman of the Supervisory Board at Českomoravská Nemovitostní (ČMN).
More »
So, what do you think the largest rewriter of rules will be during the next few years?
I think that rewriting the rules will be based on several main topics - green, clean and fit to accommodate the latest needs of employee dynamics and welfare.
The Czech central bank's main interest rate is at its highest level in over 20 years. How do you think this will change financing conditions and investment strategies in real estate?
Yes, it is bound to have an effect because bankers & financiers are now paying greater attention to income cover ratios and dilution of risk through amortization. The quality of tenant covenant will be open to greater scrutiny in a universe of concerns within an atmosphere of what could be perceived as a financial crisis.
How do investment opportunities in the premium property segment currently available in the Czech Republic differ from those in the United Kingdom or Western Europe? What have you observed as some location-specific opportunities and challenges here?
The subtle difference is that, so far, the effects of higher interest rates have yet to cause too much distress within the likes of the Prague market. As we entered into the crisis following the consequences of the Russian invasion of Ukraine, Prague has comparatively few new buildings under construction. This is not the same as London, Paris or Berlin for example. So the squeeze of both high development costs due to the huge increase in raw materials let alone finance costs have and will continue to have negative consequences on the greater city development market in greater Europe including the United Kingdom than it will on Prague. I believe that yields will remain strong in the Czech Republic while those in greater Europe will dilute.
ČMN focuses on the long-term investment and management of well-located, premium-quality commercial properties, mainly offices. Do you think that these types of properties in the Czech Republic are now comparable to Western Europe and the UK?
Yes, I do. Furthermore, many of the office buildings in the Czech Republic are new and are compliant with the new rules of "green, clean & mean" than those befitting the secondary or tertiary office market in the United Kingdom.
What are the biggest differences in risk governance and risk management between the United Kingdom and the Czech Republic today?
I can only speak for Českomoravská nemovitostní who have adopted a policy of adverse risk management throughout its short life. I also think that the degree of risk management employed by companies in the Czech Republic is dictated to some extent by investor demand. ČMN has gained a reputation for delivering investment products compliant with its prospectuses. So, what you get is exactly what is written on the tin: risk-averse, long-term investments with very little, if any divergence from that investment policy. This includes forensic due diligence and copious asset management. So, I'm not sure that there is much difference at all between the United Kingdom and the Czech Republic on a for-like basis.