With an investment budget of €100 million for this year, Hagag Development Europe remains open to new opportunities. Yitzhak Hagag, Chairman and Board Controller at Hagag Group spoke to Property Forum about current projects and future plans for the Romanian market.
Hagag came on the Romanian market with a giant project - H Pipera Lake, with over 1,300 apartments. At what stage are you now with the project in terms of construction and sales?
H Pipera Lake is, indeed, the first and largest residential project we are currently developing on the Romanian market. The good news is the project has been very well received by end consumers and their enthusiasm helped boost sales while putting some pressure on construction works to advance really fast. We are close to completing phase one which will deliver 435 units across 5 buildings. In the next couple of months, we will be delivering the first three buildings and by the end of this year, we plan to finalize works for the following two. Moreover, when designing the project, we took into account the lack of infrastructure in the area and we have committed to building an access road that will secure the liaison between the main road and the entrance in the complex. Now, we are concurrently working on both buildings 4 and 5, and the access road that will ensure residents a smooth connection with the primary boulevard. Sales too are going in a favourable direction. We have an occupancy rate of more than 80% for buildings 1, 2, and 3, and over 30% for buildings 4 and 5.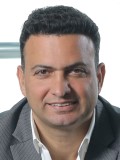 Yitzhak Hagag
Chairman and Board Controller
Hagag Group
Yitzhak Tzachi Hagag is one of the shareholders of Hagag Development Europe, as well as the Chairman and Co-Founder of Israeli-based Hagag Group, a company founded in 2003. He holds a bachelor's degree in Law & Administration, and a master's degree in Law, and has been active in the real estate developments market for 18 years. Hagag Group became a stock exchange company in 2010 and is specialized in project development, management, and marketing, having an immense track-record, and an experienced team of professionals working in the residential & commercial field. Hagag Group Israel develops a wide range of luxury real estate properties, offering various financing options as well as maintenance and management services, at high-quality standards and competitive market prices. Yitzhak's flair for niche real estate developments drove his attention towards a new, emerging market in Europe, where he identified an extraordinary potential. As a result, in 2015, Hagag Development Europe entered the Romanian market and soon became one of the most prominent players of the local real estate sector.
More »
When do you expect the entire project to be completed?
Given the complexity and large-scale dimensions of the project – more than 120.000 sqm GBA of residential units, and an overall surface of 57,000 sqm that will accommodate not only the residential scheme but also the promenade area on the lakeshore, considerable playgrounds, over 1,600 parking spaces, generous landscapes and some additional facilities to enrich the lifestyle within the complex – H Pipera Lake has been designed to be developed under three construction phases. Most likely we will start building phase two, which will encompass 5 buildings, in Q1 2022. Given the current situation with the coronavirus pandemic I would rather not estimate right now a fixed term on which we will conclude phase two, nor the start or completion dates for phase three, as 2020 has demonstrated to us those disruptive events could happen at any time and cause relevant changes to one's planning.
Are you looking to buy large plots of land for similar developments and stay in the niche segment of premium and luxury projects?
We are open to all opportunities the market has to offer. Although our attention has been concentrated on the niche of premium and luxury developments, we are continuously prospecting the market. It is something that we have been doing since our first contact with the Romanian real estate environment in 2015, and I am positive that this habit of ours will lead to the development of new, amazing projects in the years to come.
You own 3 properties on Calea Victoriei, a boulevard of opportunities, we could say, with many buildings that would require a significant amount of investment. Are you looking to buy more buildings in this area?
We are a long-term investor-developer and we have both the experience and financial power to always act in a "shopping mood", regardless if we're talking Calea Victoriei or other areas with high investing potential. Our interest in iconic buildings continues to be vivid, as we are animated by the complexity of this type of development and we possess all the necessary resources to rehabilitate and upgrade such charismatic properties. What is relevant to us when choosing to buy a new property or a plot of land is actually the bigger picture. The privileged location, uniqueness of the project, the historical value, and the personality of the building itself – if the case, as well as the return of investment, are important aspects that we always consider. Even though the modernization process pretends a generous budget, a gigantic amount of work, and an enormous responsibility alike, it is a segment that we plan to keep investing in. However, when analyzing the placement of a new investment all the key elements mentioned above should be present for us to be "all in".
Do you think that investments in this area will revive the boulevard to its former splendour and Bucharest will have a Champs Élysées of its own?
I strongly believe so and I am delighted that Hagag Development Europe has been the first developer to invest in the area over the past decades. It was a great endeavour, and also an honour to reintroduce into the commercial circuit two buildings that are almost a century old. Today, the city centre is one step closer to becoming, once again, Bucharest's most in-demand location. Our projects on Calea Victoriei – H Victoriei 109, H Victoriei 139, and H Stirbei Palace – have paved the way for the boulevard's revival, with everything it encompasses: increased awareness, investors' attention, great contribution in terms of image capital, added value for the real estate market, plus an amazing trip down memory lane to when Bucharest was much about elegance and glamour and less about skyscrapers and crowded offices at the city's periphery.
How is Hagag doing in the office segment?
Given the "new normal" and the work-from-home policies, I would say we are holding things together pretty well. Our office building near University square, H Tudor Arghezi 21 is fully leased and H Victoriei 109 has now an occupancy rate of 50%.
You own two buildings with areas under 10,000 sqm each. Do you plan to buy larger buildings or stay with similar buildings?
For the moment, we prefer to focus more on residential. Nevertheless, our choices in the office segment have always been strategic and will continue to be so. We fancy boutique-like projects excellently located on venues that could easily entertain a CEO with nothing more than their historical charge and their lifelong stories, preferably in the proximity of 5* hotels, public institutions, fine dining restaurants, and several means of transportation facilities. Likewise, the profile of the client looking for an office space with these particularities – in this case, the profile of our client - is very different than that of a company looking for a large-scale office building.
What are your plans for Stirbey Palace, this architectural gem of Bucharest? What's the investment value, including the purchase price?
Știrbei Palace is an amazing and unique neoclassic masterpiece that has been a Romanian icon since the 1800s, and adding it to our local portfolio feels like we have somehow sealed our commitment to revive Calea Victoriei. Next to the inestimable architectural value of the palace, the transaction value pales. What I see relevant to highlight is that H Stirbei Palace will become one of Bucharest's signature buildings and will allow Calea Victoriei to compete with some of the most famous boulevards in the world. Aside from renovating the palace edifice, we also intend to rebuild the annex that used to house the former carriage shed. The budget we will allocate for the refurbishment of the Palace and the construction of the above-mentioned extension is €20 million. Restoration works for Știrbey Palace will follow the line of H Victoriei 109 and H Victoriei 139. Therefore, the exterior image of the palace will be completely restored, the facades brought back to their original appearance and elegance, including the caryatids and other exterior elements, while the interior will be reconstructed according to the historical plans, respecting, as far as technological possibilities allow, all techniques and traditional materials. Following its reintroduction into the public circuit, the palace will host a high-end gallery for internationally renowned premium brands, as well as a modern space dedicated to cultural events and art exhibitions signed by contemporary, Romanian, and international artists, which we plan to make available, pro-bono, to young debutant artists.
Are you also interested in purchasing income-generating buildings?
We do not exclude this possibility. Nonetheless, we would invest in such buildings only if they were to be located in prime areas and their technical specifications would allow us to upgrade them, thus arousing the interest of a more refined mix of tenants, all while generating added-value through our developments.
The residential segment, along with logistics, was the star of the first year of the pandemic. How do you see the evolution of the Bucharest residential market in the post-COVID era?
The residential segment, with emphasis on premium and upper-premium developments, has proven to be extremely resilient during these unprecedented times. My intuition tells me that residential will continue its positive evolution and so will industrial/logistics – which by the way really caught our interest, so much that we do not exclude the possibility of accessing it ourselves. People will continue to look for a safe investment, a more generous space to live in, a premium building located in a nice location, preferably close to everything that matters for a modern lifestyle and, probably the most important thing, they will choose quality first, even if this means to go up on the budget.