Yitzhak Hagag, Co-Founder and Shareholder of Hagag Development Europe, spoke with Property Forum about the ongoing developments in Romania and the company's plan to invest around €130 million in the local property market in the upcoming years. Hagag also outlined the growing potential of the newly launched private offices division, which has already reached an occupancy rate above 60%.
This interview was first published in Property Forum's annual listing of "The 50 most influential people on Romania's real estate market".
What are Hagag Development Europe's plans for this year and what are some of your biggest accomplishments from 2022?
For us, 2022 was quite intense in terms of both development and commercial dynamics: we have consolidated our asset portfolio with the acquisition of two new properties - an old building with historical charm in downtown Bucharest, on Vasile Lascar Street, and an over 1,300 sqm plot of land on the iconic 1 Primăverii Boulevard; we have completed buildings 4 and 5 of H Pipera Lake, and delivered a "sold-out" phase I; reached full occupancy for H Victoriei 109; received the building permit for H Știrbei Palace and selected the general contractor; completed works on H Tudor Arghezi 21; expanded our presence on the office market with the launch of H Private – our new private offices division, and worked on the design, development and construction planning for multiple other projects.
At a glimpse, 2023 appears to be even more intense. We are now working on the last design details for phase II of H Pipera Lake, as well as on its commercial component – a one-story building in the immediate vicinity of the complex which will deliver 1,000 sqm of modern retail space and for which we estimate to receive the building permit in the following months. What is more, we are currently under advanced discussions with several companies for leasing out about 80% of the available surface. In addition, two new projects - H Vasile Lascar 5-7 and H Primăverii 1, are now in the design phase, while for H Tudor Arghezi 21 we are exploring several leasing opportunities together with some potential tenants. Then, there is H Private, where, after only 4 months since opening the first business centre, we have registered an occupancy rate that surpasses 60%, and a demand volume that doubles our current offer – a result that can only encourage us to move forward with the further development of this business line.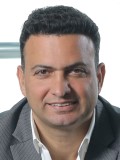 Yitzhak Hagag
Chairman and Board Controller
Hagag Group
Yitzhak Tzachi Hagag is one of the shareholders of Hagag Development Europe, as well as the Chairman and Co-Founder of Israeli-based Hagag Group, a company founded in 2003. He holds a bachelor's degree in Law & Administration, and a master's degree in Law, and has been active in the real estate developments market for 18 years. Hagag Group became a stock exchange company in 2010 and is specialized in project development, management, and marketing, having an immense track-record, and an experienced team of professionals working in the residential & commercial field. Hagag Group Israel develops a wide range of luxury real estate properties, offering various financing options as well as maintenance and management services, at high-quality standards and competitive market prices. Yitzhak's flair for niche real estate developments drove his attention towards a new, emerging market in Europe, where he identified an extraordinary potential. As a result, in 2015, Hagag Development Europe entered the Romanian market and soon became one of the most prominent players of the local real estate sector.
More »
What is the current value of your existing property portfolio in Romania and what is the volume of investment committed for projects under development?
The market value of our local portfolio, as completed, is estimated to be more than €300 million. As for the budget allocated to the company's marketed projects, we are talking about approximately €130 million to be invested over the following years.
How is the launch of the private office division integrated into your office portfolio strategy?
In today's fast-paced and ever-changing business environment, we, as investor-developer, must stay close to the market, remain agile, flexible, adaptable, and always ready to meet tenants' demand. We developed H Private as a response to this demand, as well as a response to the needs and requirements of the modern tenant. And yes, we might
not have invented the wheel, for this type of business model is not a premiere – much more, it is highly appreciated across cities around the globe, from Tel Aviv to London and all the way to New York, but we really believe that we can bring a personal touch to this concept, especially here in Bucharest where we see a great deal of growth potential. Our office projects have some common denominators that favour this segment. If you take a closer look, you will notice that H Victoriei 109 and H Tudor Arghezi 21 are both boutique buildings with leasable areas of about 7,000 sqm each and that H Vasile Lascar 5-7 is similar. Moreover, all three comply with the top requirements and specificities of contemporary business centres: privileged location and exposure, prime facilities and services, as well as additional space to encourage growth.
What is your forecast regarding the demand for residential units in Bucharest and which factors are shaping its evolution?
Looking back to the evolution of the residential market throughout the past decade, we cannot help but acknowledge that this segment has been registering an organic growth of at least 10% year-on-year. In Bucharest, its positive evolution is based on a strong demand that continues as active as ever, at least when it comes to medium-high and premium apartments.
As we see it, residential will continue this upward trend in the long-term, with emphasis on premium and upper-premium projects, mostly due to the limited stock of new products, to which the ongoing urban blockade, as well as the Ukrainian conflict and high inflation rate that pushes investors to safeguard their capital are added.
Are you looking to make further acquisitions in Bucharest or other cities?
In the long term, yes, we are. We are looking into several properties with a consolidated acquisition value of about €50 million, both old buildings with historical value and plots of land with excellent locations in Bucharest and across the country. But these types of transactions take time, significant resources, and rigorous planning, and for us to go through with the plans for Bucharest we would need to see some genuine changes in the municipality's representatives' mindset and attitude towards the city's future evolution.
How do you approach ESG principles in your existing and planned projects?
When it comes to ESG, and especially to corporate governance, it is my pleasure to say that our principles are very solid and expand across all three pillars. We have always been transparent in providing our investors and stakeholders with a clear view upon our company's direction and business integrity, and we are very fond of the Anglo-American model which we have adopted, ourselves, back in 2021, when we became a public company, traded on the Tel Aviv Stock Exchange.
Going back to Environment and Social, I find it relevant to point out that as part of our long-term vision for the real estate market in Romania, we have not only committed to raising the bar and standards for the local property industry, but we have also taken on the role of "stewards" of the architectural patrimony of Bucharest by placing significant investments into reviving some old and dusty buildings in the city's central areas.
Our investments make an impact, and I am not talking only about a visual one. Building renovation is the common point where circular economy, climate and social responsibility converge. And what we are doing – regenerating the city through the reconversion of old buildings - is as much about sustainability as it is about contributing to its social and economic welfare, as well as to its future development.
Our renewal projects are generating considerable revenue to the local budget, creating new jobs, renewing the urban landscape as a whole, safeguarding the city's cultural identity, attracting investors back to the central areas and helping communities grow. But we also seek to integrate sustainability into all the new projects we are developing, thus H Pipera Lake, H Eliade 9 and H Primăverii 1 are being designed in such a way as to comply with the nZEB standards, setting a solid foundation for strong and healthy communities.