Remote working has changed people's perception of their workplace and increased their need for facilities and experiences tailored to their dynamic lifestyle. New trends and design concepts show that offices of the future will be reshaped into campuses that will encompass facilities for the working and urban living trends of the future in a unique space, Gavin Bonner, Vice President of Genesis Property, writes for Property Forum in an opinion piece.
Office real estate trends indicate a transformation of the workplace, having in mind that employees are returning to the office after a long period of working at home. Architects are already looking at new ways to bring greater comfort in the workplace, not only compared to pre-pandemic offices, but also to what most people have created for themselves outside the traditional office. As a result, investment in workspaces will increase, even in the hybrid work system that will continue to be seen in many companies, as the fight for talented employees is getting tougher and companies seek to become more attractive.
As a result, office parks will add more and more facilities and experiences inspired by the comfort of living spaces and will integrate complex ecosystems of easily accessible services and benefits people need in their day to day life. Office building exteriors will become more informal, precisely in order to blend the lines between residential and office, with colours, shapes and materials inspired by elegant blocks of flats. And green spaces and outdoor terraces will be developed around office buildings, contributing to the employees' well-being and work-life balance.
The trend shifts from a workplace that employees revolve around to a campus developed in the extension of the office that revolves around the people working and living there and such a concept is already in development in Romania. YUNITY Park, a campus for the work and lifestyle of the future created by Genesis Property in Bucharest, will provide urban support for experiences tailored to people's lifestyles, not only for the time spent in the office but also for personal or social activities.
In YUNITY Park, for example, the outdoor parking area will be transformed into a completely redeveloped green area with a futuristic design, covering a total area of 7,500 square meters. The space will include a cutting-edge amphitheatre dedicated to outdoor events, with a seating capacity of 220 in the bleachers alone, as well as a 1,000-square-meter urban forest where employees will be able to hold business meetings.
Inside the buildings, design trends for the entrances and reception areas will resemble those seen in luxury hotels, with areas for socializing and out of office interactions. Office spaces will also have a much more airy design and will also take into account the need for more natural light, as opposed to the past design trends. And last but not least, offices of the future will also include more and more health-oriented features and design ideas, many of them recommended in the IMMUNE Building Standard™ for healthier built environments. IMMUNE™ has been recently listed as an existing tool by the Royal Institution of Chartered Surveyors in IBOS - International Building Operation Standard, a new approach to measure and manage how buildings perform for people, through data.​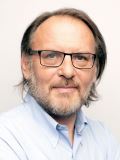 Gavin Bonner
Vice President
Genesis Property
Gavin Bonner joined the Genesis Property team in 2019 as Vice President, after previously working as Project & Commercial Manager at C-Quest, in the United Arab Emirates.
Gavin Bonner is responsible for the development strategies of Genesis Property real estate projects and is an ambassador for the IMMUNE Building Standard™. Gavin is highly experienced in all facets of the construction process and in developing and implementing sustainable approaches to operational strategy, policies and standards, with emphasis on the highest standards of quality, health and safety.
More »