One year (and almost a half) since the pandemic outbreak, business leaders across the world are still struggling with a million-dollar question: how to safely bring their teams back together in the office and fully restart business? With the hybrid model taking shape and employees slowly returning to the workplace in different scenarios, companies are looking to deploy frameworks for the healthy way of working of the future and some are already considering health performance indicators to confirm they are on the right track, writes Darren Allen, Development Manager at Genesis Property and Director of the Healthy by Design Building Institute, in an opinion piece for Property Forum
In a typical year before COVID-19, an office building would have been full of life, with people coming and going every day. However, there was nothing typical about 2020 and office buildings across the world stood half empty if not more, in many cases. 2020 was a turning point, pausing economies and forcing lockdowns that opened everyone's eyes to the fact that healthy businesses and economies rely heavily on healthy people living and working in healthy environments. Today, everyone considers that if more health and safety measures would have been in place in the indoor spaces where people spend most of their time, the world could have been better prepared to face the outbreak that has turned our normality upside down in the past year.
Buildings against health threats
Built environments play a crucial role in people's health, as the past year has confirmed. If operated intelligently and using the right measures, they can contribute to preventing the spread of disease and keeping occupants safer from viruses and other bacteriological or toxicological threats. In other words, they are no longer just spaces people spend their time in. Buildings need to become allies in fighting against health risks because, despite current uncertainties, one thing is clear: people will resume their pre-COVID lives with new expectations about the buildings where they live, learn, work, and play.
As a result, buildings will most likely become one of the new ways to attract and retain talents who will look more closely at the workplace they want to work in and not just at the compensation benefits, employer branding or company culture. With this outlook, more and more business leaders are starting to reconsider their views on the workplace and engage with real estate experts on how to design, operate, and manage better buildings in the post-pandemic world. This approach is much needed in the long run. Even with the vaccination against COVID-19 in progress, this pandemic will still challenge the world in different ways for at least another year. Furthermore, even when its effects will disappear, there's no guarantee another pandemic or health threat won't appear in the future.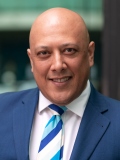 Darren Allen
Director, Healthy by Design Building Institute & Development Manager
Genesis Property
Darren Allen joined Genesis Property in 2020 as Development Manager and has been a key part of the IMMUNE Building Standard since its inception. Darren is a chartered construction and project management surveyor with +30 years of local and international experience, focused on project performance, stakeholder value and developing people. He has a proven track record within the UK, Europe, Qatar and UAE Markets and Sectors like new build, technology, commercial, residential, retail and hospitality. Darren is a Fellow of The Chartered Institute of Building (FCIOB), a Fellow of The Royal Institution of Chartered Surveyors (FRICS) and holds a Doctorate in International Business Administration (DBA).
More »
The great office comeback
No matter the challenges, everybody wants to see a great office comeback. Despite this, we need to remember that COVID-19 will remain a threat for at least another year. In addition to healthy buildings, we will continuously need wide-scale testing, periodic isolation, and quarantine to attenuate spikes in cases. It is crucial for companies to deploy a set of measures to keep people safe without impacting businesses and economies.
Safe interactions. Perhaps the most effective measure is ensuring safer social interactions. Everybody, from companies to people, need to begin re-populating buildings, and this involves some degree of controlled risk. With distancing and systems that contribute to limiting bacteriological and toxicological health threats in built environments, team collaboration and interactions can be adjusted to protect the health of all those involved.
Office immune system. Another crucial step in creating a good defence is to increase the immune system of the building. High-quality portable air filters, efficient water filtering systems and plenty of touchless technologies are some important components of the necessary measure set. Of course, having a complex disinfection protocol with clear locations and timing is critical. All aspects that can affect the health of the employees inside a building have to be addressed: air quality, thermal comfort, moisture, noise, dust, lighting and so on.
Sanitary measures and advanced technologies designed to limit risks of health threats such as COVID-19 stand at the foundation of The IMMUNE Building Standard™, the standard that assesses the resilience of office buildings to health threats. IMMUNE™ includes 135 relevant measures that any office building owner or employer in the building can take to improve the immunity of the workplace.
Smart scheduling. Deciding who is in the office at any time by creating a smart schedule with minimum impact on company activity is also a crucial part of the defence system against pandemics. Extending operating hours and creating different shifts with a deep-cleaning process in-between can be of tremendous help against health risks. Of course, a hybrid work system has a pivotal role in this scheme.
The "new" success goal: protecting the people
COVID-19 changed a lot of things, and one of them is the way success is measured. In the past, most organizations wanted as many people as possible in the office, and success was measured through a series of metrics in this sense. Today, the paradigm has shifted and key performance indicators need to shift too, adding health-related indicators that should be on the radar of any company in the future.