Romanian real estate developer Forte Partners has rolled out SpotUS.Space, a digital solution that ensures the optimized and efficient use of resources for the hybrid work mode.
The platform jointly developed with Cluj-based Parking Spotter can be used for parking, access control, and desk reservation through a smartphone app. Forte Partners says the platform follows the shared economy - shared resources principle, which will lower costs for tenants.
"In the case of buildings developed by Forte Partners, we anticipate that the activity outside the main office, whether carried out from home or from a secondary office, will continue in a proportion of 20-30%. We thus leave the 9.00 - 17.00 schedule behind, with all employees in the office at the same time and get ready for individual-centric disruptive and innovative scenarios, where all other resources work for him, depending on immediate administrative needs," says Geo Mărgescu, CEO and Co-founder of Forte Partners.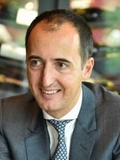 Geo Mărgescu
Co-Founder & CEO
Forte Partners
More »
The app will be available first to the tenants of the office buildings developed by Forte Partners - Tandem, Millo and U Center. Afterwards, it could be implemented by other market players.
Forte Partners has three projects under development in Bucharest, with a combined value of more than €200 million. Additional property investments worth €150 million will be launched next year.