Zuzanna Kurek, Investor Relations Manager and ESG Committee Member of One United Properties, spoke with Property Forum about the ESG agenda of the Romanian developer and its role in growing the value of the company. Moreover, she also discussed how sustainability is becoming a strategic element in the developer's negotiations for funding with banks and capital market investors.
What is the strategy of One United Properties in the ESG field?
Our strategy in the ESG field focuses equally on all three pillars – Environmental, Social, and Governance and is anchored to the United Nations Sustainability Development Goals (SDGs), the collection of 17 interlinked global goals designed to be a blueprint to achieve a better and more sustainable future for all.
Our environmental activities focus on clean energy (SDG 7), industry, innovation, and infrastructure (SDG 9), responsible consumption and production (SDG 12), and climate action (SDG 13). We build modern and accessible developments using quality materials that are made to withstand the test of time. We invest in innovative water and sewage management solutions that help our customers cut future costs while ensuring responsible waste management– at the stage of construction as well as after delivery to the customer. We also implemented innovative energy solutions, such as geothermal pumps and geo-exchange systems, to build energetically independent buildings or energy-recuperating elevators in office buildings.
The activities we do in the social area include good health and well-being (SDG 3), gender equality (SDG 5), reduced inequalities (SDG 10), and sustainable cities and communities (SDG 11). In recent years, One United Properties has been focusing on promoting the concept of mixed-use developments, as well as regenerating and revitalizing urban areas, delivering landmark developments that are incorporated into the cityscape. Through our developments, we want to provide safe and healthy surroundings to our clients, tenants, and local communities, which can contribute to preventing uncontrolled urban sprawl and lowering traffic congestion within the districts. Also, in 2022, One United Properties signed the Diversity Charter, an initiative by the European Commission with a local chapter in each EU member country, which is a pledge by the company to support diversity and inclusion through its activity.
Corporate governance is centred around decent work and economic growth (SDG 8), focusing on ensuring the ethical business conduct of both the team and subcontractors. Also, as a public company, we must meet the needs of all our shareholders who strive for governance, accountability, and integrity. We are strongly preoccupied with managing risks related to the ESG aspects to ensure the resilience of our business through internal policies and procedures.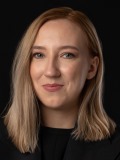 Zuzanna Kurek
Investor Relations Manager and ESG Committee Member
One United Properties,
Zuzanna Kurek is Investor Relations Manager and ESG committee member of One United Properties. She has 10 years of experience in Romanian capital markets. In 2018, Zuzanna founded Cornerstone Communications, the largest investor relations advisory firm in Romania. Through her company, Zuzanna advises over 20 Romanian entrepreneurial companies that are public or plan to go public. Her clients span multiple industries, from agriculture to manufacturing, IT, green energy, and retail, having a cumulated market capitalization of over €1 billion. Zuzanna started her capital markets career as IR & PR Specialist at the Bucharest Stock Exchange (BVB), where she gained her first experience with institutional investors. She later took over the position of Director of Business Development & Marketing department at BVB to coordinate the efforts to list new entrepreneurial companies on BVB. Zuzanna holds LLB and LLM in European Law from Maastricht University, the Netherlands, and MA in Media from the same institution.
More »
What are the components under ESG in which you have allotted the biggest investment budgets?
One United Properties' investments in sustainability are significant for each project, but, at the same time, they are not necessarily itemized. We feel responsible for neighbourhoods, and their smooth functioning for each new community developed. Therefore, we invest in developing the necessary infrastructure and solutions used by inhabitants and customers of One United Properties as well as the community as a whole. These investments are directly or indirectly related to our projects, but overall, they serve the entire community by improving the city's road network, appearance, functionality, and safety. We see a significant opportunity to prevent urban sprawl and shift from mono-functionality developments towards mixed-use functions.
How are you tracking your developments under ESG principles?
Tracking ESG actions is essential to the measures themselves because monitoring implementation and results make our approaches more efficient and effective. At One United Properties, several policies outline ethical and governance principles that are constantly monitored at the company level. We report on our progress annually through Sustainability Reports, and each year we add new KPIs that we introduce and follow from then on.
To track our performance, we were assessed in 2022 by Morningstar Sustainalytics, a leading independent ESG research and analytics firm, receiving a rating of 20.0, which was assessed as borderline medium to low risk. The report highlighted that ONE's overall ESG-related disclosure follows best practices, signalling strong accountability to investors and the public.
We were pleased that in a recently released (February 2023) Transparency Ranking of the Global ESG Monitor (GEM), the world leader in ESG reporting transparency analysis, One United Properties was ranked as a highly transparent company, registering a GEM ASSAY score of 57/100. The Global ESG Monitor measures the transparency in reporting ESG information, not the actual ESG performance of the companies evaluated.
How do buyers and tenants look at the ESG elements implemented in homes and office buildings?
The quality and durability of materials, as well as sustainable solutions that reduce costs and pollution levels, are of interest to residents and tenants because of their medium and long-term impact on both the environment and costs. In this sense, we are committed to using only the best materials to protect and grow green spaces, reduce waste, and optimize energy and water usage, which will benefit the community. In addition, we focus on mixed-used developments, which is the opposite of sprawling cities, and contribute to creating communities. By limiting car usage and street congestion and, in turn, promoting pedestrian and bike travel, mixed-use communities minimize air pollution and promote energy conservation.
What are the expectations of shareholders from your ESG agenda?
During the process of preparing the 2021 Sustainability Report, the management identified topics of crucial importance to all its stakeholders, including the shareholders. These stakeholders indicated quality infrastructure, the energy efficiency of the developments, and responsible construction as the key priority areas for One United Properties, all falling under the environmental strategy. These were followed by the social criteria: implication for society, urban regeneration, good health, and well-being of tenants and residents.
Is ESG a driver for increasing the overall value of the company?
We see the growing importance of ESG aspects to our shareholders, both institutional and individual investors as in recent years, the importance of sustainability in public markets has been heightened. Our ambition is to be one of the top issuers on the Bucharest Stock Exchange when it comes to ESG reporting and to continuously set new market standards. This is important for us since One United Properties is the largest entrepreneurial company listed on the Bucharest Stock Exchange.
We believe that in our case, ESG is not only the driver for increasing the overall value of the company, but also contributing to building a strong city brand for Bucharest. Therefore, the restoration of historical landmarks, as well as the creation of modern landmarks such as One Floreasca City, is our priority. We invested for the first time in a historical monument in 2021 when we acquired Braikoff House. The historic building is currently undergoing a complete renovation and will be known as One Athénée, which will become a mixed-use development, located in the heart of the Capital. In addition, in March 2022, we acquired the former Ford factory, located within One Floreasca City, which is currently undergoing restoration and will be transformed into a retail space, One Gallery. More recently, in December 2022, One United Properties invested in two other projects, which will be renovated: One Downtown, located in the centre of Bucharest, whose final use will be decided later with residential and hotel options currently being considered, and One Plaza Athénée, located near the Romanian Athenaeum, which will be transformed in a five-star lifestyle hotel.
How are you funding investments under the ESG principles?
We consider that all our funding is directly related to our activity as a leading green developer and the impact that we have. Historically, we have financed our business with equity, and as I mentioned earlier, ESG has become very important to capital markets investors. On the other hand, we see that our focus on sustainability together with the preoccupation with good governance has had a positive impact on our relationship with banks that provide the debt component to our financing structure.
Does ESG have the potential to become a mainstream topic for property developers in Romania in the medium and long term?
Sustainability does not happen overnight; it has always been at the core of One United Properties and has been part of our strategy since the first residential building under the ONE brand was developed. However, the pandemic has accentuated an important pillar of our strategy – the focus on mixed-use developments and their positive impact on the local communities, further confirming One United Properties' strategy. Mixed-use developments work against the trends of building sprawling cities, and instead, they help create inclusive, connected communities and this is what we need in Romania.