The COVID-19 crisis has accelerated the adaptation of technology on the residential market with developers across the region now offering digital solutions for prospective home-buyers. Waldemar Olbryk, Board Member responsible for the residential sector at Echo Investment shared his thoughts on the topic.
How have the coronavirus-related lockdown measures affected Echo Investment's residential developments so far? Are constructions still progressing as planned?
All our ongoing constructions are progressing according to the schedule. We strive to provide the best possible protection for our employees and subcontractors, which is why we have introduced additional precautions based on governmental and sanitary inspectorate recommendations on all of our construction sites. Furthermore, due to the lockdown, we strengthen our focus on activities related to the digitization of various processes and we introduced a lot of changes in our communication with clients. Customers can choose whether they want to talk to our advisors remotely during video calls or prefer to meet in our sales offices – of course with extra precautions applied. We were able to move to the digital sphere almost the entire purchasing process – from the selection of apartments, visiting a VR mock-up, through the viewing of the current state of construction, and even negotiating the terms, as well as concluding a binding and legal reservation contract.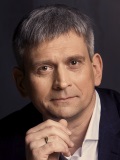 Waldemar Olbryk
Head of Residential Business
Echo Investment
Waldemar Olbryk is responsible for the development of the residential sector at Echo Investment. He joined the company in August 2017. Earlier he worked for firms from the Skanska group, where he held the position of Director of Business Development. Prior to this, he gained experience at Philips Poland, Apsys Poland, and BP. He is a graduate of International Economic Relations at the University of Łódź and he also completed MBA studies at the University of Łódź and the University of Maryland. He was appointed to the Board of Echo Investment in October 2017.
More »
How do you think the COVID-19 situation will impact demand in the coming period?
We believe that investment in real estate is one of the safest in these uncertain times. According to the analyses of the Michael / Strom brokerage house, in the coming years, buying a flat for rent will remain one of the most stable capital investments. Compared to price fluctuations and the historical profitability of other classes of assets, even in the event of short-term price drops, flats for rent remain popular among Polish investors, generating a steady income and protecting against the negative effects of inflation. I am calm about maintaining investment clients' interest in buying a flat, regardless of how the economy will behave. Shortly after reopening of our sales offices, clients are coming in, asking about our projects and signing contracts.
Many residential developers in the region are now introducing online solutions for prospective buyers – Echo Investment recently unveiled a virtual customer assistant. What can it do exactly?
Here I believe we had an upper hand as we began our digital transformation long ago and the current situation has only accelerated our efforts in the area. Still, we have implemented a variety of new online solutions to facilitate our clients contacting us, getting to know our offer and even buying an apartment without leaving one's home. As the first developer in Poland, we have introduced a chatbot using Dialogflow artificial intelligence technology developed by Google. The chatbot named Aurelia is available around the clock, has an impressive knowledge of our projects and unlimited enthusiasm to work. Our clients especially appreciate that they can check our offer from anywhere in the world and at any time. Aurelia has access to the full database of apartments in Echo's offer and, based on criteria given by interlocutors, is able to search for accommodations meeting their expectations within seconds. Users can, for example, specify their budget limit, space they need, the number of rooms, floors or which direction their apartments should be faced. You can talk to her on Facebook Messenger and on the websites of selected projects.
You've introduced mobile apartment handovers two years ago. Has demand for this service surged due to the social distancing measures in place?
Mobile apartment handovers have always been very popular among our clients as they save both time and paper. In the times of COVID-19, they proved to be particularly useful. They are the safest possible solution at this final stage of the apartment purchase. In order to keep our clients and employees safe, we recommend it as the standard. We even came up with the idea of organizing live relations from virtual pre-handover days. In order to make it easier for those interested to get to know Widoki Mokotów Apartments without leaving their homes, viewers visited the interior of the apartment building, shared areas and sample premises while live streaming on Instagram. We now plan to repeat this initiative on other projects with permits to use.
Are you planning to offer further digital solutions for home-buyers?
We are constantly working on expanding our offer of digital solutions, especially that now they became something more than a trend and rather a necessity. Besides mobile apartment handovers and a virtual assistant, the company has started online meetings with advisors, during which virtual reality layouts of projects and their immediate vicinity are presented. Another amenity we implemented is the digitalization of an apartment reservation process – thanks to the cooperation with Asseco, since the end of March, our clients can conclude agreements without leaving their homes. They are also able to monitor ongoing progress on Echo Investment's construction sites in real-time as we provide them with up-to-date videos and photos on a regular basis. Now we are also focusing on informational campaigns on our social media and apart from producing videos with our experts, we decided to host a webinar regarding possible ways of investing in times of crisis. On the other hand, we plan to expand the availability of Aurelia, our chatbot, to every residential project's website as customers have responded very positively to this new way of communication. We can even see that people who want to explore our offer thoroughly come back to talk to Aurelia several times.
Are you also exploring opportunities for the further digitalisation of the planning and construction processes?
We have begun the digitalisation of the planning and construction processes, starting with our office business. All of our new office projects are created and then constructed using BIM technology. Once our teams will test the benefits of Building Information Modelling on our commercial segment, we will introduce it also in our residential activity. We believe that technology and digital solutions are now the key to efficient and safe planning, so we plan to continue our strategy of implementing them on every stage of our activity. What matters to us is both the perspective of customer experience and the consistent experience of our employees. We think about the changes we make in the long term because this is the only way we can guarantee ourselves and our client's comfort and safety. Digital transformation is the best way to optimize business processes, improve the quality of services, increase employee productivity or improve the company's management capabilities.