Demand for modern industrial space is still considerably high though European manufacturing companies are not taking home their production as quickly as earlier expected. Meanwhile, Asian firms in the automotive industry are increasingly seeking proper warehouses and logistics service providers. Property Forum asked Máté Szoboszlay, Director of Capital Deployment at Prologis Hungary about the change in e-commerce-related demand and the special needs of Asian tenants.
What are the major factors to consider when you try to find the most appropriate real estate location for light manufacturing companies in CEE?
Although the two systems of criteria overlap, they also take into account unique characteristics. As real estate developers, we consider many aspects when choosing a development site. What always needs to be emphasised is the location perspective, the development and potential of the available infrastructure and the examination of the conditions related to the feasibility of the development - for example, the regulatory environment.
On the end-user side, this usually includes the quantity and quality of the available workforce, the adequacy of infrastructure and transport connectivity, the cost of the project and, in many cases, the level of public incentives and related stipulations (including territorial preference). After the pandemic, the terms nearshoring and then friendshoring were repeatedly used. These reflect a growing trend to move manufacturing activities closer to the end-user to ensure smooth supply chains. These industrial needs can support the demand side in Hungary and create a good opportunity for us, developers to launch new projects in the upcoming period, both in Budapest and in the countryside.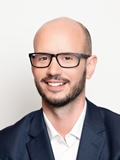 Máté Szoboszlay
Capital Deployment Director
Prologis Hungary
Máté Szoboszlay, as the director of development for Hungary, is responsible for identifying new development opportunities, coordinating build-to-suit projects, and finding new customers in Hungary. He joined Prologis in 2020. Szoboszlay has over a decade of experience in portfolio and transaction management. Prior to joining Prologis, he was employed at Erste Asset Management overseeing a commercial portfolio totaling 200,000 square meters – with a strong focus on investments – for clients such as KPMG, Tesco, and Rossmann. Between 2012 and 2018 he served as an asset and property manager for IVG Hungary Ltd., where he was in charge of a commercial portfolio totaling 120,000 square meters. He obtained a master's degree in Economics – Foreign Trade from the Budapest University of Technology and Economics and is a qualified (advanced level) general property manager.
More »
Local regulations of a city or a village are often very complex, and restrictions in construction cause big headaches for developers. What are your experiences in the CEE region and Hungary in particular?
The challenges related to the regulatory environment are not new, they have been experienced in the region in the past, although in varying forms from country to country. From our perspective, we place a great deal of emphasis on identifying potential risks during project preparation and minimising them through appropriate preparation and planning.
A general trend in the region is that the time required for permitting has increased, while construction time has remained constant as supply chains have been re-established. The selection of professional partners and ensuring the continuous availability of capacities have become a priority, since through them we can ensure that the deadlines we have committed to are met.
As for the property itself is there any difference between special (for instance technical) requirements presented by potential European and Asian tenants? Do Asian companies prefer industrial parks or opt for a stand-alone facility in a logistics centre?
The background of the user is not the decisive factor, but the activity they want to perform. The requirements for a logistics service provider are different to the ones for a manufacturing company. The latter is more complex, as it is necessary to optimise and personalise the building, from the interior design to the utility needs or the continuous provision of conditions for working in several shifts.
The preferences are mixed, so to speak it is company specific. We see a demand for separate buildings both in Budapest and in the countryside but in our logistical parks. There are also several companies with an Asian background, either renting an independent building or in a multi-tenant building.
What are the pros and cons of a BTS project if you deal with Chinese or Korean companies?
In the case of built-to-suit projects, the preparation processes are fully automated, so whether the demand is Chinese or German - at the preparation stage - makes no real difference. In the same way, we look at the company's background, financial stability and industry outlook, which form the basis of our business decision whether we can move forward. If these fundamentals are appropriate, the next major issue is to clarify and specify the technical issues.
Experiences show that a strong emphasis should be put on the presentation and adoption of the local regulatory environment and the technical framework. The activity to be performed by the partner is also decisive, and as a real estate developer and long-term owner, we try to adapt and provide the right framework.
How about logistics services for Asian tenants? Do they need the warehouse only or do they show some interest in getting assistance and hiring logistics providers as well?
For tenants from Asian backgrounds, the picture is mixed. On the one hand, they require the same high-quality infrastructure and professional services as the third-party logistics mentioned in the question, but in many cases, the time taken to prepare projects is much shorter than in the case of players already active in European markets. On the one hand, this puts pressure on the implementation stage, and on the other hand, it requires much longer and more thorough technical preparation.
As deadlines are typically short, developers are typically under pressure to meet them. We also hear the same time pushback from logistics providers whose services are used directly. From an operational viewpoint, the picture is also varied: on the one hand, they need to be educated about local rules and operational rules, and on the other hand, they need to be able to manage the rapidly changing needs of their customers, whether it is the need to expand territory or an operational issue resulting from a change of service provider.
How can you encourage your tenants to conduct environmentally conscious business and follow sustainability rules in your parks?
Our Parklife mindset demonstrates to communities and local authorities that logistics developments can be positive drivers of change and that they provide much more than just four walls and a roof. We have been working with our customers to help them retain their workforce by creating friendly places that people are even happy to spend time in after work. Some of our parks, for example, have football pitches where customers hold regular tournaments. Parklife will already be familiar to Prologis Park users through such features as green areas for rest and recreation, electric car charging stations, bike shelters, public transport stops, and a wide range of other services intended to boost the experience of all who use our logistics centres. These are just a few examples of our activities that are having a positive impact on communities, environments, and individuals throughout Central Europe.
Well-being became a major topic in office space a few years ago, and it was always clear that it would also become important in warehouses. We see a lot of advantages in boosting well-being, as some of our customers previously reported to us that their employees would consider transferring to rival companies for just a little more money per hour. We came up with solutions to help them retain their workers, including improving the quality of workplaces with better lighting and brighter colours for a friendlier environment.
Do you expect more retail centres to become city logistics centres as the impact of e-commerce is becoming more evident?
Over the last 2–3 years, e-commerce heated the warehousing market, and this trend was greatly accelerated by the pandemic. But since then, inflation has impacted the level of online spending, and this has dampened the demand for space from e-commerce companies. However, the big e-commerce players made long-term plans 2–3 years ago and they still have a lot of space reserved from back then. So, it's still too early to judge whether the e-commerce boom is over.
As for nearshoring, when we first started talking about this phenomenon, we expected it to come to Hungary much faster than it did, with companies relocating operations from places like China. But, as it turned out, near-shoring is rather complicated, and these projects require a lot of due diligence. So, the demand from near-shoring has not been as big as was expected, but there is still some movement from markets like China and Korea especially in the automotive sector (battery production). City logistics can benefit from this trend too but due to limited supply and location perspectives – big box projects in the greater Budapest area usually located relatively close to the city centre - it requires time to see the evidence.