The Czech industrial market has proven that it is resilient to unfavourable economic factors and therefore it will logically remain a popular asset class that is not at risk of decline. Pavel Sovička, Managing Director of Panattoni in the Czech Republic talked to Property Forum about nearshoring, rising construction costs, changing tenant demand and all other factors that are contributing to rental growth.
Recently, you celebrated a record-breaking year at Panattoni Czech Republic despite all the crises. What was the most significant of those achievements for you this year?
This year we are celebrating 15 years of operation in the Czech market and we have succeeded in many great projects, for which we have won industry awards. This year we became the largest industrial developer in the Czech Republic by construction volume. A major contributor to this record year was the completion of Panattoni Park Kojetín, where we built a state-of-the-art robotic fulfilment centre for Amazon.
Do you expect to see more megaprojects like the Amazon deal on the market in the coming years? What's your strategy for making sure you get to build them?
Panattoni specializes in build-to-suit construction (BTS), where we take maximum account of customer requirements. Nowadays, in addition to eco-friendly construction, there is of course a demand to build buildings that are as modern as possible. To use the latest technology within logistics and production halls, you need sufficient floor space and, above all, sufficient height. Amazon's fulfilment centre in Kojetin is a beautiful example of this - the 52,000 sqm building has 187,000 sqm of leasable space on four floors, allowing it to take full advantage of ground-breaking technologies, including robotic units that assist in order processing. Over the years in the Czech market, we have proven that we are one of the most experienced developers in terms of delivering large or construction-intensive projects. Our strategy could be summarized by the somewhat old but valid advertising slogan "proof instead of promises".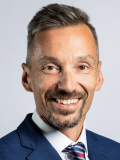 Pavel Sovička
Managing Director CZ & SK
Panattoni
Pavel Sovička has 24 years of experience in industrial development in the Czech Republic, Slovakia and Hungary. He has been involved in transactions representing a total of more than 2,500,000 sqm of leased and sold space. Some of the most significant projects under his leadership include the construction of fulfilment centres for Amazon in Dobrovíz (120,000 sqm) and Kojetin (187,000 sqm) or the construction of a distribution centre for Tchibo in Cheb (102,200 sqm). In 2022, he won the "Gryf" award for Logistics Personality of the Year in the Czech Republic.
More »
How are you managing the energy price growth? Are you working together with your tenants to reduce energy usage?
The rising energy prices are felt not only by us but also, of course, by our clients, whose demand for increased energy security and reduced cost of building operations has increased substantially. We are working hard with our tenants to address this situation and our projects include many elements to help them address it. The installation of photovoltaic panels on the roofs of buildings is becoming a trend. Photovoltaic panels are already being used, for example, in Amazon's modern logistics hall in Kojetín, and they are also planned for the hall in Panattoni Park Chomutov North, where Jungheinrich will start its production. We can also see interest in, for example, heat pumps that reduce dependence on fossil fuels or thicker insulation and external blinds that will also help to save energy costs.
How do these efforts fit into your overall ESG strategy? What else are you focusing on as part of that?
Promoting more energy-efficient solutions fits seamlessly into our overall green building strategy "GoEarthwise with Panattoni", which forms the core philosophy of our company. We have been pioneers in sustainability since the beginning of our presence in the Czech market, and we plan our projects to achieve the greatest possible environmental friendliness while maintaining economic efficiency for our clients. This is why we specialise in brownfield developments, for example, where we can help the site from the early stages of the project and breathe new life into it through our activities. Evidence of environmentally friendly construction is the targeting of the "Excellent" level in the BREEAM New Construction certification, which assesses the environmental performance of buildings. Our buildings are critical infrastructure for supply chains and thus very specific production and logistics processes take place in the buildings. Therefore, building technology solutions are often very strongly linked to the specific activities of the tenant inside the building.
The vacancy rate in the Czech logistics market is close to zero, most halls are fully leased before completion. Do you expect this market dynamic to continue?
Yes, we expect this to be a long-term trend. Admittedly, we are in turbulent times, with inflation rising steeply for most of the year, energy prices rising and material costs rising. However, there has been a shortage of space for new projects in the Czech Republic for some years, and construction itself has been slowed by complex and inflexible legislation. These factors are so strong that they have managed to overwhelm the above-mentioned aspects, which have been quite crucial for other sectors. I also see an intensification of the trend towards nearshoring, i.e., moving production closer to the consumer. Operations that in the past were relocated to the Far East are partly returning to Europe with a much greater degree of robotization and automation.
How's this strong demand affecting rents? Does rental growth make up for the increase in construction costs?
A key factor in the rent increase was the rising cost of construction. Costs are now being driven up not only by energy prices and the shortage of building materials but also by the increasing demands on the materials used in buildings, including energy-related technologies. Of course, the lack of ideal space also plays a role, which can again be reflected in the cost of the development. In recent months, however, the situation in the financial markets has had a major impact on the further acceleration of rental price growth. Financial resources are and will be less available, along with higher bank funding costs.
Logistics continues to be one of the favourite asset classes of commercial real estate investors. Do you expect this trend to last?
Just as the trend of the overhang of demand for industrial halls will continue, so the interest of investors can be expected. The industrial real estate market proves that it is resilient to unfavourable economic factors in the Czech Republic and therefore it will logically remain a popular conservative asset that is not at risk of decline. It should be remembered that industrial and logistics halls are critical infrastructure for companies, without which no supply chain can function. Office space used to be critical because it provided access to technology - first fax, then data, internet and email. But today, you can virtually work from anywhere. Retail space is under pressure from e-commerce and the question is future scale, uptake and relevance. Industrial infrastructure has no substitute and the need to shorten supply chains with global geopolitical uncertainty is a necessity.