In line with the growing popularity of flexible and hybrid work models, many companies are relocating, changing size and trying to re-fitting their offices. This could be one of the reasons why Prague placed second in the CEE region in terms of the price of fitting out an office. Nevertheless, the key reasons are the tightening supply chain and challenges around labour, which are set to continue well in 2022 and beyond. The average costs per sqm in Prague are currently €1,037, which is half of what it is in top German cities or in the UK where the median cost exceeded €2,000, Cushman & Wakefield presents in their report.
While discussions are still ongoing about the future of the office, it is obvious that a flexible and hybrid model will be the most probable answer. The office is not dead as it has justified its existence – whether to preserve productivity or to support employee interaction and cooperation. With occupancy still exceeding 90 per cent in Q1 2022, the Prague office market is a healthy one, with many companies relocating, expanding or downsizing – which means re-fitting their offices. Glyn Evans, Head of Design + Build EMEA, Cushman & Wakefield: "Fit-out costs are an integral part of the decision-making process, affecting a company's planning and budgeting. As these – along with staff costs and rents – need to be factored in in the early stages of these strategic decisions, we've considered and compared top European locations to guide occupiers through defining their office relocation budget."
Expensive labour and material
The key reasons for the Czech Republic placing high on the CEE top locations chart are the tightening supply chain and challenges around labour, which are set to continue well in 2022 and beyond. With Czechia also recording the lowest unemployment rate in the EU and experiencing rapid growth in materials costs, its fit-out costs now reach the levels usual in cities like Milan, Rome, Lisbon and Amsterdam. The highest fit-out costs were recorded in the UK and Ireland, often exceeding €2,000 per sqm.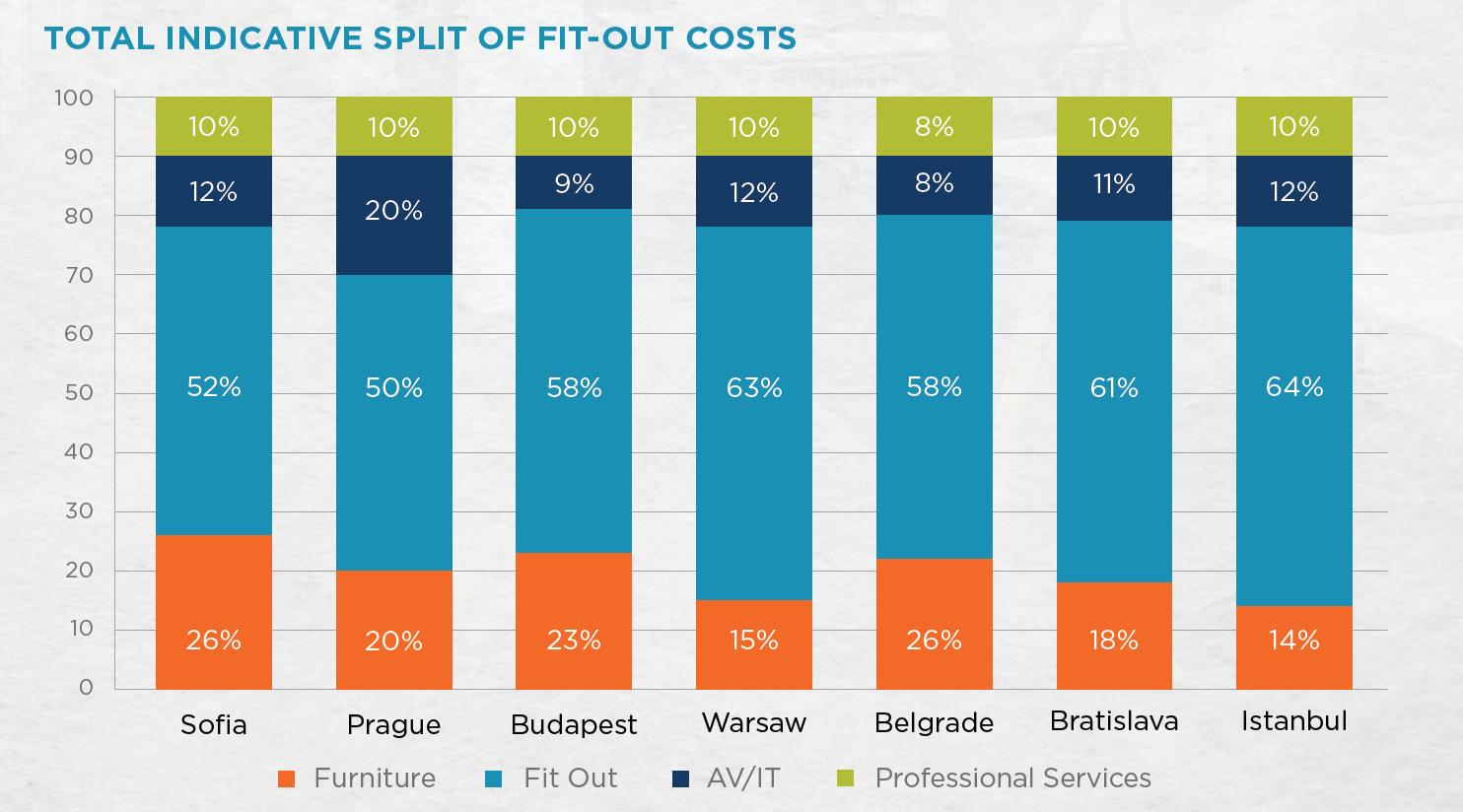 Technology, the need for collaboration and sustainability affects future costs
Generally, an increase in the costs for audio-visual systems is expected, following the rise of online platforms for remote work and the need to equip meeting rooms adequately, coupled with the increasing supply shortage for electronic parts.
The shift to a more agile workspace is increasing the cost of designing and creating an office. However, flexible working practices as resulting in consolidation and downsizing trends, meaning less space is being taken, balancing out the increase in fit-out costs.
With buildings responsible for around 40% of the global CO2 emissions (construction and operation), sustainability is becoming increasingly important in fit-outs. Enhancing sustainability during a building fit-out not only benefits the environment but can also have measurable financial benefits. To demonstrate sustainable fit-out, various sustainability and wellbeing certification standards can be used such as BREEAM LEED or WELL.
Glyn Evans, Head of Design + Build EMEA, Cushman & Wakefield: "Building certifications can add cost initially, but they also provide a clear, holistic approach and act as independent verification of achievements against a recognized standard."