Unlike in the Czech Republic, developers in Poland can rely on the deadlines given by law which makes it a lot easier to do business. Marcela Fialková, Strategy Director of Czech-based developer UDI Group talked to Property Forum about the challenges and opportunities different markets in CEE offer.
You've had an inspiring career in your professional fields and the media and now you operate in very male-dominated and challenging areas for a woman, precisely, construction and development. What brought you to these fields in particular? And to what extent is it advantageous to be a woman in your position?
I started with the media, a large part of my career was spent in the economic editorial office of ČTK (Czech News Agency), which gave me a general overview and contacts both in politics and in business. I moved from the media to my beloved aviation, where I worked with Czech Airlines and finally ended up in the construction industry, where I started as a journalist already at ČTK. First with the developer Central Group, then as an adviser to the minister of regional development Klára Dostálova in the promotion of new construction law, and now with the international developer UDI Group.
You are right that both construction and aviation are male-dominated. But I think I can work better with them. Men, unlike women, don't lie. If something bothers them, they say it directly, and I am like that. I'm quite direct myself, though sometimes it might not be pleasant. However, it has always helped me in my life. In development, I think the female perspective is very important from the beginning of project preparation. 90 percent of the people who ultimately decide to buy apartments are women. Men just fund them.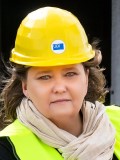 Marcela Fialková
Strategy Director, UDI Group
Strategy Director of the international development group UDI Group. Previously worked in media and PR. She has also worked as a spokesperson for the Central Group or Czech Airlines. In 2020, she was an advisor to the former Minister for Regional Development Klára Dostálová, dealing with the change of the Construction Act.
More »
UDI Group is active in all types of development. Which market segments offer the best opportunities currently in your opinion?
You're right. UDI Group currently builds apartments and offices, logistics and retail. Having a diversified portfolio is very beneficial in the current turbulent times. Specialist developers who build, for example, only apartments, are having a harder time now, as the demand is falling. We have the advantage that in years when the demand for apartments is lower, we can focus on logistics, for example. It is at the top today. During covid or Suez blocking, companies in Europe realized the importance of having warehouses closer to customers. We have currently completed one large logistics complex on D1 and started the construction of another one on D5. We don't have a specific tenant there yet, but there is a lot of interest, and we will certainly occupy the halls soon. But we also believe that the demand for apartments will soon return.
Your company also extensively invests and builds abroad. You've even stepped far out of Europe and even across the ocean. So which countries are you now operating in and what are your plans there?
In addition to the Czech Republic, where our company was founded, we are now building a project with almost a thousand apartments in Warsaw, Poland. In Budapest, Hungary, we have a building permit for a large office building and a housing project of 320 apartments with a small hotel. After the Czech Republic, Serbia is the second biggest market for us. We are preparing there our largest project, Duga, offering around 2,000 apartments, 40,000 sqm of offices and a hotel. We are also building the Lastavice project there with 500 apartments and we are preparing another project with 320 apartments and one logistics complex near Belgrade. Last year we entered the Latin American market, where we have three housing projects in the capitals of Panama and Costa Rica.
Is UDI planning to enter other countries in the nearest future?
We are a conservative company, and therefore, we are cautious in these uncertain times. Opening a completely new market is difficult in economically unstable times. Nevertheless, we are discussing interesting acquisitions, now for example in Austria or Slovakia. In new markets, however, we prefer projects with a building permit. In existing markets, where we have already managed to grasp the processes, such as Poland, we are considering acquiring projects even at an earlier stage of preparation, which will allow for a greater return.
Which among your markets offers the most favourable conditions for developers and why?
We do our best business in Poland. Years ago, the construction law was amended and the conditions there are very open and transparent. It cannot be compared with the Czech Republic at all. In Poland, we can simply rely on the deadlines given by law, and we can count on them in the process. It's not just that it's fast, but that's also very important of course. We got the building permit for the first stage of our project in 6 weeks and for the remaining part of the site, where an EIA was already required, in less than six months.
UDI builds thousands of flats…but abroad. Why not here in the Czech Republic? How do you evaluate the situation and conditions for developers in the Czech Republic?
I hope that we will also build apartments in the Czech Republic soon. We have a whole range of projects here. The problem here is that you can't rely on the law. Deadlines are set in it, but the authorities do not follow them. What one building authority decides does not apply to another, etc. For example, for one of our projects in Prague, the architects submitted the first study to the authority 13 years ago and we still do not have a building permit, and we are in accordance with the spatial plan. It is sad. The new building code could have brought change, but the current political set has essentially changed it back to its current dysfunctional state. A few small things have been preserved, so hopefully there will be at least some improvement.
The estimated revenue for your currently planned projects in the Czech Republic and abroad already exceeds CZK 50 billion (€2,1 billion). How do you finance your projects?
We finance partly from our own resources. We cooperate with strong investors who provide us with finance, and we value them in the projects. We would also like to bring large institutional investors to our projects. For them, however, it is necessary that some standardized instrument under the supervision of the central bank be used for financing, which is why we are preparing a fund of qualified investors. We usually finance the construction of projects with standard developer loans.
The Group left the Prague Stock Exchange last year. Do you think you will ever return?
The stock market was also a way to reach out to investors. Two of our projects were traded here. We withdrew the shares from the stock exchange last year in accordance with the normal life cycle of development projects. We bought back the shares from the shareholders at a price that enabled them to realize a profit in the originally intended amount and term. The yield reached 27 percent during the trading period. Shares were traded for a total of CZK 602 million (€25 million). We expect the pool of qualified investors to bring us big players who want to invest larger amounts.